Plans for finals unclear
Teachers take new approaches to finals for this online semester
Unlike last spring when finals were canceled due to a quick shift to online school because of COVID, students can expect finals this semester. 
Administration  told teachers that they must administer a final assessment, but has given them the freedom to decide the format.
"It could be an accumulative project. It might be a paper or some sort of accumulative activity to wind up the semester," said assistant principal Therese Plunkett. 
 Many classes have changed the worth of their finals. For example, the science department has decided to lower the percentage from 20 to 10 percent. Some students have expressed appreciation for this change.
"I think teachers should change the percentage of the finals to 15% or lower. I think this change lifts a lot of the stress off students." Michael Devlin 23' stated.
When deciding on a plan for finals, teachers have been taking students' individual situations into consideration. 
"I'm trying to approach finals in a way that has empathy for students and has some sort of compassion for the amount of work I know that they are doing and are frequently reminding me that they are doing," said Laura Strickland, a Honors US History and Gender and Sexuality in History teacher. "My plans are based on what students are telling me and the feedback that I am getting from them and I'm trying to be as flexible as possible."
While teachers are working hard to adapt to their students' needs, some students said  they would rather not have finals at all. 
"I don't think finals should happen this semester," said Devlin. "I think it's too difficult, and since we are kind of going back to a quarantine part-two, it's putting a lot of stress on the students." 
Some students said they would prefer a project rather than a test.
"I don't think necessarily timed tests are useful in all subjects. I think final projects would be better for this semester," said Saniya Kodavarti '23.
Strickland said she will give her US History students time in class to complete their final project. 
"By the last week they will have most of it done, so they are not assigned extra work to do outside of class," Strickland said.
Some AP teachers have said that they plan to give traditional tests for finals this semester. 
"No matter what, we still have to get students ready for the AP test in May," stated Jennifer Harned, an AP Human Geography and AP Psychology teacher. "So a final exam is a good idea because they are big accumulative tests like the AP test in May."
Though some teachers have a plan, many are still deciding on how they are going to give a final. Most students said their teachers have not given a definite plan for finals. 
"I think only one of my teachers has mentioned finals, but a lot of my teachers haven't decided yet," said Izzy Pareja '21. 
Although finals can be stressful for students, Plunkett said the exams are important indicators of student progress.. 
"I don't think the grade for the final is unimportant, but I think final assessments are an important thing for teachers to see where their students are," said Plunkett.
Leave a Comment
About the Contributor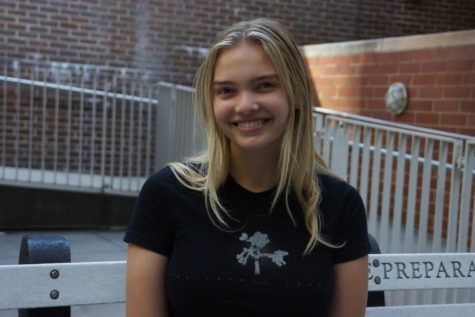 Norah Hendrickson '23, Editor-in-Chief
This is Norah's third year on the Blueprint and has been enjoying her new role as Co-editor in chief! She loves leading the Broacast/Podcast Section...