Soccer and volleyball delayed to spring
COVID-19 makes sports change their schedules
Both this fall and last spring, every sport has been impacted by the pandemic. Due to COVID-19, volleyball and soccer have been delayed from their usual time of fall to spring, as the IHSA and coaches focus on the health and safety of their athletes. 
"I was actually a little relieved that they were going to push the season back," said girls volleyball coach Casey Feeney.
Feeney said he is very safety conscious about the precautions for COVID-19. 
"It's better safe than sorry, I have a friend whose parent passed from [COVID-19], so it is a real thing," said Feeney.   
 The delay was still devastating for many of the players, especially the seniors for both volleyball and soccer. However, players devoted to the sport will continue to play and interact with their teammates through other means, by talking to teammates virtually, and through club sports. 
"I've been playing since August for a club team, said boys soccer team captain Qudus Shittu '21. "So that's like practice four times a week."
The coaches said they are focused on keeping their athletes safe. 
"I would rather stick to the health professionals, and the guidelines of people that are very knowledgeable and that have studied [COVID-19]," said head coach of the boys soccer team Paul Zubb.
The coaches understand that when the season will start, there are going to be differences from before, but that the safety guidelines are a necessity in these times. When these sports start again, safety will be the first priority. 
"I would feel horrible if somebody came into the volleyball gym and spread it, and somebody lost a family member because of it, so like at the end of the day," said Feeney. "Safety should prevail here, and we're doing the right thing."
 But another concern is about how freshmen athletes from last year will adjust, as they already went through an interrupted season due to the CPS teacher's strike. They might not be as prepared to participate in a further affected season. However, the coaches aren't as concerned for the future of their programs. 
"We had a really really talented freshman group [last year]," said Zubb.  "We're gonna be okay."
He said the team culture and skills will continue to hold up, even with the challenges the strike and the pandemic has made. Shittu agreed with that statement, discussing how he met up with his teammates safely throughout the pandemic. 
"There's a couple of times in Dec. where we all met up and we are fine playing around with each other," said Shittu. 
As for volleyball, Feeney was worried about how the freshmen class has not had a season yet. 
"There's kids who maybe would have learned to love the sport and would have started playing club who would have excelled," said Feeney.
But, Feeney has a lot of confidence in the former sophomores who are now Juniors.
 "We have a really strong group of sophomores that are now juniors, that I think are going to bring up the level," said Feeney. "There were a lot of sophomores that were looking to make good contributions on varsity last year, so I'm really looking forward to seeing what they look like as juniors and seniors."
Zubb said the interview was a "wake up call" to himself to check how the team members were doing and to prepare for the upcoming season. 
"School is the most important thing, period," said Zubb. "But I want them to succeed and have a memorable high school season."
Leave a Comment
About the Contributor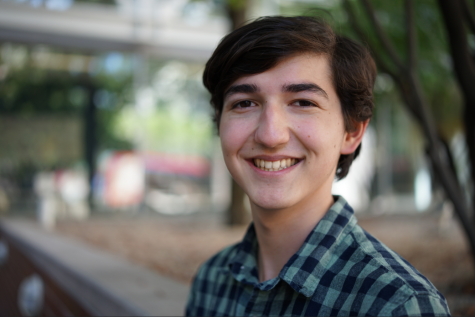 Joshua Blustein '20, Lifestyles Staff
HOBBIES: Robotics, film, photography
FAVORITE MOVIE: It's hard to choose but probably Scott Pilgrim VS the World
FAVORITE CLASS: Digital Imaging
IN...