Filling in another bubble
Seniors take SATs amidst COVID-19
On Sept. 23, Jones seniors took their SATs in-person after national-wide test cancellations due to the pandemic. 
Aria Messina '21 said she felt nervous to take the test after finishing her studying in the spring.
"I was very prepared to take [the SAT] last spring," said Messina.  "I do still feel prepared, but I hated having to wait this long to take them because I don't feel like a lot of the information is fresh in my brain."
Others, however, said they felt the extra time led to a better possible score because there were more study opportunities and practice. 
"I feel prepared for the SAT because of the extra time before the test date," said Rae Van Kanegan '21. 
Once the test date was officially set in June, Jones emailed students a bit of information regarding precautions against the pandemic. 
"Jones is doing everything possible to make it safe for the seniors to take this important exam," said Van Kanegan. "I received their health guidelines, and they are very reasonable."
These guidelines included the usual temperature checks and forms required to enter the building. For others, like Maeve Schoenbeck '21, she said Jones did not provide enough information on their precautions against COVID-19. 
"Jones did not give us a lot of information about how they were going to administer the test safely," said Schoenbeck. "I feel that I would have been more open to taking it if the administration had been clearer about their preparation or asked for input on how we felt how test day should look."
Due to concerns about Jones' policy, some said they felt uncomfortable showing up for the exam. For Schoenbeck, she said the priorities lay with her health over her schooling. 
"I decided not to take the test because I thought that the reward wasn't great enough for the risk," said Schoenbeck. "The test doesn't measure anything worthwhile, anyway, but, especially now, it would only measure how great I can do on a test while having a panic attack and afraid for my life." 
The testing went according to plan this Wednesday, and there were some slight hiccups, but all ended up being alright. 
"The test went well," said Van Kanegan.  "They tried to break us up into groups based on our last names and corresponding to this gave us a time slot to come to Jones. These periods were not long enough and resulted in a line wrapping around Jones, but everyone was social distancing, so it was fine."
Once inside the building, Van Kanegan said there were even more measures that had been taken to keep the student population safe. 
"Inside the test rooms, the tables were distanced and disinfected," said Van Kanegan. "Jones definitely put effort into making sure the test was safe."
Despite COVID-19 precautions, some students said they had trouble recalling information. 
"I feel super good about the English section, but the no calculator section was a little bit tough for me," said Messina. "I learned a lot of the stuff on there last year and kind of forgot a lot of it."
Luckily, for Messina, Schoenbeck, and Van Kanegan, the SAT delay will not affect their post-secondary plans, as Messina said she plans to go to a music conservatory, and both Schoenbeck and Van Kanegan said they plan on applying to colleges and universities that are test-optional. 
"Most of my colleges are test-optional, and, if they are requiring me to take a test during a pandemic, they're not a good school for me anyway," said Schoenbeck. "Schools not going test-optional for a pandemic is a great indicator of how they deal with disabled students or those with special medical needs."
Leave a Comment
About the Contributor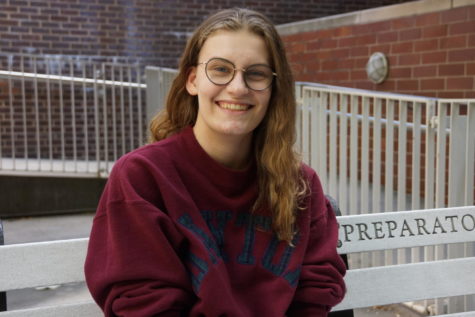 Carrigan Garrity '22, Managing Editor and Human Resources Co-Manager
Carrigan is the managing editor and co-human resources rep for the Jones Blueprint. She is involved in the Jones Swim team, as well as many different clubs...