Alone together
How Jones students and their communities are weathering the pandemic
On an average spring day, Jones students from across the city brush shoulders in the hallways of school. Amid the COVID-19 outbreak, however, this close contact is unsafe and unthinkable, and so, students have dispersed to whichever corner of Chicago they call home. With every Jones pupil spending extra time in their neighborhood nowadays, they bear constant witness to how the virus and consequent quarantine have affected their communities.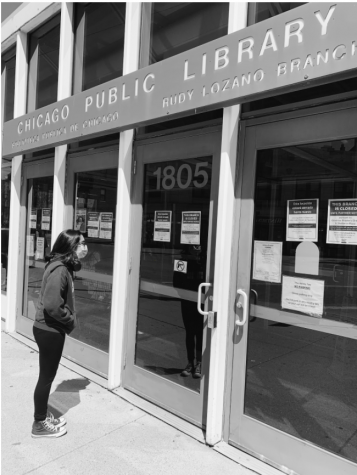 Pilsen resident Fabiola Pineda-Villa '21 especiallymost misses going to the Rudy Lozano Branch Chicago Public Library in her neighborhood, since it has always been close to her family.
"I've gone to that library since I was little to read or do my homework," Pineda-Villa said. "Even now, my younger siblings use the library because it has a play area for them. It's crazy to see it closed."
She also feels as though the life has gone out of her community since the pandemic hit, especially with the cancelation of street fairs.
"Mole de Mayo is a yearly festival in Pilsen where restaurants and musicians come together in the streets to entertain the people in the neighborhood, and it's rough that my community will be missing out on it this summer," said Pineda-Villa.
Although events are being canceled, Pilsen is coming together as a community to help its members during the pandemic.
"Local churches have banded together to donate food to people in the neighborhood. Residents will line up with lists of things that they need and the church will find the items for them. It's really cool to see everyone coming together during this time," Pineda-Villa said.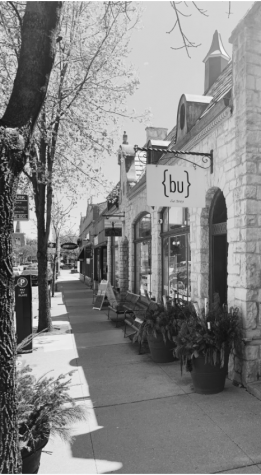 JaVaughn King '20 is from Beverly, and misses the ordinary bustle of Longwood Drive, which is the commercial and social center of her neighborhood.
"Longwood is central to my neighborhood. It's where all the historical houses and main businesses are, and it's where everyone hangs out," said King. "It's been weird to see it empty recently."
Beverly has also been forced to cancel its annual Breast Cancer Walk, which normally seesmeans a flood of residents filling the streets to raise awareness and money to combat the disease.
"The walk is a great community building event and something we all look forward to every year," King said. "They took it virtual because of the virus, but it's really not the same as all being together."
With school closed, however, King has taken up a new hobby called diamond painting, in which she arranges jewels on a canvas to form pictures.
"My paintings are definitely time-consuming, but the final product makes it all worth it," said King.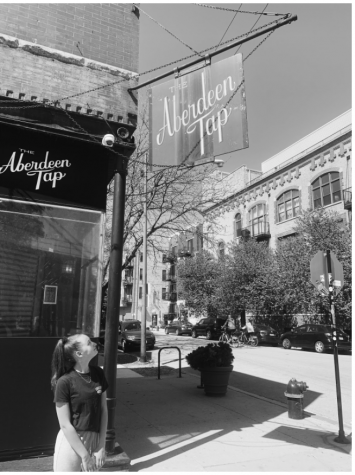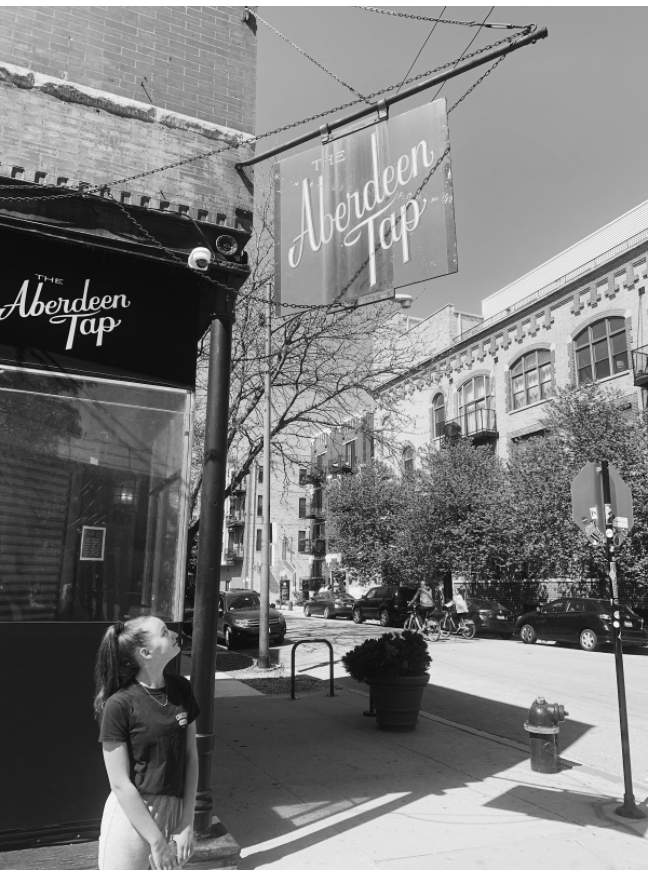 The West Loop is the neighborhood Betsy Finley '23 calls home. The area is characterized by its many restaurants, and Finley finds it particularly strange to see a neighborhood favorite deserted due to the virus.
"The Aberdeen Tap is this place where you always run into neighbors. It's only doing carry-out right now and it's weird to see people unable to bond in the restaurant like they used to," said Finley.
She does see her neighbors coming together even during quarantine to clean up the West Loop and keep the community safe from the coronavirus, though.
"We've been making masks for each other, and sometimes you'll see people picking up trash and another person will walk by and offer them gloves. That's just a sense of community that I've never seen before this pandemic," Finley said.
Many Chicagoans have welcomed four-legged family members into their homes recently, and Finley is no exception.
"My family adopted an Akita-Husky mix during quarantine," she said. "We figured it would be a good time to get a dog because we have time to train her right now. It's been the highlight of my quarantine!"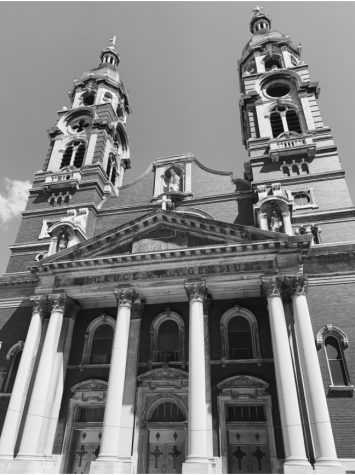 Sheila Panfilo '22 has been attending Holy Cross Immaculate Heart of Mary church in her neighborhood, Back of the Yards, since she was little, and finds it to be the center of her community.
"My sister taught at church and was the choir director, and my family has gone every Sunday for as long as I can remember," said Panfilo. "I've sung in the choir since I was four, and church has always been a big part of my life. We have virtual mass now, but it's definitely different."
Another piece of her community that is close to her heart, 47 Festival, has also changed.
"The festival is usually held during the summer, and people come out onto 47th Street to dance to music and eat, but that's been canceled. It's disappointing because it's something my whole neighborhood looks forward to," Panfilo said.
She also believes only half of her community to be following social distancing guidelines, and has seen heated arguments at grocery stores when customers weren't allowed in without masks.
"My neighborhood does experience a lot of violence and shootings, but I have seen a decrease in violent activities since the pandemic hit, so there's been a silver lining," said Panfilo.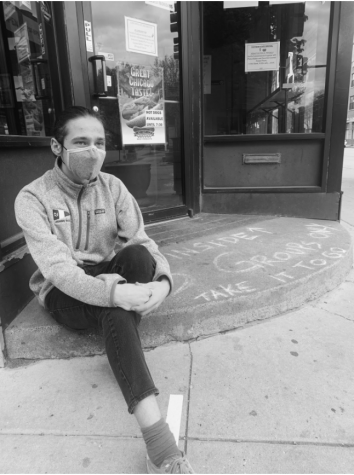 Lakeview is home to William Clancy '22. His favorite place in his community is Scooter's, a frozen custard shop that is packed to the gills every summer.
"Scooter's is this place that everyone in the neighborhood knows about and everyone goes to," Clancy said. "The owner is a lovely man and I think he and his shop inspire a lot of joy in our community."
Clancy has noticed that nearly every person in his neighborhood is practicing social distancing, and that is the way they support each other while weathering the pandemic.
"As strange as it sounds, the way we're coming together in Lakeview is by not being together," said Clancy. "The way we are there for each other is by recognizing that we have to be apart for a while."
His spring sailing season has been canceled, but he is looking forward to the fall season if a second wave of the virus doesn't make an appearance.
"My team has virtual lessons on racing strategy and wind patterns, but I do miss being out on the water," Clancy said.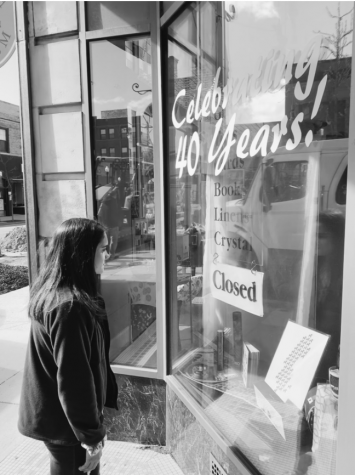 Molly Sheridan '21 of Andersonville misses the Swedish American Museum in her neighborhood.
"My community is predominantly Swedish, so connecting with that culture is a big part of being an Andersonville resident," Sheridan said.
Small businesses are also a large part of the neighborhood, and Sheridan's family actually owns a cooking shop in Andersonville.
"I think the community recognizes that small shops are essential to the area, and residents have been stepping up to support businesses," said Sheridan. "There are always cars lined up by storefronts for curbside pick-up, which is really encouraging."
Another Andersonville store, Dearborn Denim and Apparel, has begun making masks to help the community and city.
"People aren't buying jeans right now, so the shop has repurposed their denim and equipment and is now making masks. It's nice to see a company with the resources to help during this time doing so," Sheridan said.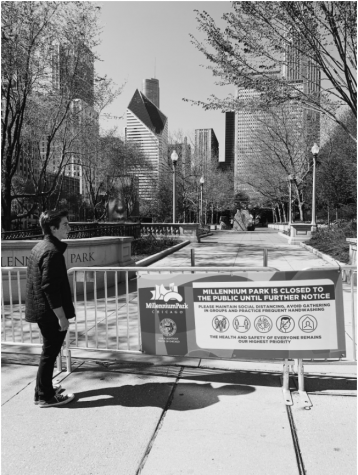 Jake Weinstein '23 hails from the Loop, and lives next to Millenium Park, which is his favorite place in the area.
"The park has always been a good place to walk around or just sit on the grass," said Weinstein. "During the summer, there is a concert going on or a movie being shown there every night, and it's generally so full of life. Now, it's just completely empty, which I've never seen before."
Since he is in the heart of downtown, Weinstein doesn't think his neighborhood has the traditional residential community feel of others.
"I've never felt particularly close to people in the Loop because so many are just passing through, but I've definitely noticed a lot less foot traffic and the lack of cars on the streets is a bit eerie," Weinstein said.
He has been spending his time off of school with family and spending more time on his hobbies.
"I've been playing cards with my mom and playing the piano more than I usually do," said Weinstein. "I do think my mom and I are getting a little tired of each other, but we're doing pretty well."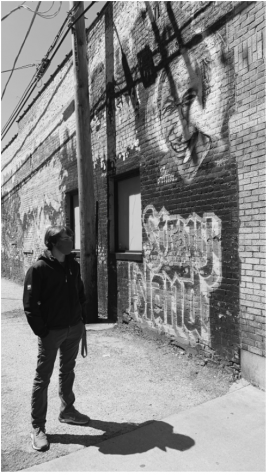 57th Street Park in Kenwood is the part of his community that Michael Stewart '21 misses the most during quarantine.
"I used to walk my dog in the park all the time, and there are a lot of shops and bookstores lining the streets nearby that my neighbors are always in. I've never seen the park as quiet and empty as it is right now," Stewart said.
Neighboring Hyde Park is home to the University of Chicago, and since students have been sent home, Stewart has noticed a marked difference in the atmosphere of his neighborhood.
"With students in the area, there was always a buzz in the air. You could hear discussions and intellectual conversations wherever you went, and that's slowed down since the virus hit," said Stewart.
Kenwood residents have found a playful way to stay positive during the uncertainty of quarantine, though.
"People are putting teddy bears in their windows, some of them holding signs about social distancing," Stewart said. "Other people post pictures of the bears on Facebook, and it's just been a nice way to unite everyone even when we're apart."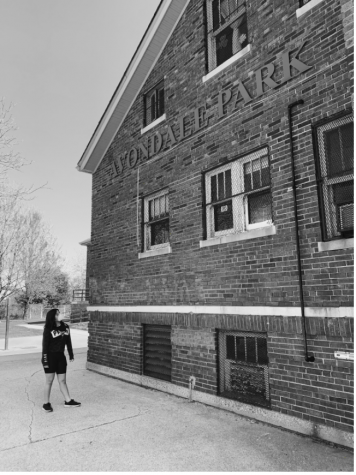 Emily Espinoza '22 lives in Avondale, and her favorite place in her community is Avondale Park.
"My neighborhood is mostly Hispanic, but we're from all over," said Espinoza. "I'm Ecuadorian, but a lot of my neighbors are from Puerto Rico or Colombia or Mexico. We all get together in the park for barbeques in the summer and share our cultures, and it's sad to think we might not be able to this year."
Members of Espinoza's community are still connecting by helping each other, though.
"There are stands on many street corners, some giving out gloves and masks and some giving out food and water. We're all trying to help everyone get through this time," Espinoza said.
Birthdays are also not canceled in Avondale, although physical proximity is unsafe.
"All throughout the neighborhood, you can hear car horns honking outside of houses on people's birthdays," said Espinoza. "I'm happy we can still celebrate even when we can't be together."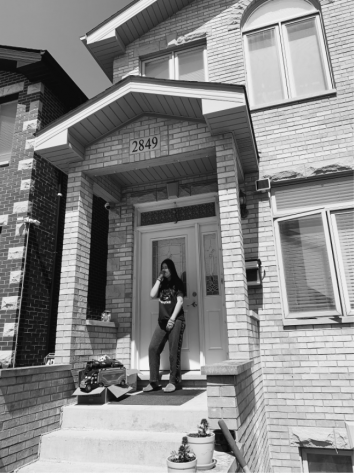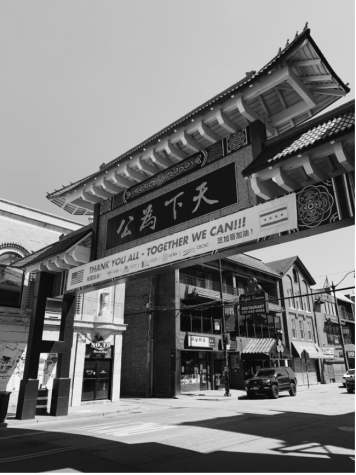 Bridgeport is where Rachel Wang '22 resides, and her favorite place is neighboring Chinatown.
"It's where most of my friends and I hang out because there's food and fun shops all in one place," Wang said.
Her quarantine experience is rather unique because she hasn't left the house since Jones closed in March.
"My grandpa is staying in my house during the pandemic, so he's at a higher risk of having a severe reaction to the virus, and just as a general precaution I haven't been going out," said Wang.
Wang's family owns a Chinatown restaurant, which has been forced to adapt to new safety measures during the COVID-19 outbreak.
"We closed our dining space part way through March and went to just takeout and delivery," Wang said. "Then, we closed completely soon after. We'll open up again once the virus has blown over."
Leave a Comment