Kobe Bryant: "Legends never die"
Sophomore reflects on death of NBA great Kobe Bryant
Everyone knows Kobe. It doesn't matter where you're from, what sports you cheer for, or if you even like sports at all. Kobe had that type of impact on everyone. It takes something special to be known by only one name, which goes to show how special Kobe truly was. Whether you know him as number eight, number twenty-four, the Black Mamba, Oscar award-winner, or simply just an inspiration, he appeared at some point in your life.
Personally, Kobe appeared way more times in my youth than I ever would've thought. Born and raised in Los Angeles until the ripe age of one, I never really found a true connection to LA sports teams. Of course, that was until I heard the legacy of Kobe. As my friends and I would shoot any ball imaginable, shouting "Kobe" to urge our shots to go in, I realized I could be apart of something special. I immediately asked for a Lakers t-shirt and was ecstatic when I first wore the yellow and gold shirt. The second I put that shirt on, I knew I became part of something special- the legacy of Kobe Bryant.
Kobe's legacy appears in each one of our childhoods in various ways. For most of us, like me, it's the simple catchphrase his name became. Growing up, we all wondered how could one make a shot without shouting, "Kobe!" To this day, I'm sure there are still plenty of people out there chiming "Kobe" before they shoot who are unknowing of what the man had even done. For others, Kobe could simply be remembered as the face of the NBA, the superstar basketball player who did it all.
Kobe Bryant was drafted by the NBA's Charlotte Hornets straight out of high school in 1996 but was immediately traded to the Los Angeles Lakers. Kobe spent all 20 years of his NBA career in L.A. and made the most of his time in the city. Kobe carried on the Lakers legacy with five NBA championships, two NBA finals MVPs, 18 all-star nods, and of course, a regular-season MVP award. After his retirement in 2016, Kobe continued to do great things with an Oscar award for his animated short film "Dear Basketball."
As the NBA expanded worldwide with more games and marketing overseas in the early 2000s, Kobe was the face of the league through it all. He represented the NBA with class and swagger, providing the league with a positive image around the globe. Kobe became not only a household name in America but also other countries such as China and Italy, where he lived for eight years of his life. Kobe expanded the game of basketball around the world, bringing his name right with it.
Kobe's legacy is one that truly will never be forgotten. More than just a basketball player and more than a celebrity, Kobe will always have a special place in our hearts. As his name will continue to pop up for years to come, just remember the infamous "Sandlot" quote, "legends never die."
View Comments (2)
About the Contributor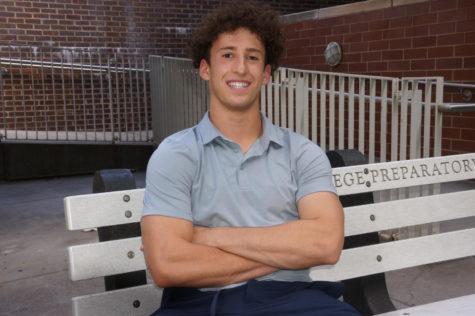 Leo Necheles '22, Co-Editor-in-Chief
Leo is the Co-Editor-in-Chief of the Blueprint. This is his 3rd year writing for the Blueprint and he looks forward to continuing journalism in college.