Striding Down To State
Eagles make a return to the Blue Oval at Charleston
The track and field Eagles flew to the Blue Oval in Charleston, Illinois last Wednesday, May 22, looking for their first run for all-state since qualifying two years ago in 2017. This is also the first time since 2015 that their 4×800 team qualified to state and the first time since 2014 they had an individual qualify for the 3200m.
The boys track & field team started their road to the state playoffs by looking to qualify out of their 3A sectional at Proviso East. On May 16, they competed with 15 other teams, including Lane Tech, Whitney Young, and St. Ignatius. Jones entered ten athletes and two relay teams. Among them was Anthony Maida '20 in the 3200 meter run, and the 4×800 relay team consisting of AJ Fundator '19, Ian Bacon '20, Ryan Desantis '20, and Aaron Hou '21. The 4×800 relay team advanced to state preliminaries placing as the runner-up with an 8:07.39, while Maida advanced directly to the state finals, finishing as the runner-up with a 9:32.39.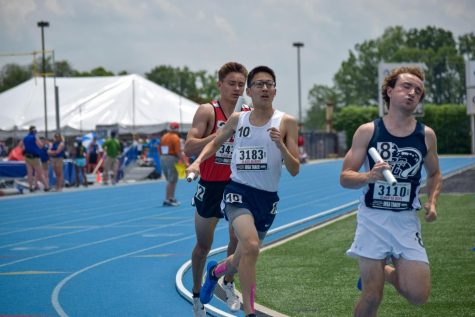 "This weekend was the tenth time in the past eleven years we have qualified to the state meet," said Coach Andrew Adelmann. "but the cool thing each season is the opportunity for each group to really put their own stamp on things. These guys earned it."
Varsity captain AJ Fundator '19 also added, "It's a cool way to close out my senior year. I'm so proud of the work our guys put in this year. At the end of the day though, this isn't the end. We have work to do tomorrow and we want to get back out there and compete. We're not done yet."
The 4×800 team placed 29th in the state preliminaries, running an 8:20.62.
"The day didn't go as planned for our 3200m relay team. Part of racing gets pretty physical and unfortunately senior captain AJ Fundator got impeded by another runner during the third leg of the race and fell to the track very hard. While the other team was disqualified and we were given an opportunity to 're-run' the race, we declined as we were not sure what type of condition AJ was in yet," said Adelmann.
"Sophomore Aaron Hou had run a great opening leg to start things off before the fall and junior Ian Bacon, who really stepped up for us when it counted this season, ran another great race too. Junior Ryan DeSantis anchored our team on the fourth leg and ran a gritty race despite what had happened right before he got the baton," said Adelmann.
"Since my most recent injury, I've gone into all of my races wanting to enjoy them and state was no different. Both the trip out there and the race were a blast and of course, I'm disappointed that we didn't qualify for finals, especially with how it happened. But nonetheless, it was a great time and I'm proud of our (the whole team's) efforts that helped us reach our goals this season, one being getting to state."
With day two of the State Series and Class 3A Preliminaries finished, the series is not over for Maida. "At the start of the year it was in the back of my mind to go to state and as the season went on it started to become more of a goal of mine. When I qualified I was very happy but I was more determined to do well at state. Tomorrow I am excited to go out and just compete. I want to just do what I can to place well and put myself in a position to win," said Maida.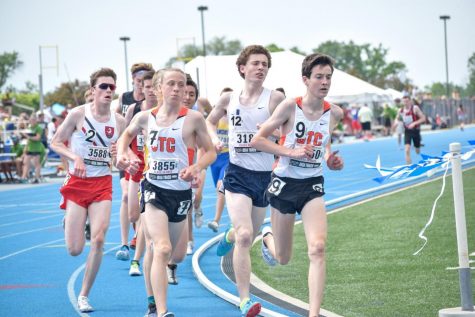 Maida overall placed 20th, running a 9:37.51 in the 3200m. "Anthony Maida put together a great two-mile race to finish in the top twenty in the state and has emerged as one of the top runners in the state. He has become one of the gutsiest racers we have had and once again was not afraid to take control of his race and make it honest. He is a very tough racer," says Coach Adelmann.
"I think that my race at state wasn't my worst but there were definitely things that I could've done better. I definitely performed better than I was projected to do but my goal was to win my heat. Still, I am happy about my finish and it only motivates me to work even harder next year to finish better at the state meet," said Maida.
"Overall we just could not be prouder of the guys. Everything they accomplished this weekend was because of a daily process they committed to and is also thanks to the contributions of almost fifty other guys who were back home this weekend," said Adelmann.
The Eagles are not finished yet, where they are looking to race one last time at Magis Miles on May 31.