Lady Eagles sprint into a strong start
Lead by new coach Emily Vaupel, there is a strong outlook on the season
The Lady Eagles have had a fast start to their season, competing in the Niles West Invitational last Wednesday and Morton East HS Invitational last Saturday.
This year the women's track & field team is spearheaded by a new head coach, Emily Vaupel. She had been in the running scene for a while now, as she was a former runner from York HS and previously the head coach for Lake Views' Cross Country and Track & Field team. She also was a previous marathon pacer for Chicago Endurance Sports, and a current USATF Level 1 Coach. Coach Vaupel enjoys working with teenagers and is thrilled to be one of the coaches this year. She sees this first meet as a great chance to condition for the more technical meets and practice.
"I would say I was really proud of the girls today and they all ran tough in multiple events." says Coach Wickham. Alexandra Ferguson '19 tied the Jones high jump record at 4'6 at Niles West Invitational.
"I decided to try out shot-put because no one was doing field events and running makes me out of breath" says Ferguson. Her performance confirms her versatility, where she also broke the school indoor shot-put record in 30'1 at Morton East HS Invitational last week.
Other key players arose such as Thea Reames-Henry '21 who broke the school indoor 300m record in 48.82 seconds, taking over the previous record, 50.02, held by Cierra Brewer.
"When some athletes run, they look like they are flying. Thea is one of those athletes" says Head Coach Vaupel. She further sprinted forward in her first 400m event as a varsity runner, running an impressive time of 67.5 seconds, placing second and setting a personal record.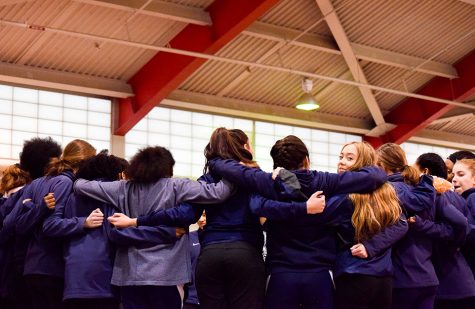 "My first and foremost goal for any team that I coach is that they grow in self-esteem and self-confidence while learning a love for track and field along with a passion for teamwork" says Coach Vaupel, providing an emphasis in wanting the team to grow as athletes and as a team. She wants to focus on this emotional goal in order to bring a better sense of community and support between athletes. She further decided to combine the sprinters and distance runners into one team as a step closer to that goal.
"Moving forward, I would like to see every that every athlete has a PR performance this season" as the team is well on it's way to that goal. Coach Vaupel further has future goals of wanting to see the team develop into a leading track & field team of Chicago, and would love to see the athletes qualify individually or as a team for state. The lady eagles will again return to the track today at Evanston HS Invitational.