Eagles drop last home game of the season
Jones gets down early, never recovers against Longwood in consolation championship
The last home game of the season was a tough one to stomach for Eagles fans, as the boys Varsity basketball team struggled to score in a loss against the Longwood Panthers in the CPS consolation championship.
"We were in a relaxed environment before the game, but then as soon as we got in, things weren't clicking. It was just an off game," said Sam Marco '19.
Throughout the game, bad passes and missed shots plagued the Eagle offense. A lot of time was spent rotating the basketball around the perimeter hoping for a scoring opportunity to appear out of thin air. On the other end, Jones' one-three-one defensive set gave the Panthers lots of easy offense from slow rotations and missed pass-lane steal opportunities, giving Longwood a 63-50 win at the Eagle's Nest.
Although the offense started slow, Jones attempted a late comeback in the fourth quarter down 12. The Panthers missed many late free throws and the Eagles got a bounty of open looks, but no one from Jones was able to take advantage of what was there.
Marco also commented about what playing at home meant to the team:
"I love playing every game at home. I look forward to playing at home. At some points, I felt like the support was lacking from the student body," said Marco. "I love everyone that comes out to the game, but I wish more people did."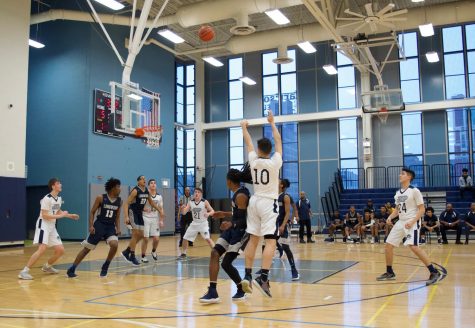 As the Eagles said goodbye to their Nest and look forward to state playoffs, Alex Andrade '19 talked about what the basketball program has given him during his four years with the team:
"Lots of friendships, teamwork, leadership, and getting in shape; giving it all."
After struggling earlier this season, especially on the defensive end, Marco clued fans in on what changed:
"Jarard [Nathaniel] put out a good one-three-one and we all bought in. Everything changed from there."
The Eagles will finish out the regular season against Schurz on their senior night tomorrow, Feb. 20, before moving on to IHSA playoffs next week, where they will face Juarez in the first round of sectionals.