Super bowl
Scholastic Bowl team qualifies for national championships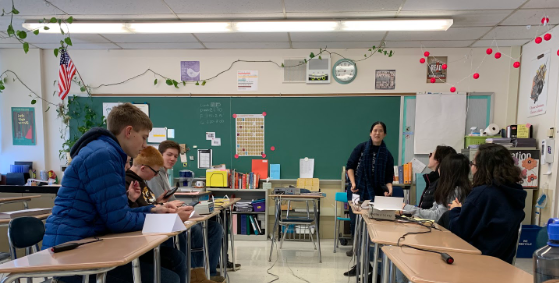 The Jones Scholastic Bowl team took first place at the Metro North tournament on Jan. 26, automatically qualifying the team for Nationals. They faced off teams including Ignatius, DePaul, and Notre Dame for their trophy, finishing the day-long competition with an 8-1 record.  
This Saturday was the finale of a three-day tournament. A total of 22 matches were played, including the two previous tournaments in October and November. The team finished the conference league with a grand total score of 21-1.
Scholastic Bowl is a "Jeopardy!"-style team trivia game. In tournaments, up to five players can participate per game, but the Jones team was slightly short-staffed on Saturday. Only three members played on the Varsity and Junior Varsity levels throughout the day.
"It was a little intimidating seeing people of six, seven people," said Nico Sansone '20, captain of the Varsity team. "But we won [against] almost every team."
This is the first time Jones has ever qualified for the Scholastic Bowl national championship.
"Back in October, when the Varsity team won all six of their matches, we realized that the team was much stronger than it has been in the past," said Scholastic Bowl coach and chemistry teacher Heidi Park. "I think that is also when they started working harder."
Another coach asked what her trick was to get the players to improve, but she said she actually does not do much.
"I made a couple suggestions, but the team members are the ones putting in all the effort to study," Park said. "[They] make sure if we miss something, they'll look that content up, and make sure that we remember it for next time."
Loyola, the only team to defeat Jones at the tournament, also had three people and were gracious winners.
"[They] complimented us on our intro and laughed at my jokes," Sansone said. "All the teams are super nice so you can't make fun of them."
The team was also missing their star player, Dennis Reppen '20, expertise in the sciences helps strengthen that area of the team's knowledge. However, missing one of the strongest players resulted in more cooperation.
"It definitely made us have to work together," said Ranquist. "Sitting in a line and having only three people definitely made it easier to converse amongst everybody to reach an answer."
Park was also impressed with their collaboration.
"They were working really hard to make sure they covered all the bases, and had someone who was on the different topics when the regulars weren't there," Park said.
Winning the tournament was no easy feat, and every match was a challenge.
"The other teams were really tough," Ranquist said. "We came close [in] some matches, within a one question [difference] for about three matches."
The team also competed in some matches where they got off to a rocky start.
"We had a lot of matches where we started off like 70 points behind," Ranquist said. "We didn't get any time-outs because there were only three players, and we didn't have any substitutions to make."
An average match has twenty toss-up questions, with three bonuses for each toss-up won. This tournament, however, had sixteen-question rounds, done in the effort of time.
"We were there all day," Ranquist said. "Most of us didn't get back to our houses until well after [7 p.m.] that night, and had woken up well before [6 a.m.]. Finally getting off the bus was great."
Sansone noted that his favorite memory from the competition was just the time spent with his team members traveling to and from different matches.
"Every time we walked from one room to another we sang, 'We're going on a bear hunt,'" Sansone said.
In order to win each match, the team had to stay focused the entire time. Letting one's guard down for just a second could allow the opposing team to buzz in first and win the match.
"[Winning feels] good because it's like, 'my team did that. We won,'" said Sansone.
As champions of the tournament, the team automatically qualifies for the national championship in Atlanta, Georgia, which takes place over Memorial Day weekend.
The national championship are not the only thing on the team's plate.
Two other tournaments are still planned in February, along with the IHSA (Illinois High School Association) regionals in the beginning of March. "Really, we should be focussing on those things first, and then thinking about Nationals," said Park.
Now, the challenge is coming up with the $3,500 it will cost to go to and from the national championship. Plans to apply for a grant to Friends of Jones and talk to generous family members are already in order.
"This is probably the first time that Jones has been invited to the nationals, at least in recent memory," Ranquist said. "We could present a really good case and we don't think that it's an opportunity they could turn us down on."
Park is also unsure if she will attend, but Sansone said they are preparing to find another teacher if needed. Although the road to the national championship is up in the air, the team will not be giving up anytime soon.
"We'll figure it out," said Sansone.