Lane puts away Jones late
The Eagles fall to Lane Tech on opening night amid strong performances from their stars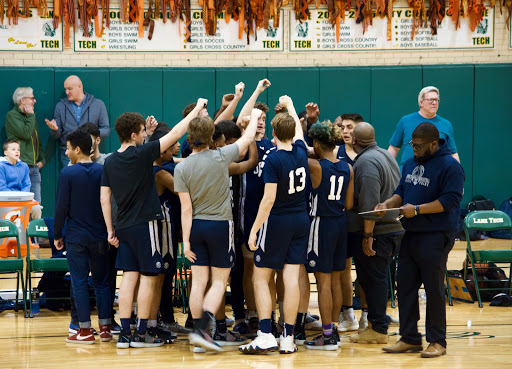 Despite a third quarter comeback from Jones, the Lane Tech Indians toughened up on defense and surged in the fourth to put Jones away in the first game of the season on Monday night.
The game started out slow, with the scored tied at six midway through the first quarter. Neither team could gain much of an advantage, with Lane Tech leading 14-12 at the end of the first.
Rron Thaci '20 pushed Jones ahead 26-21 with a trio ofthree-pointers halfway through the second, the Indians responded with few threes of their own as part of a long run to end the quarter, putting them up 36-31.
Points came few and far between for the Eagles to start the third, but Jones started a slow comeback that would push them to within two with a few seconds left in the quarter. Lane hit a much needed three to stop the bleeding, however, putting the score at 57-52 with the Indians ahead.
Just as the Eagles' momentum was beginning to build, the Indians fed off the crowd and were able to slip out of Jones' grasp late, giving them the win with a final score of 73-62.
Foul trouble plagued the Eagles in the second half, with multiple starters being flagged with three or four fouls before the fourth quarter started. They were forced to play less aggressive, giving the Indians many easy baskets down the stretch.
Given that it was the first game of the season for both teams, the contest was filled with an abundance of turnovers, silly fouls, and sloppiness all around. The referees seemed to be very inconsistent in their calls with the whistle blowing almost every possession with fouls and traveling violations given to both squads. Both teams were well into the bonus in the third quarter, leading to the referees being the target of most of the crowd's chants.
The gym was packed with many Jones students who made the trip to Lane Tech. The Eagle crowd had a definite presence, but often was drowned out by the home crowd and their marching band.
Eagles big man Sam Chierici '19 commended Jones' guards and cited it as the reason they were able to hang with Lane Tech.
"I liked the command on our point guard play today, especially. They [Amen Ausar '20 and Stefan Rosich '19] really controlled the pace of the game."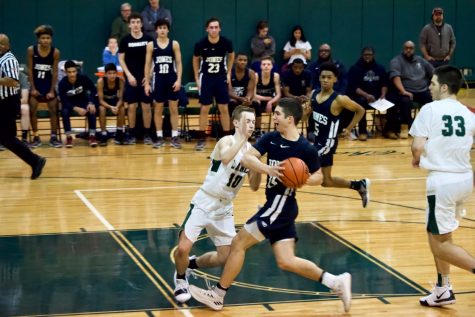 Chierici also said that "getting games close and closing them out will really take us to the next level and hopefully we are able to move up in the division this year."
After the game, Thaci said that "rebounding and inside defense" was something for the team to work on in the future.
The Eagles will continue to play in the Battle of the Bridges Thanksgiving Tournament on Tuesday, November 20 against Niles North High School.