Students demand change, walk out amid risk of suspension
Chicago students participate in the National School Walkout to end gun violence
Arguably the best weather Chicago has seen this year came at the perfect time for thousands of students from across the city who came together for the National School Walkout against gun violence on Friday, April 20.
At 10 a.m. Friday, Genesis Del Real '19 and Angelica Contreras '19 led around 30 students through the main lobby and out to Grant Park, the second walkout against gun violence Jones has seen in as many months. Exactly 70 minutes later, after being signed out of school for the rest of the day, around 600 of their peers joined them in protest, according to security.
The event, which is happening both citywide and across the country known as the National School Walkout, was completely run and led by students. The protest was purposefully planned on April 20, the nineteenth anniversary of the Columbine High School shooting, where thirteen victims were killed in one of the deadliest school shootings in American history. Del Real and Contreras were just two of the many organizers within Chicago Public Schools who decided to facilitate the protests after feeling dissatisfied with the previous walkout on March 14, which was held in light of the shooting at Marjory Stoneman Douglas High School in Parkland, Florida, where seventeen victims were killed due to gun violence.
In comparison to the walkout held last month, the protests centered around advocating for all those affected by gun violence, including those targeted for their race, those affected by violence within their communities, and those who may not have received the advocacy they deserved.
The students choosing to walkout at 10 a.m., when the national walkout was planned, faced administrative members at the main doors armed with I.D. scanners to record the names of students who left. Those who did were warned that, in accordance with CPS policy, they had 30 minutes to return to school if they wanted to avoid facing disciplinary punishment (Jones policy for leaving school without parental permission is a one day in-school suspension). Not one student returned.
According to Assistant Principal Eric Fay, CPS advised administrators to remain neutral in the discourse held today.
"I think that the fact that administration is making us sign out as proof we didn't come back is ridiculous," said Ben Jester '19, one of the students who chose to walk out early. "I'm walking out today because I believe the second amendment is outdated and its causing way more harm than benefit to Americans. We shouldn't be penalized for actually standing up for a cause that affects everyone in our environment."
Del Real and Contreras passed out sheets of chants to the initial students that joined them, reciting them in unison with the crowd through megaphones. As they walked down Polk street towards Grant Park they were flanked by police on bicycles. The first students to walk out were joined later at 11:30 a.m. by hundreds more Jones students at the Grant Park protest.
The protest, held at the south end of Grant Park, welcomed students from high schools all across Chicago including Jones, Walter Payton, Northside College Prep, Whitney Young, and many others from across the city. Media outlets including WGN, ABC, and NBC were on the scene for their coverage of walkouts across the nation.
Thousands came to the rally to hear the stories of about a dozen high school students who have been strong advocates for gun reform, including speakers whose lives have been very closely affected by gun violence. Each of the students explained the impact that this issue has had on them and their communities, citing the harm that gun violence can inflict.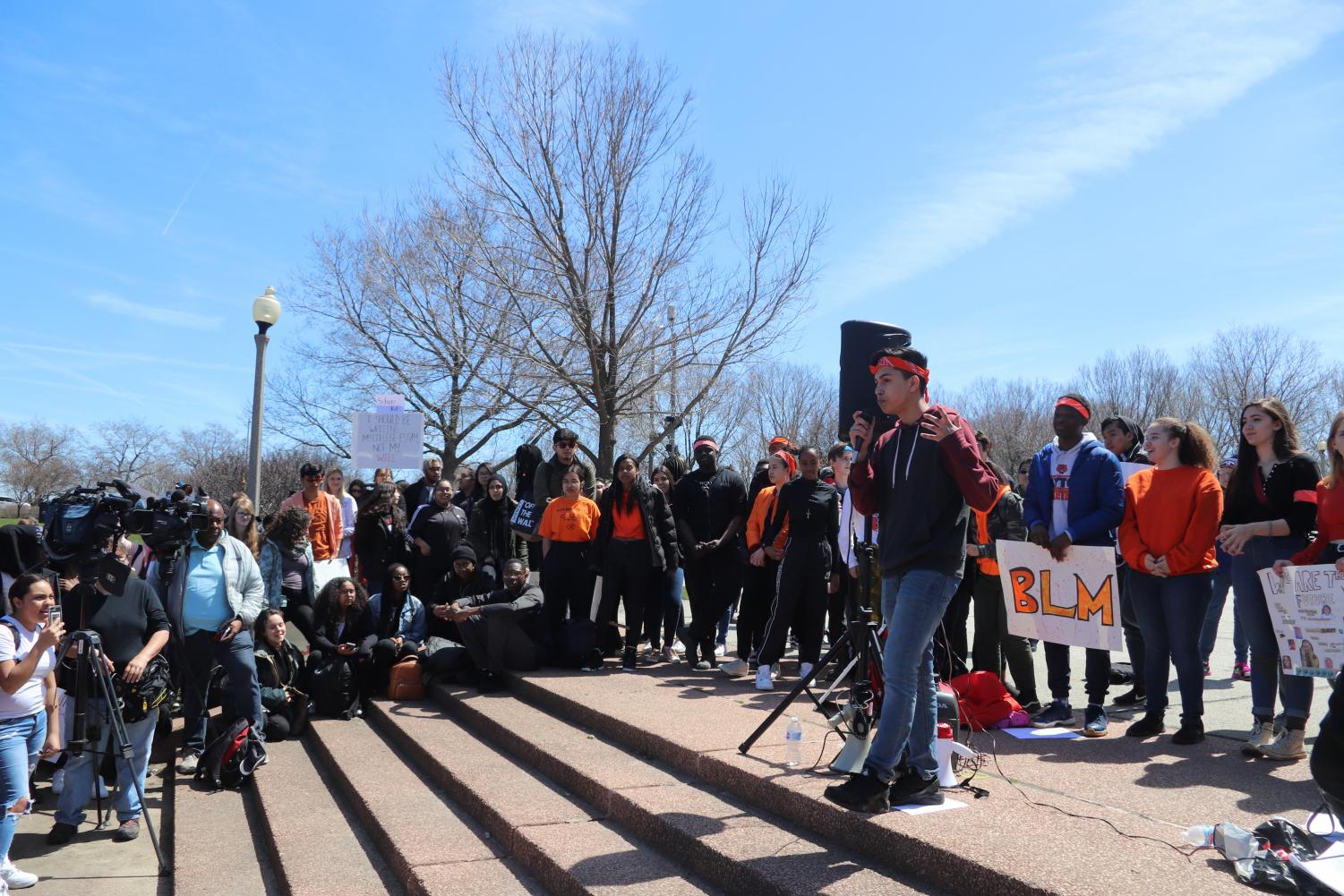 One student speaker used his platform for a moment of silence for the school shooting that occured just hours earlier in Ocala, Florida, where one student was shot in the ankle.
Many of the speakers put the blame on the inaction of national and local political figures, including a student named Matthew from Northside College Prep, adding in his crowd-rousing speech that they "see victims of gun violence as nothing but a statistic."
After the rally at Grant Park, thousands of students marched down to the Federal Plaza, where hundreds more were there waiting for them and joining them in their chants. At the plaza, even more students gave speeches, some of which were given in remembrance of the thirteen killed at Columbine High School nineteen years ago.
One of the primary organizers of this event and member of Black Lives Matter, Richard, a sophomore student from Payton, hoped to accomplish one thing: "Change."