Athletic director leaves coaching position
Frank Griseto steps down from basketball team after 18 years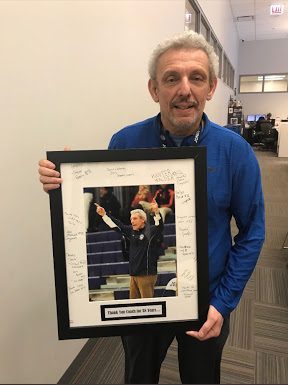 After almost two decades of coaching, a regional title,and five conference titles,  Frank Griseto is stepping down as the head coach for Boys Varsity Basketball.
Griseto has been a coach in Chicago for 38 years with his last 18 years serving as the head coach for the varsity basketball team at Jones. He was first hired in 1999 to serve as the Athletic Director, teacher, and basketball coach. He assumed this role a year after Jones College Prep became the school it is today.
He oversaw the school's temporary relocation to the Near North High School and when the basketball team practiced and played there from 2001 until 2013.
The basketball program has been successful under Griseto despite the limitations the school has on recruitment due to the high academic standards for enrollment. Under his leadership, the basketball program has won a regional title and five conference championships over his tenure at Jones.
Griseto will now commit all of his time to being the athletic director at a class 4A high school.
"I had to make a decision as far as putting 100 percent effort into being the athletic director. The athletic program has grown so much in the last ten years that it requires much more of my attention," Griseto said.
For many years Griseto was the jack of all trades. He taught physical education classes, coached basketball and was the full time athletic director. Both principal P. Joseph Powers and Griseto agreed that the dramatic increase in the size of the student body has made such an endeavour unfeasible.
"He's got so many other responsibilities being the athletic director, I don't know a school the size of this one that doesn't have a full-time athletic director with a secretary," Powers said. "Essentially he felt like it was time for him to step aside from his coaching position to devote more time to the athletic director role and give it more what it needs. He's done a tremendous job for a long time. I think he's going to enjoy the opportunity to have more involvement in the other sports."
Jarard Nathaniel will now assume the role as the head coach of the varsity team after serving as the associate head coach of varsity over the 2017-18 season.
"He's a legend in the Chicago basketball circles so it's a huge honor," Nathaniel said about Griseto.
Nathaniel described Jones' selective enrollment process as having "one hand behind your back in the recruitment process", but despite that Griseto was able to win a regional championship, calling such a feat very impressive.
Griseto is not completely disengaging with the basketball program. He will now be assuming a more advisitory role within the program.
He said he will miss coaching, but after 38 years of coaching basketball he will now have time to book that winter break vacation.