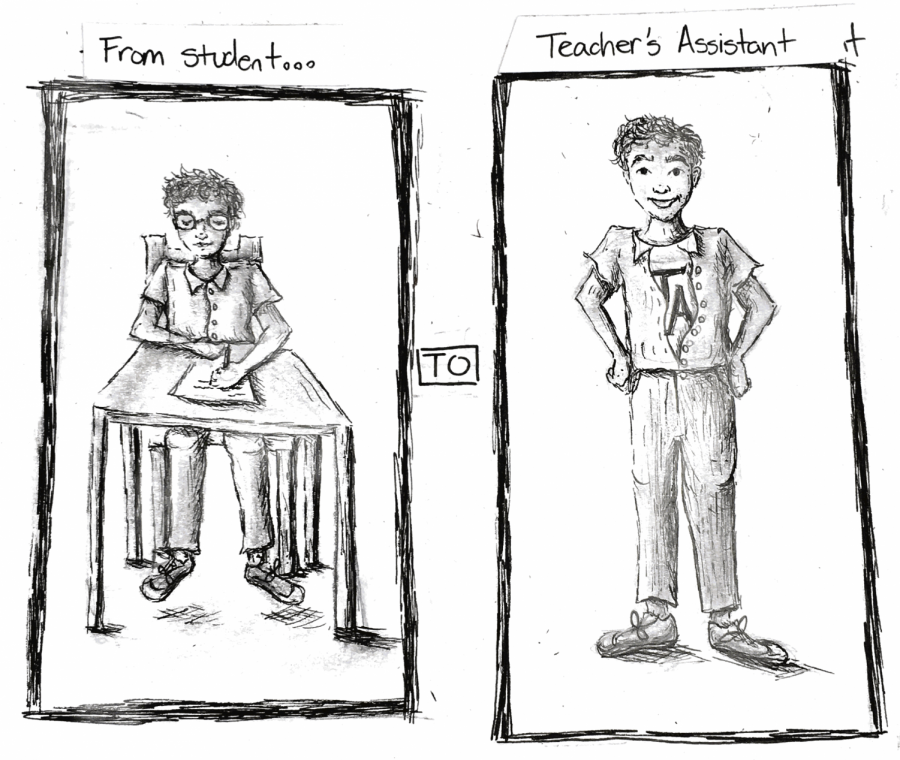 Students step up to the board
Jones Teacher Assistant Program will start as a new class next year
March 1, 2018
Three juniors, with the help of faculty, have created a new course giving rising seniors the opportunity to be teacher assistants (TAs).
Eryn Barnes '19, Samaia Hill '19 and Zakiya Mensah '19 brought the idea to teachers and administrators earlier this school year.
"We mentioned it to Mr. Mitchell in November, then we started creating the proposal for it. We talked to all the different schools to see how their program worked. Then we went to teachers. We talked to every department, I think, to make sure that they would all be ok with it and would actually want to be apart of it," said Hill.
After the three students made their proposal, they went to Assistant Principal Eric Mitchell and Principal P. Joseph Powers.
"Unofficially, we're calling it JTAP or Jones Teacher Assistant Program. It may appear on the transcript as something else," said Powers.
Student involvement in the creation of the class is not the only thing that sets it apart from other classes.
"Each teacher that applies for the program will have their own TA. The TA would be in one of the teacher's classes," said Hill. "Say Mr. Smith has APUSH first period. I would be in first period APUSH."
The teacher assistants will help with everything from making copies to grading multiple choice quizzes.
"At one point in the semester, the student teacher will actually be able to lead their own lesson," said Mensah. "[It would] give them an insight into what teaching is like and go more in depth, because if you teach something, you'll have a better understanding of it than if you just read over it."
Social science teacher Dan Kovacs, who also helped bring this class to life, sees the benefits that JTAP would bring to teachers.
"If we're in small groups, I can't be in every group," said Kovacs. "Another facilitator in class is helpful."
Kovacs isn't the only teacher that is looking forward to this class.
"When we took it to the instructional leadership team, which is the teacher's leadership team, they were very enthusiastic about it," said Powers.
To be in the class, students must meet some requirements.
"The prerequisites are [that the prospective teacher's assistant must have a] B or better in the previous course, a teacher recommendation, and12th grade [standing]," said Mitchell.
If they are assisting him in one of his AP classes, Kovacs has some of his own requirements.
"If they're going to be an assistant in an AP class, I at least would want them to have experience with a couple APs,just so they know [how they work]. Then they can have good advice for the kids."
Jones will not be the first school to offer this class to its students.
"There are a lot of people who are in our grade that do the program at our old school," said Mensah. "We went to Lindbloom, [where] there are Lindbloom teaching assistants. We were thinking that senior year we don't have a lot of classes that we need to take, so instead of just taking random filler classes, we should take classes that we actually want to take."
This idea went all the way to the top, reaching the desks of both Mitchell and Powers.
"They drafted up a nice little proposal of what they wanted this to be like. It was such a nice effort, I immediately had them sit in front of Dr. Powers, who was equally impressed with the presentation of the information," said Mitchell.
"It was very well developed," said Powers. "It wasn't just an idea, there was actually a scope to it."
The description for the class, which the students worked on with Mitchell, is in the scheduling handbook for next year's available courses.
There are some possible issues that could arise with this new class.
"My own personal concern is the longevity of it," said Mitchell. "Courses here at Jones have a shelf life based upon the interest of students. And so right now, there seems to be a lot of interest, but, will it be sustainable?"
Powers is less concerned about longevity.
"I think there's always going to be a need for it. It may come and go, as far as the interest. We've had classes like that," he said.
Scheduling conflicts are another possible issue on the minds of Powers, Mitchell, and Kovacs.
"We have to make sure that students have another choice listed, just like with some other [classes], because if it can't be worked out, you've got to have a class to go to," Powers said.
While this class may not be as popular in two years, it is clear that students and faculty see it as an important elective to have available right now.
"I wish they had this when I was in school. It would have given me just a little bit more of a feel of what teaching was going to be like," said Powers.
Mensah sees this class as important for students who don't plan to become teachers as well.
"I feel like education is a cornerstone of America," Mensah said. "I don't think I would ever become a teacher, but I feel like teaching other people will be, somehow, a part of my job."