#1 on trending
Students aim for YouTube subscribers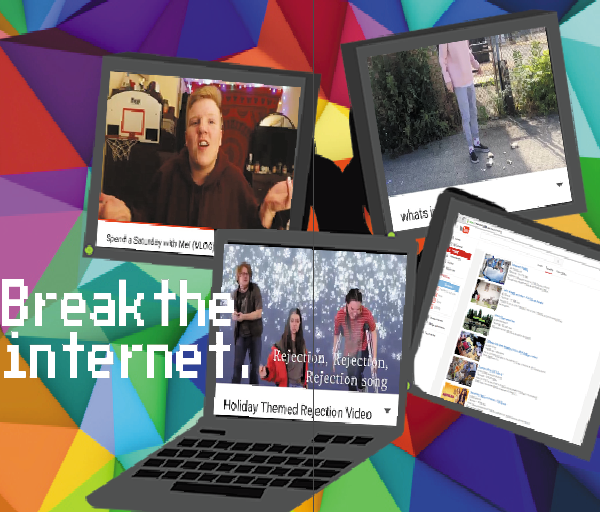 Creating a YouTube account and posting a weekly video was simply an assignment for students in Jake Myers' Digital Imaging III class at the beginning of this school year. As their project draws to an end, some students plan to go above and beyond and continue their YouTube channels for their own fun.
"The students have already learned quite a bit in terms of technique in Digital I and II. They know editing, they know Photoshop, they know Premiere, After Effects. They know the basic utility," said Myers. "But something that I've noticed just in my own video practice is that you learn the most when you just [make videos], and you're forced to practice and re-evaluate and practice."
Students had to create a YouTube channel, come up with a theme, and upload a video every week. The students learned how to make their own productions and evaluate their efficiency. During this process, they also realized the haphazardness of YouTube: how minimal work may result in many views and how great quantities of work may result in few views.
Myers said that he wanted his students to publish their work on YouTube because of the platform's many prospects.
"It just seems like that's where content is going, towards lower-budget, consistent productions, and I just wanted them to learn that," said Myers.
As the project draws to an end, students such as Elizabeth Goldblatt '18, Max Dombrowski '18, and Ethan Mueller-Soppart '18 all have ambitions to continue their channels.
"I'm most likely majoring in Film, Radio, and Television, so I'll have a lot of opportunities to do other creative content," said Goldblatt.
Goldblatt's channel focuses on a narcissistic persona that she portrays, and her videos range from a food review of her mother's cooking to simply stating things she doesn't like.
"I made a video about getting a rejection after hearing back from a college," said Goldblatt. "I knew I wanted to make light of a situation that was difficult."
Titled "Holiday Themed Rejection Video," Goldblatt's upload consists of her singing over Christmas carols about rejection.
"A lot of people texted me back saying that it really helped them and was able to make them laugh and smile at a time when they might have been really upset," said Goldblatt.
Dombrowski, another Digital Imaging III student, gears his YouTube channel more toward lifestyle videos.
"I post vlogs, storytimes, ASMR (relaxing videos). I try to do a little bit of everything, just whatever comes to my mind," said Dombrowski.
Dombrowski says that he mainly focuses on humor and creating an enjoyable experience for his audience.
"[I want] the viewer to be entertained, and hopefully they laugh because I try to make my videos funny," he said.
Dombrowski hopes to continue posting videos in the future, although not as much as once a week.
"I still plan on posting on my channel, and I just like creating videos, so either way I'll still make videos," said Dombrowski. "I hope to be somewhere that's not Chicago [for college], so it would also be cool to make videos in a different location."
For Mueller-Soppart, the goal of a YouTube channel is to produce content consistently and develop a coherent idea around the channel.
"I like to keep everything I do very vague, so there's no one way to think about it. It's an image and you take it or leave it," said Mueller-Soppart. "I also like to put a lot of humor in my videos. In one video, I'm at a urinal, and there's a bunch of other urinals, and my friend [Graham Holmes '18] walks in and pees in the same urinal as mine, and that's the video. It's stuff that's kind of goofy."
As for whether or not Mueller-Soppart plans to continue his channel, he said that he plans to continue posting and see if anything goes viral.
"With YouTube, you never know what blows up or what happens, so I think I'm just going to continue doing what I do, and if something happens, it happens. It's super random," he said.