Partition of a powerhouse
After years of storied success and countless city championships, a petition threatens the future of the Jones-Payton girls golf team
The intense rivalries between Chicago's selective enrollment high schools permeate in the classroom and on the field. The stands fill quickly during Jones vs. Payton basketball games, and the Jones vs. Lane Tech soccer game attracts crowds of students and parents from both schools. The rivalries are fierce, but on occasion foe must become friend. This has been true for the past decade as the Jones and Payton girls golf teams have combined due to a shortage of players at each school.
"CPS rules require girls golf teams to have at least six players. Only four girls from Jones joined the team and Payton could only get three girls to join. In order to have a complete team, the schools created a joint team of seven players," said Sisley Mark '20, a member of the Jones women's golf team.
The urban location of Jones means that there is no nearby place to practice. The team currently alternates practices between South Shore Country Club and the Robert A. Black Golf Course, which is twenty miles north of South Shore. This puts the team at a disadvantage in terms of recruitment and skill development. Nevertheless, the Jones-Payton team has seen significant success since its inception eleven years ago.
"In eleven years, they have won ten City Championships and claimed nine City Champions," said long-time coach Tom Troy, "The Jones-Payton team has easily been the most dominant team in the city for the past decade."
Jones' team captain, Natalie Martin '18, attributes the success of the team, in spite of the shortage of resources, to more practices and tougher competition.
"We play suburban teams over the summer and practice more than other CPS teams," said Martin.
Last season, as city championships approached, word of a petition to split the combined Jones-Payton team began to spread. The petition, which, according to Mark and Martin, was initiated by an unknown source, eventually made its way to CPS. After weeks of no response, CPS released multiple statements, but the ruling was vague and inconspicuous.
"There was a lot of confusion because it looked like we were going to be split. CPS was being slow and unresponsive and so we made the decision to split the team ourselves for city championships," said Mark. "Because we split we couldn't qualify for the city championship and so Whitney finished second and Jones finished third. They eventually let us compete because there was confusion, but because the team was split, we did not do nearly as well."
Even though the Jones team finished in third individually, the fact that their team was technically still a part of Payton's meant that the Jones-Payton team still finished in first in the city standings.
Moving forward, the players all agreed that the team has made improvements and is becoming a force to be reckoned with.
"Though it's hard for us to compete with the larger suburban schools we are often playing at the same level as them. And even if we lose we're becoming better golfers in the long run," said Martin.
The team is still small, but its reputation is growing. They hope to recruit more underclassmen who are willing to contribute to the team and who are willing to put in the work to keep winning city championships. Experience, or lack thereof is not a deal breaker, however.
"I think that it would be great if we had more players. More players would increase team spirit and make golf a more recognizable sport," said Mark, "anyone can join, some girls on the JV team have never picked up a club."
About the Writer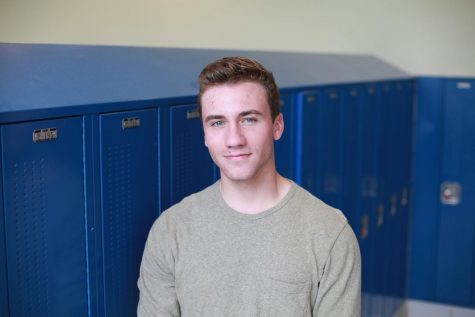 Dylan Spector '18, Sports Editor
INTERESTS & EXTRACURRICULARS: Baseball, traveling, writing, breathing



ONE WORD TO DESCRIBE ME: Calm



IN TWENTY YEARS: Working as a software...