Ever-expanding faculty
K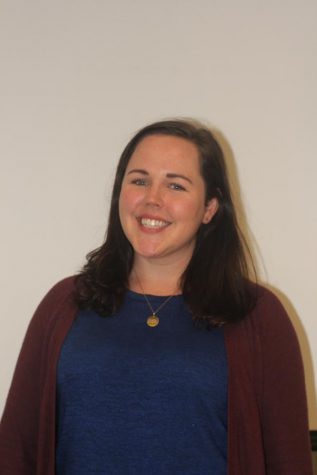 ATIE COLBY – HONORS CHOIR
By Boris Fedorov '18
Why did you become a music teacher?
I think that hanging out with kids and making music is honestly one of the most fun things I could do. I've always really enjoyed teaching, explaining and guiding people, and music is just the facility that I do that through. I really think that kids of all ages are just like really incredible. I love seeing young people really figure stuff out and I've taught through pre-K to twelve.
What are you most excited for at Jones?
Everything. I'm super excited to pick up where things left off. There are so many great things already happening so I'm really excited to keep a lot of things going and just add to. I'm going to try to add my own value to some of these things. For example, I really find a lot of importance in composition and improvisation which is something that's Sam Donnell
typically not done in the secondary music levels. People think that vocalists are not musicians and there's a lot of music jokes about that, so I would really like to make sure that vocalists are, you know, wonderful singers, but also seasoned musicians empowered to make their own decisions musically and, I don't know, maybe that will transcend into the rest of their lives.
What drew you to Jones?
I have taught at a lot of different schools and I have had some interesting experiences that have lead me to believe that I am happier teaching short term at a school that is very supportive than teaching long term at a school that isn't. I am really excited to be at Jones because of its excellent reputation. I have taught at Northside and Whitney Young in temporary positions and for me this is really a fantastic opportunity. I feel like I understand where you guys are coming from and there's a lot of students who are going to be thoughtful, engaging. I'm just excited about the reputation of the school and the choir department.
What do you have to say to the students who knew [Ms. Covalle] and really love music?
Come hang out with me! I'm not Ms Covalle, but I'm really fun. I'm really enthusiastic about you, about singing, about music. And, you know, I don't really want you to be saying, "well we did this…", but I value your opinion and I value your input and I want to make sure the program fulfills your needs as students and not just my aspirations as an adult.
What do you expect of your students?
I expect my students to try and to be present. I expect my students to learn from their mistakes because we will make a lot of mistakes. And I hope that by the end of the year we will feel very confident. I want my students to feel like they have decision making capabilities through music, that they have skills and tools that they can use.
What should your students expect of you?
They can expect me to be a little over enthusiastic pretty often. I will definitely sing things that they might expect me to speak. I will definitely be silly and goofy all the time but I will have high expectations of their commitment and their effort.
How rigorous are you in class?
I would say in class, I expect a ninety minute period to work for ninety minutes. One hundred percent. Everyday. However, I value your time a lot and so my goal is to make choir something you enjoy going to and something that does not stress you out and so there will be as little after school commitment that is attached to curricular activities that I can make. I'm not saying there won't be homework, there's obviously going to be concerts and a couple of dress rehearsals, but I really respect the amount of other things you guys do and I want to make sure that choir is adding value to your life and not stressing you out. So that's something that I'll always be very conscious of. Of course, there will be some after school opportunities as well: we will still be doing the chamber group and a men's group. Obviously, if you commit to this extracurricular activity, I will expect you to commit to that extracurricular activity.
Do you have any specific plans for your shows?
This year is a transitional year and there's no need to reinvent the wheel so I think that this year I really need to get to know my students and they need to get to know me before I make a whole lot of changes so you can expect things to be, for the most part, along the lines of what has been in the past. But, I have not planned second semester dates yet because I want to make sure that I know what my students and my parents want to do. I want to know what you guys value, because there's certain things that I might do differently and if it turns out that we all value the same thing, then we might make some changes this year. But I don't anticipate making a lot of changes.
Ms. Covalle had themed shows. Are you going to stick with that idea or focus more on concerts with different musical pieces?
So our winter concert will probably not be a winter concert. It will probably be more like last year's winter concert that I presented – we called it a Peace Concert. We will probably do something akin to that that may have some holiday influences but I think that with our political climate we have a lot more to say than just "deck the halls". The heart of the holiday season or the joy that we feel or some of the sentiments of the holidays, I think, can be expressed really well but it doesn't necessarily have to be with Christmas music. Or Chanukah music. It will still be a holiday hearted concert, if you will, and then the end of the year has traditionally been a pops concert. So again, I don't know if I'm quite enthusiastic about themes in terms of like I don't if I will make tee shirts but we will have posters and there will be a theme to the music that we choose. I need to find what's important to my students.
Last year, Ms. Covalle didn't help with the musical so our theater director, Mr. Lyons, had to find a music director outside of Jones to help out. Are you planning on working with Mr. Lyons on the musical this year?
Yeah, I actually talked to Mr. Lyons a few weeks ago. The plan is that I will be doing the spring musical with you guys. There's a couple of other factors that play and so I need to make sure that everything will work out, but yeah, that's the plan.
Do you have anything you would like to tell your students?
Come audition for the men's group!
You really seem passionate about the men's group. Are you excited for that?
I am really passionate about all the groups. If I could teach ten classes, I probably would because there is like six other classes I think we need here. But obviously I'm one person and every human has limitations. I'm just really enthusiastic about everything. Again, this is going to be a transition year and the numbers are maybe not quite as big as they might have been if Ms. Covalle was still here just because people are like, "Oh no! There's going to be a different director – I'm freaking out!" I think that there is some joy out of watching boys sing because there are so many that say, "Oh, I can't sing. My voice changed, I don't know how to use it anymore." I just think that it's a really exciting thing to see a group of young men singing.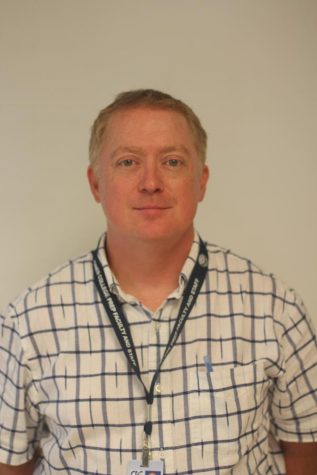 FRANK HASHIMOTO – HONORS ENGINEERING II & IV
By Nick Rappe '18
Where did you grow up?
I grew up in Chicago. Oddly enough, I live 4 blocks from where I grew up. That wasn't really the plan. I lived there until my early twenties and moved to Lakeview. From there, [I] went to Montreal for 10 years and we've been back here for 4 years. When we moved back here, it wasn't really the plan to move back to the same neighborhood. We did a whole analysis of the city and it just made the most sense.
Where did get your education?
For grammar school I went to St. Ben's, [and] for high school I went to Gordon Tech, now known as DePaul Academy. For college, for both my bachelors and masters, I went down to [the University of Illinois at Urbana-Champaign] in the architecture program and [got] my masters degree [with] an emphasis in structures, which is why I was able to take the structural engineers' exam.
Describe your experience as a structural engineer before coming to Jones.
I've been working just over 20 years, [the] first two years [working] as an architect, last four years working as a [Building Information Modeling] manager, so I was managing the staff and how the office does that work. [During] the years in between, I was working as a structural engineer.
What made you want to move from engineering to teaching engineering?
It has always been something of interest to me and I've been in the ACE mentor program. Over the past few years, I've been on the advisory committee at Wright Community College. I was a teaching assistant while in school, and am looking to pass on all this knowledge I've gained over the past 20 years.
Why did you want to teach high schoolers?
There wasn't a specific group, but Jones is an excellent school. The people here are more advanced so it is similar, to some degree, to college.
What are you excited most for here at Jones?
I toured the school a couple times and [was] impressed. I know the architect. My wife actually worked with the architect who did the building. It's a great facility and definitely [there's] a great spirit about the school. It's the community here and looking forward to having the opportunity to passing on what I know.
Do you have any specifics that you want to change about the CTE track?
I'm quickly learning everything about it. I grew up in Chicago with a passion for architecture. I know CTE covers all aspects of engineering but can bring that strength of knowing the history of Chicago architecture, the structural systems used within the city, the foundation systems. I worked on Soldier Field for four years, from almost start to finish, so I know that structure intimately. I can pass on all of the experience that I went through and all of the interesting tidbits.
Any other passions outside of architecture and engineering?
I'm big into photography, it's something I've done since I was a kid. My father introduced me to it, I worked in a couple photo stores. I didn't do it for a long time, because it can be quite expensive, but now with digital photography, you can just sit there in the evenings and edit photos or upload them, and share them with people. With the Flickr website, there is actually an audience, and [with] Instagram, you can instantly share them with people, and that's so gratifying. It's not like I take 1000 photos and "here I've got a photo album, do you want to look at it?" It's global, with Flickr I've gotten to know people across the world.
Any specific things you really like to take photos of?
[I] tend to go with buildings. I'm not a street photographer, meaning I'm not big on candid photos of people, but I pretty much do everything else. I'm not big on macro photos of flowers, but buildings, abstracts, tricks with the camera.
What is your connection to Cirque du Soleil?
When we lived in Montreal, I was very lucky. I worked at a small 30 person firm, and one of their big partnerships was to work with not only Cirque du Soleil but also the companies that build the stages and grandstands for the Circ. I was able to work on at least 8, maybe a dozen, Cirque du Soleil shows. It's interesting, because obviously with the travelling shows you can work on it then go see it, because every year it would premiere in Montreal. But some of them I never saw, and it wasn't until last November that I saw the KÀ show [or] the Love show in Vegas, but it was fun. They were great people to work with, they were very creative. But it was fun, very fun work.
While you were in Montreal, did you pick up any french?
I had to. I'd learned french over the years. I studied there my junior year in college. I learned some of it there, but I didn't learn it 100% because my classes were in english, so I was a glorified tourist. Then I met my wife who is french canadian, so I learned more there. I had to speak to the in-laws, I learned some there, then the 10 years in Montreal solidified it because I had to work both in the office and with clients so I had to speak french. And obviously when you immerse yourself, Quebec is funny because you could easily sidestep it and only do english, but I had it at home. It was a fun experience.
Anything else you want to share about yourself?
The biggest thing that always comes up is how does a red head have a Japanese last name? Well, my grandfather was Japanese. He was actually in Vaudeville and in show business as an acrobat, so it's funny that it came full circle when I finally started working with the Cirque. That's where my last name came from. My mother was Irish-Dutch [and] my father's side also has some Irish so that's how I ended up the redhead with the Japanese last name.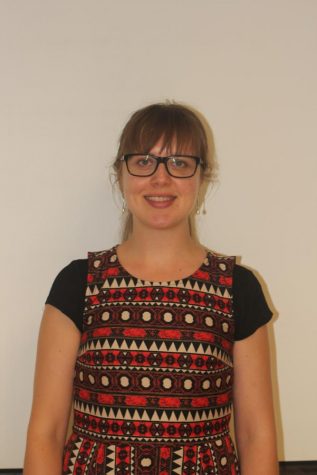 SUZANNE MAKOL – HONORS DIGITAL IMAGING I; HONORS ART I
By Susana Chenmei '18
Deklin Versace '18 contributed to this article.
What classes are you teaching?
I'm teaching Art I and Digital Imaging. I was actually a student teacher with Mr. Myers two years ago.
Do you have any idea what you want to bring to these classes?
It's pretty open ended so I'm still trying to rein in on what I want to focus on, but photograph is definitely something I have a lot of experiences in so I'm excited to do a lot of photography projects in digital imaging.
There's a focus of realism in Art I and Digital Imaging. Do you have an opinion about it?
I don't think the whole year should focus on realism. I don't think it's completely good to skip over it. I mean I think not everyone value realism or should they when they are making personal art unless that's what they are focusing on. In general, in an art class, you know it's kind of experimenting different things so I personally don't like skipping realism completely, but I don't think it's the main focus. I think it's good to at least give the skill so if you want to use it, you can apply it to the idea you want to use it in.
What do you think of the class when you were a student teacher with Mr. Myers?
I think what's cool is that all the art teacher agree (this is why I'm excited to work with them) that anything can be art so we don't like to just close it in one thing so I think everyone is willing to be open mind and experiment. Like right off the bat, the first thing that was taught (which is Mr. Myers' idea) was the animated gifs. That was something that I had not taught before so it's a really cool way to start off the year cause I think it sets the tone of like anything can be art. It is kind of weird, it can appropriate imagery and hopefully that open up students to think it can be anything.
Have you taught at other schools before?
[Jones] is my third CPS school so like two years ago, I was student teaching with Mr. Myers. I student taught in the fall which most people don't and I was lucky enough to get a job in an elementary school in the middle of the school year. That one was temporarily because it was for a medical leave. Last year, I was at Clemente High school. I've taught for one and a half years. Before that, I was teaching a lot of after school classes at Marwen. It's a free art program in Chicago in River North so that was my experience prior.
What is your philosophy for teaching?
I use to tell one of my friends I want to be a physics teacher of art so in high school, I really love physics and I took it for three years. I have always found that physics teachers are very weird. My favorite physics teacher in high school would tell us that planes can't fly and try to explain there is no way that there is enough lift for how heavy it is. Just that play with not accepting things the way they are and even just have fun and be silly. He would say silly things. In physics, you know there would be a lot of diagram so if we would ever use stick figures, when he grades our papers, he would kill the stick figures. With his red pen, he would draw an arrow with blood dripping down. Not that I'm trying to do the exact same thing so I don't know how to explain it, but just that playfulness and I was talking about how art can be anything and I want my students to know that and once you know that, it's kind of like open this whole world of everyday experiences can be creative.
Why did you want to come to Jones?
I went to Whitney Young [for high school] so I think I have a similar experience to what Jones is like so I can relate to my students really well here. It just seem like a really positive supporting environment and like I was saying my philosophy fits in with the other art teachers so I think that will make us even more successful and to support each other because we have similar goals.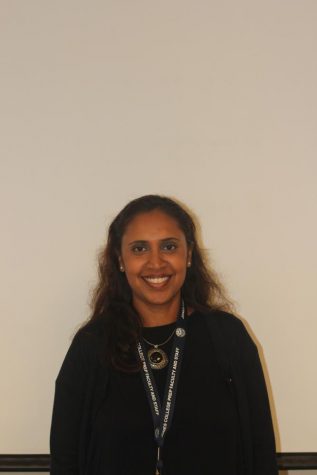 VIJAYA SCHNATTERBECK – COUNSELING, LAST NAMES P-S
By Dylan Spector '18
How did you get into counselling?
I started my career in Singapore where I was a community based social worker and I did a lot of work with families—children and adults. I worked primarily with low income families and helped them to prepare for school with help in subjects like reading in math. I focused a lot on helping kids with computer skills and I would assign volunteers to certain families to provide support. My career then shifted into working with teens and young adults to prepare them for interviews, teach them how to talk about themselves, and to build a strong resume. This program then transformed into a national program that helped unemployed adults get back into the workforce.
What brought you from Singapore to Chicago?
I left my job in Singapore to come to Chicago to get married, but I wanted to continue working in this field. I just love working with people. Because I was a first generation college student, my parents were never able to guide me through the college process. This motivated me to continue my line of work into counselling high school students through the college process.
Where did you work before coming to Jones?
When I came to Chicago I started out in CPS where I was a counsellor at Lane, then Northside, and then Deerfield. After that I decided to take some time off to have my daughter— who is now three—and now I'm back to CPS.
As I'm sure you are aware, the counsellor switch was a surprise to many Jones students. When exactly were you hired about this position?
I had actually been visiting family in Singapore for the summer and when I returned I heard about a job opening here at Jones. This was in the first week of August. I applied for the job and last week they emailed me that they would like to have me in for an interview. I interviewed last Thursday and again on Friday and now here I am.
With the college application process looming for many seniors, how do you plan to get to know the students that you will be writing recommendations for?
You know, because I have been at multiple schools since I arrived in Chicago I have learned to adapt to changing environments. It would be very helpful if students complete their self-assessments so that I can get a basic understanding of where each student is coming from, but I would like to schedule individual meeting with my assigned students in order to get a sense for things that might not have been expressed in the self-assessments.
What do you recommend students start doing now to prepare for the college process? Should students take the initiative to come and see you?
I plan on taking the first few weeks to get oriented and settle in, but I will also post my hours on the door so that students know when to come see me. I respond to emails as well, any quick questions I can answer on the email, but for other questions I am always available during lunch periods for students to stop by.
Moving away from college, if a student comes into your office and is extremely stressed or anxious, what is your go to strategy? What would you tell the student?
I know that at a school like Jones there is an especially high pressure to achieve, so I like to try to get any stressed students to relax. I try to figure out certain methods that help each student calm down and then go from there. Once the student has calmed down a bit, I would go through their assignments and prioritize. What can we work on now, which one is due first.
After counselling students at so many high performing schools, what is a mistake you see a lot of students making when it comes to course scheduling? How should students challenge themselves without becoming overwhelmed?
Like you said, at a lot of these high performing schools students feel the need to pile on AP classes and take the most challenging courses available. I encourage students to challenge themselves, especially at schools where students are so smart and motivated, but I think it's important to understand what you can handle individually. Colleges do not need to see six AP classes a year to be impressed. Take classes that you are interested in. It is better to have two or three AP classes that you are passionate about and get good grades than to take five or six that bore you and get poor grades. This being said, I always have to look at where the student is. Every student is different and can handle different amounts of work. We want to build a holistic profile so it is important to take on what you can handle in order to save time for extracurriculars or other things that really interest you.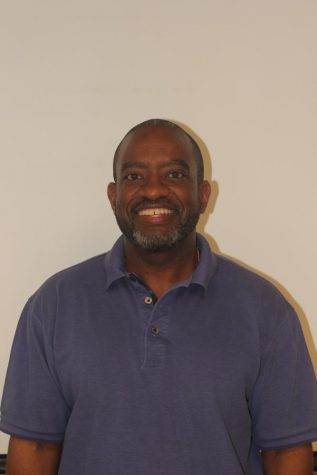 MELVIN SLATER – HONORS ENGINEERING I & III
By Lucy Tindel '19
What brings you to Jones?
I have a very, very passionate feeling for engineering being a former engineer, and this is an excellent opportunity to kind of enhance or motivate students going into engineering, because I think engineering is the greatest discipline out there.
Are you passionate about teaching?
Oh, absolutely. I mean It's kind of like preparing for something that's not there yet.
You said you were an engineer. What type of engineer were you and what was your experience with it?
I was an electrical engineer, and i worked with Bell Labs, which later became Lucent, which later became Lucent Technologies, so I was dealing in the telecommunications sector, and I was doing hardware design and software development, so I was actually designing and writing software.
How would you describe your teaching style?
I'm very concept based. I like to facilitate learning; I do not like to just give an answer. I like to help you arrive at your answer so you can own it, and it's yours. No one can take it from you, cause I think if I give you an answer, I can take it back, and I want you to be armed with intelligence. I want you to have the freedom of "Hey I did this."
A lot of students, especially freshmen, are nervous about engineering, because it's said that the class can be pretty difficult. What would you say to those students to ease their nerves?
Just be open minded, be willing to work, be willing to listen, be willing to follow directions, be willing to work hard, and i think you will be able to see that it really is not hard. Engineering is more practical, more common sense. It's logical.
Do you have any hobbies outside of teaching?
I love sports, I actually coach peewee football. I get involved with baseball team as well in inglewood. During the summer I do engineering courses for elementary school students. I love black history, so I get very involved with that. And I just enjoy just having fun.
What have you heard about Jones students?
I've heard that the students are exceptional, and I'm like "wow, that's something that I'm not used to", and when I say not used to, cause the teachers say "They do their homework, you don't have to put a gun to their head, they'll do their homework and they'll actually ask for homework" and I'm like "No, really?"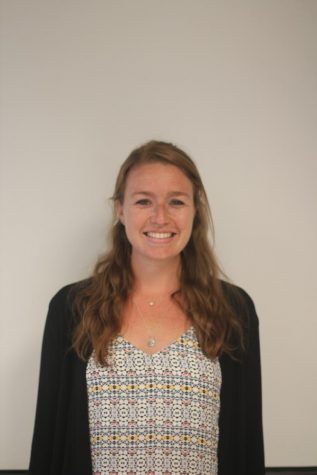 HOPE STIMAC – COUNSELING, LAST NAMES H-K
By Katherine Williams '20
How long have you been a counselor?
This is my first year of full time counseling. I got my undergraduate degree from University of Wisconsin in Human Development and Family Studies and my graduate degree from DePaul University in School Counseling. I got my first job out of grad school here at Jones and filled maternity leaves for multiple teachers over the past two years. I was hired full time at the end of the school year last year.
What got you into counseling?
I always wanted to work with students, but I didn't think teaching was for me. I took a counseling psychology course when I was in college and I really wanted to take that knowledge and use it with students. While I was getting my undergraduate degree, I volunteered at a lot of different organizations and worked at a child abuse prevention agency and at elementary schools. Then I came to DePaul to get my masters in School Counseling and while I was at DePaul, I tutored DePaul basketball players and interned at Skinner West Elementary School. Now I'm going to work here and live up by Wrigley Field.
That's a super fun neighborhood! Do you spend a lot of your free time around there?
Yeah! I love hanging out with family and friends around there and going to Cubs games. I also like to run and I'm actually running a half marathon in September! I'm really into baking and I love to read, especially mysteries and thriller novels.
Do you have any goals for the year?
What I'm really hoping to do is to get to know all the students on my caseload. I'm working with students with last names H-K and I have worked with some of them before during my previous time here. I'm really looking forward to building relationships with my students and to become part of the Jones community.
Are you nervous about working at Jones?
I'm more apprehensive than nervous. Counseling is in a transitional year, so we're making the switch to the 4-year counseling plan so that students can stay with their counselor for their entire high school career. It's going to be a huge learning experience for all of us, especially for me because it's my first year full-time.
Many students definitely feel that was the right choice to make the switch from the two-year to the four-year model. Are the counselors excited as well for this change?
Definitely. I'm looking forward to this new model so that I can meet my freshmen, and then still work with them as they pursue their post-high school plans. I'm excited that I can now build relationships that will last for all of high school.
With this new model, what do you think is most important in being a guidance counselor?
I think as a counselor, it's important to meet the student where they're at. The student's expectations and goals matter to me the most. On the student's part, being open is the most important, but I want students to feel comfortable. Many times, students think that counselors expect them to spill their life story, which is not the case. That's something that can be challenging about being a counselor.
What else do you think is challenging about working in the counseling department and how do you want to work on that this year?
At Jones, we are tucked away in our offices, so we aren't very visible. Also, I think there's a misconception for students about what counselors are there for. Even if you aren't struggling, you might have questions about summer programs. I'm the enrichment coordinator, so I think many students don't think about those other topics you can come to your counselor about.
As enrichment coordinator, do you have any plans to remodel that system this year?
I think I'm going to play with the current system and see how it goes. I don't think that many students pay much attention to the enrichment emails or that section of the Jones website, so maybe there is some work to be done. Getting the information to students is always a challenge because I know that students don't always read their emails. One student told me that the counseling department should get a Snapchat account.
I think a lot of students would respond positively to a social media presence. Does the counseling department have any plans to work on that this year?
That's definitely something that the counseling department has lacked so far. Some counselors brought up the possibility of using Twitter, but I don't think many high school students are on Twitter. I think Snapchat would be the easiest way to reach students because they're already using it on a daily basis. From my knowledge, the counseling department has not really considered a coordinated effort to be on social media.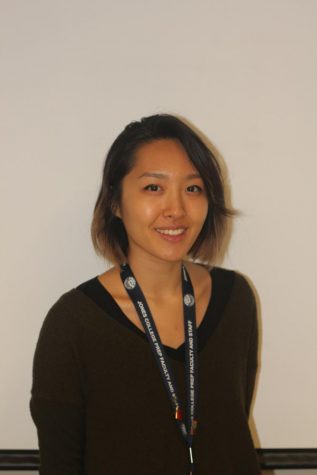 KAT ALICE TAE – AP STUDIO ART; HONORS CERAMICS
By Daisy Conant '18
Where did you go to school and what did you study? How did that translate into what you do now- teaching art at the high school level?
I went to the School of the Art Institute of Chicago, and I got a fine arts degree with an emphasis- sort of like a dual degree- in art education. I really liked SAIC's program because the first five semesters- more than half- were [focused] on you developing your practice as an artist and the final three semesters you really dedicate your time to learning how to teach. I think I preferred that method more because I think establishing yourself as an artist is essential to becoming a teacher- I think your subject comes first, not teaching. I also liked the social practice nature of SAIC- it wasn't just "here's a tradition of teaching, now practice it"- it was more focused on really engaging in what teaching is as a practice and looking beyond what we teach as a subject to how we can develop a community of social citizens.
Did you go into art school with the intention of one day becoming an arts teacher?
Yes, but I had no idea I would become the kind of art teacher I am today. I grew up in the suburbs, so I feel like I had a very privileged education and my teachers were really important to me, so I wanted to give back what I got. Then [I went] through this sort of de-romanticization process and I realized, "Wow, teaching is not like 'Dead Poets Society'- it's hard," and it was heartbreaking a lot of the times. I came in [to SAIC] and came out doing the thing that I wanted to do, but I feel like my intention, mission, and purpose really changed in those years. Teaching for me now is about the students and helping them, and I'm interested in teaching in public education because it's accessible to everyone. I always say that I love teaching art because it combines my two favorite things- art and people.
After graduating, what experience did you gain in the fine/visual arts field? Did you go right into teaching?
Well, I sort of had this crisis where I didn't know if I wanted to be an artist or a teacher, so right before I started the education program I did a few art residencies through the Yale School of Art and Oxbow, a small school in Michigan that's connected to SAIC. Essentially, I received an opportunity to go somewhere, study, have a studio space, and just live the life of an artist without the practical concerns of funding myself or having a place to live. It was really great and I feel like it was a really important part of my education, and I wouldn't be so sure of myself as a teacher now if I didn't have those experiences, but I did learn it wasn't as fulfilling in the way that teaching was. I don't really want to participate in galleries- for me, it's more about creating the art, not really about showing and selling and all the bureaucratic things like that.
Where was your first teaching job?
A: I actually did my [high school] student teaching at Lane Tech and my elementary student teaching at a neighborhood school in Little Village, and this is my first [full time] teaching job.
Why did you decide to come to teach at Jones?
I didn't request to go to a magnet or selective enrollment school, but I really appreciate how the students are so diverse racially and economically- I wanted to go somewhere where there was a diversity of students because I like to teach and cater to that population. I heard about this position from my department and was also really excited because it was for classes that I really wanted to teach and with a team that I really wanted to work with. I got really lucky- I feel like I won the lottery in terms of jobs.
So far, what stands out to you about the Jones Art Department?
What stands out is how unified [the teachers] are in what we want to do. There's no competition in philosophies or egos, we're all sort of on the same page and we're all enthusiastic artists. I feel like you run into a lot of art teachers who don't really make art on their own, they sort of just show up, but everyone here is really passionate and it seems like we're all going to support and challenge each other. I really want to grow through my role as a teacher- teachers are students too- so that's really exciting.
What do you plan to bring to the Art Department at Jones?
A: So my nature is actually interdisciplinary, which means I don't like to work specifically in one media. I was actually worried about that when they were hiring me- I was like "listen, I'm not a ceramicist, I would never call myself that, I don't deserve that title"- but I like working with a bunch of different materials and ideas. I think working with different concepts and materials is more interesting to me than becoming proficient in one traditional media. Ms. Boban is really open to me expanding ceramics into more of a sculpture class, which I'm really excited about, and she also handed AP Studio Art over to me. In that class, I'm really trying to incorporate actual, real-life artist practices [such as] studio visits. For the most part, artists who are out in the world are in their studio a lot making art, but a really important part [of the practice] is getting out and having conversations with other artists, so I want to facilitate that.
When you're not teaching, how do you spend your time? What are you passionate about?
A: I always say that I love teaching art because it combines my two favorite things- art and people. I am a total workaholic and my job is basically my life. On the weekends I'm coming up with lesson plans and experimenting with them, I can't even help myself.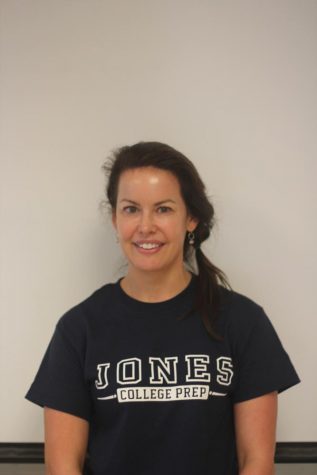 CHERYL VERHEY – AP MACROECONOMICS; HONORS MODERN WORLD HISTORY
By Toni Nedoss '18
You're coming to Jones to teach AP Macroeconomics. How did you first become interested in economics and why do you teach it now?
Aha, good question. I actually have no experience in economics, I have the most experience in AP. I taught AP US History for 18 years, I'm a reader and table leader for the AP US History test, I'm a mentor for the college board AP US history, so I love love love AP. But when I interviewed at Jones they needed an AP Econ teacher and I'm also gonna be teaching modern world history. So I spent my whole summer taking econ classes, I'm very very excited for my new AP challenge because I love AP. What brought my interest to AP econ was working here at Jones.
As you may know, Jones has never had an AP Econ class before and this is the first year, so what are your expectations for the class?
My expectations are that we can get into some really fun projects and do more creative learning with macro that we wouldn't be able to do if we had micro and macro in the same year as most schools do, so I think that's super exciting. In all of my econ classes over the summer I met lots of other experienced AP Econ teachers who had lots of greats ideas, projects, books, movies, and all kinds of fun stuff that we can do.
What is your teaching experience before Jones and have you taught anything other than APUSH?
Well, I've been everywhere. I started teaching in Lake Zurich 20 years ago and I lived in Lincoln Park so it was a crazy far drive. So then I started applying to city schools and I ended up at Hubbard High School on the Southwest side. But I ended up going to Payton, where I taught AP Government, which I really really loved. For the past 11 years I've been at Phoenix Military Academy, where I was the entire US history department since it's a smaller school. So I taught regular, honors, and AP. Prior to that I taught a little world history in my earlier years of teaching. I've taught Law and Justice and Government. So again I really love AP and I have an incredible passion for it so I'm very excited to expand my AP repertoire.
Why did you decide to become a teacher?
I've wanted to be a teacher since I was in the second grade, I've always wanted to teach high school. It's kinda strange but I've always had this fascination and love of high school. When I was in high school I loved every minute of it and I really love teaching it.
What do you think makes you stand out in the classroom?
Well, I think when I was teaching APUSH what made me stand out was my incredible passion for the subject and my knowledge of the subject, all of my degrees are in history and I study every summer. I think I'll say what will make me different this year is the fact that I'm doing something completely new that's really exciting. I'll be learning with my students in some ways and I just really love learning and school. I have fun everyday in the classroom.
Why did you decide to come to Jones?
That kind of goes along with my last answer. I really love the academic part of school, so I was very excited to come work with students who also love learning and are up for an academic challenge and learning new things. I love being surrounded by students who are excited about learning like I am.
What are you looking forward to about coming to Jones and the upcoming year?
I'm so unbelievably excited to be here. Back when I worked at Payton, we talked about Jones being one of the most unique schools in the city and in your ideals and holistic education. I've always had an admiration of Jones and I've always wanted to work here so I'm very excited to be here. One of the things I'm really looking forward to is teaching econ with Mr. Borge. At my previously school I was my own department and I'm super excited to actually have a team to work with. Mr. Borge and I have been working together all summer so we're doing everything hand in hand. I'm really excited about having a team to work with in econ, as well as having just a larger department of really smart, engaging, and excited teachers. I love teamwork and collaboration and I have so much respect already for the people who I've met here. And definitely working with the students here. And like I said I really love AP, so I'm excited not just to be teaching my one section of econ but to be able to bring some AP curriculum into my modern world class and heighten the rigor and challenge for the students.
What do you think you bring to Jones?
I definitely bring an AP expertise that is kind of unique. Like I said I've been a table leader for APUSH, so even though I'm not teaching APUSH I can bring my AP expertise to all my other classes, like modern world. I have a very positive attitude because I love teaching and I love school. I'll also bring a very collaborative addition because I love working with other teachers and my students. Like I said I'm just gonna love being here everyday, so positivity.
What passions do you have outside of US History, teaching, learning, and government?
Well I walk everywhere. I used to work 5 miles from home and I walked to and from work everyday. I'll now be about 2 miles from home and I'm excited for a shorter commute. I have a passion for the city, I love being on the lake and going to all different parts of the city. I spend a lot of time exercising, I love to be in the gym but I also like to be out and about. I guess this kinda relates to school but I love reading about history, and now econ actually. Econ has become so interesting to me and I'm looking at everything through an economic lens.
You mentioned you've never taught econ before, so are you nervous to teach a new subject?
I'm a little nervous. I am used to being an expert in my subject so it will definitely be new for me to not know every answer to every question. But it's also been so fun and exciting for me this summer to learn something new and kind of gain an expertise because I'll be teaching a college level course in a completely new subject. I've really enjoyed it so far and from a history perspective I've always understood economic concepts. There's a lot of intense graphing and a lot of really specific stuff that goes into the class so it's been a lot of new challenges and I'm excited about that. Nervous and excited.
So what is something that's interesting about you outside of the building?
Well I guess tying this back into teaching, but I guess the fact that I have know for as long as I can remember that I've wanted to teach high school and I've never waivered from that, even when I've been in jobs I wasn't too sure about. When I was changing schools and I considered other career paths, I always came back to teaching because I really really love it and I love working with high school students and being a student myself. So while a lot of my teacher friends just relax over the summer, I'm always signing up for classes. I've been all over the country taking different history classes and different seminars so one of my favorite parts about being a teacher is also being a student.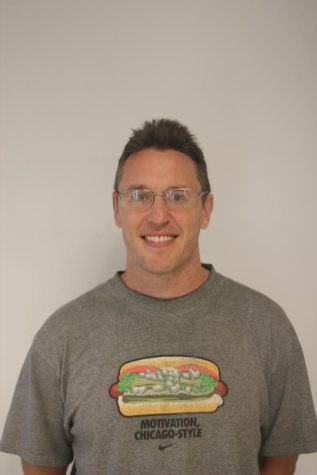 JOHN WRAY – HONORS MATH 4A & 4B
By Sam Donnell '18
How long have you been a teacher?
This will be my third year teaching. I spent the last two years at Taft High School on the Northwest side, and I'm excited to be joining Jones this year.
What brought you to Jones? What made you decide to teach here?
Well, I'd heard great things about Jones, it has an excellent reputation. I was excited to grow as a teacher, and to learn from the community and both the teaching staff and the students themselves. I had just moved into the neighborhood. I used to live on the Northwest side, and I just moved into a foster village in the Roosevelt Square area and became a foster parent to two kids, and there are likely going to be two more on the way in a few months. So for the sake of commute, it made sense when I heard about the opening at Jones to go for it, so that's why I decided to come.
What has your experience been as a teacher so far?
So, I taught at Taft for two years, and before I was a student teacher at Amundsen and Dunbar, and now I'm at Jones.
What made you want to become a teacher? What was interesting about this profession?
Well, I really like working with teenagers in particular. I find that it's a really interesting time in people's lives. I had a really nice high school experience. I went to St. Ignatius, and I loved learning in high school, and I wanted to kind of give that back to students. And my sister's a teacher as well, my father was also a teacher before he retired, so it was always something I knew I wanted to do. And the high school age seemed to be a really nice fit, cause I could teach and I could also do some coaching.
Math has always been a divided subject. People either love it or hate it. How do you plan to bridge that gap and get more people interested in math?
So, I always use my sister as an example of someone who says they're not a, quote, math person. I don't really buy into that idea; I believe that everybody can learn math.  I think it's often the case where they have a bad experience with a math class whether it's a bad teacher or something that just turns people off to math. Somebody saying that they aren't able to do math is the same as somebody saying their not able to read. Everybody can read, they just have to practice it. Some people might take a  little longer to do it, but they can still do it.  So I try to teach in different ways. I try to make the lessons fun, and use a lot of  different approaches to a problem, because sometimes it might make sense if somebody is a more visual learner versus somebody who's a more algebraic learner. There's a lot of different strategies you can use.
Every teacher has their own way of teaching. How would you describe your methods as a teacher? What do you like to do in the classroom?
For me the most important thing is getting to know the students, and making sure the students know me. I'm a firm believer that students have to be given respect.  A lot of times, or in other places, they might not have been given that respect, and I can't expect students to respect me if I don't respect them. That's probably my overarching philosophy: always treat students as young adults; talk to them using reason. "Because I said so." is not a good reason. I always want to explain why I'm doing what I'm doing if they have an issue with something, and I've found that that's worked well.  I also like learning student's interests, and I try to incorporate those interests into the classes that I teach.
Coming into a new school, what do you want students to know about yourself besides the fact that you're a teacher?
Let's see. I think I'm a pretty approachable teacher. I think students should feel comfortable coming to me and asking any sort of question whether about math or just about anything else. I'm an open book, really. Students will learn a lot about my own life. I plan on talking about my experiences as a foster parent, as well as my interest in soccer. I was a soccer player in college, and I also coached some at my old school. I'm a huge chess player, I was the chess coach at my old school as well, so I plan on working with those two groups at Jones at some point. I love to laugh, and I have a good sense of humor, but it takes a little while for that to come out.