New kids on the court
Girls varsity volleyball aims for city with three freshman additions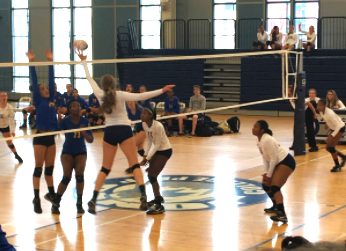 Following a successful season last year, the girls varsity volleyball team now has set its eyes on winning the city championship. Varsity won second place during the 2016 City Championships."I expect us to make it to City [again] this year" said Coach Casey Feeney, a veteran volleyball coach here at Jones, "this is one of the best teams I've coached in [all] my years here at Jones."
After two key contributors, Kaila Kasper '17 and Rachel Williams '17 graduated, there was a void that needed to be filled on the team. Feeney sought to fill that void after seeing the potential of three talented freshman, Jamie Schaller '21, Madison Love '21, and Sophia Grassano '21. "[Schaller], a libero, has a great Volleyball IQ and has [excellent] ball control while [Love and Grassano] are pin players and are the ones taking the big swings," said Feeney.
  The team has shown nothing but support for the freshmen, as it will be a team effort to win the City title. "They are amazing volleyball players and get along with everyone" said Caroline Coon '19, " It has only been a few weeks and they have already adapted to the team."
"I'm excited for my next four years here at Jones," said Schaller.
This will be a year of firsts for the team as it will not only be the first time Schaller, Love, and Grassano compete at a varsity level, but also the first time there have been three freshman playing on varsity volleyball.
Even though this year's team is fairly young, Feeney stated that this will not be a building year, and is fairly confident about their chances of having of a successful season.
Schaller, Love, and Grassano agreed that the season would not be complete without adding another trophy to the ever growing case on the seventh floor.
On their journey to the City Championships, varsity played Lincoln Park on August 29th. Before the game began, the girls looked confident in pulling out an easy win.
During the first part of the match, Jones would shut almost every scoring opportunity presented to Lincoln Park, and would hold them to less than ten points as they easily came out on top. In the second part of the match, Jones would slow the tempo of play down, allowing for more players to see time on the court and gain experience for future games. This match would be slightly closer pointwise, but Jones was always in control and came out victorious in the end.