Working toward the dream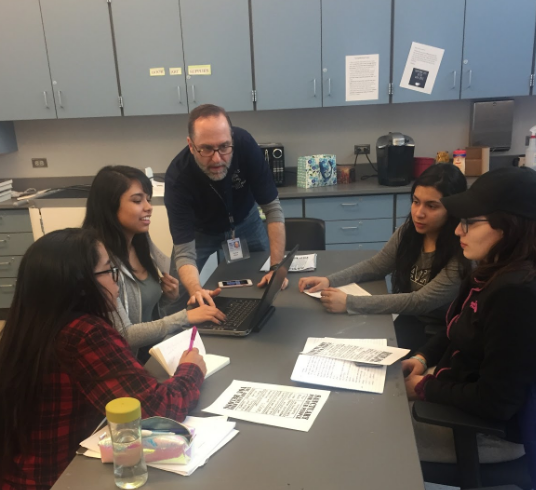 Attempting to create the change they wish to see in the world, the Dreamers Club is educating Jones about the issues facing undocumented students.
The club plans to host workshops on March 17 and 31 to educate people about issues regarding undocumented individuals. One workshop will focus on informing undocumented individuals about the rights they are entitled to.
"One of the trainings we're hosting is a Know Your Rights training," said Science teacher Peter Podlipni, who works with the club. "There are certain things that people aren't aware of in terms of their rights to privacy, their rights to being in their own home, their rights to not have to present ID when asked. So we really want to make sure that people are familiar with their rights and how to defend themselves from being caged."
The other workshop will be for bystanders to learn what they can do to step in and help people who are being mistreated.
"The other training is a Bystander Intervention training," said Podlipni. "It's really not about the aggressor, it's about the person being attacked. How do we support people in public that we don't know?"
A Dreamers Club member also weighed in with her opinion of this workshop's significance.
"It's just really important since people don't think it's their issue to deal with," said Berenice Hernandez '17. "The bystander workshop will help especially so people can help their friends, or even family members. It's just bringing awareness to issues people face with this broken system we now have, especially with the immigration policy that we have."
In addition to these workshops, several teachers discussed CPS' policies for undocumented students.
"A couple weeks ago under the Chicago Teachers' Union, a bunch of teachers held a meeting about what the current policies were in regards to undocumented students in CPS," said Dreamers Club Founder and President Cristal Martinez '17. "They learned that CPS won't allow Immigration Custom Enforcement to come into the building unless [the undocumented student] has an assigned criminal warrant. A week after that meeting, teachers went out to workshops on what to do during immigration raids and resources available if a raid should happen."
Librarian Francis Feeley and Math teacher Natasha Fast have been the advisors to the organization since the start of the school year, and hope to continue helping raise awareness in various ways, including through the counseling department. However, Feeley explained that it can be a bit complicated for undocumented students to announce themselves at this time.
"With the recent political shift, there are a lot of good reasons for students to keep certain information to themselves," said Feeley. "Although there are services here, and we work really hard to get the counseling department involved to promote the information in various ways."
The Counselor's  involvement includes providing informational materials for students.
"They [the counselors] give a whole bunch of flyers and packets on information about different lawyers who would help people for free and different organizations that can help people in their situations," said Martinez. j"And all of the information is in the North building, in the lobby in front of the Counselors' section. It's available to all."
The counseling corner isn't the only place Dreamers plans to raise awareness.By participating in College Knowledge, as well as Freshman Connection, the club hopes  to provide easier access to those students who do not wish to expose themselves publicly, but still wish to acquire useful information.
"For Freshman Connection we'll be visiting the students and try to tell them that Jones is a safe space. And we're trying to get the counselors to start off college knowledge about how they understand the situation for undocumented students and offer any assistance if needed for them," said Hernandez. "I know during the past lessons they focused only on citizens especially in regards to the FAFSA. So it's important for them to just fix the way they present the information in order to include all students."
More insight was offered about why these attempts are being made in the first place.
"Among the main goals of this organization is to raise awareness of the many challenges that undocumented students face on the path to build a higher education," said Feeley. "We not only want to inform the impacted communities through this and their families, but the wider communities, and we want to enroll more people in this effort. The first step is to just know about it. A lot of people aren't aware of this concern, or they're just not aware there are undocumented students among them."