On pointe
Junior leaps over dancing stereotypes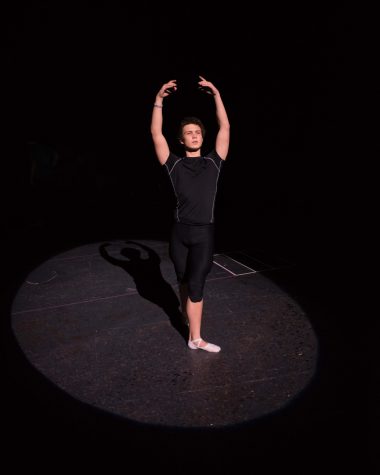 The Robin Bennett Theater is pitch black, except for a singular bright white spotlight illuminating the center of the stage. Enter Boris Fedorov '18, decked head to toe in black dance gear. Leaping through the air, Fedorov transitions gracefully through a variety of ballet moves, ranging from pirouettes to grand jetes as his castmates whoop and cheer him on from the audience seats in the back. An accomplished member of the Joffrey Ballet and currently a cast member of the Jones production of Fame, Fedorov is no stranger to the world of dance.
Fedorov's career began at age four in a small suburban studio, as he grew up in Glenview. He then continued to practice with the Moscow Ballet Company, where he was taught by retired Russian ballet dancers, and then practiced at the Southport Performing Arts Conservatory (or SPACE) ballet program before finally making his way to the famed Joffrey studio.
However, Fedorov's love of dance actually began with his parents' careers in ice skating. Vladimir Fedorov, his father, was an Olympic figure skater at the 1994 Winter Games in Lillehammer, Norway and hoped that his son would follow in his footsteps.
"At six years old, I wanted [him] to start skating, but he preferred to dance," said Vladimir Fedorov. "I wanted him to go back to skating at first, but I grew happy for him."
After trying skating and various other activities, Fedorov found that dancing was the right match for him.
"My very Russian parents wanted me to be cultured and noticed that I enjoyed dancing, so they kept me in [dance] every year," said Fedorov. "They would be signing me up for [ice skating] and soccer and all those things. I didn't feel like I was fit for them. I didn't want to skate, I wanted to dance. They signed me up for dance, and I'm still doing [it] today."
Fedorov is one of the longest-serving members of the Joffrey Ballet, having participated for eight years. Next to being in one of Joffrey's best programs, Fedorov finished third amongst males and females in the junior division for the 2015 Youth America Grand Prix.
"We didn't go to the Grand Prix expecting a win," said Vladimir Fedorov. "We got a text later on saying that Boris had placed third. That was a proud moment for me as a father."
Fedorov is not looking to be a professional dancer; he is, however, considering teaching dance, and has gained experience by co-teaching a class of young boys at Joffrey on Saturdays.
"I do see myself passing on my artistic knowledge as an instructor while I'm in college to help pay off my student debts. College is very expensive [so] teaching would pay well," said Fedorov. "I just feel like I've done so much with dance that it would be a shame to throw it away. I definitely have an appreciation for it and would like to do something [more] with it."
Currently, Fedorov is starring in the school musical, Fame, as "Jake," his first foray into the Jones musical theater department.
"I definitely have a bigger role here than I have had at Joffrey, so it feels good to have it pay off. I've never been [involved in] Jones [extracurriculars] because I've always been busy at Joffrey," said Fedorov. "I've always liked musical theater. I wanted to do the musical last year, but I couldn't because I had missed the audition."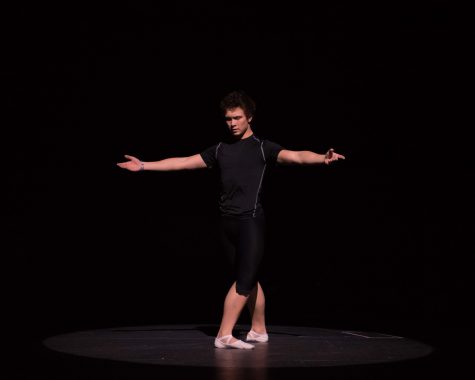 Fedorov was also inspired to audition for this character because they both share similar Russian heritage. Ask drama teacher and Fame director Brad Lyons and he'll sum Fedorov up in one word: "incredible." Lyons cast Fedorov not only for his dance ability, but also for his theatrical skills.
"A lot of dancers are dancers only, but [Fedorov is] really good with the spoken word," said Lyons. "I was really thinking that a lot of dancers don't really act at all, [as] they're not used to talking. I was really surprised about how well he did."
Regardless of where Fedorov is performing, his ballet experience has not been as smooth as his rond de jambes due to its time-consuming nature.
"[Ballet] sucked because each day after [elementary and middle] school, I wanted to hang out with friends, but I had to either drive to the city immediately or run to the train," said Fedorov. "I had no time to hang out, and basically no social life."
Another long-standing obstacle throughout Fedorov's dance career has been facing the stigmas about male dancers that surround him. When his elementary school principal announced that Fedorov was performing in Joffrey's production of "The Nutcracker," the other kids would call him "weak."
"In the suburbs, I was under a lot of pressure to fit in. Ballet wasn't anywhere near football or hockey. I had to keep [ballet] a secret, even from my closest friends, because I was worried of getting made fun of," said Fedorov. "I wanted to quit, but my parents wouldn't let me."
After continuing his passion through tough times, he set his sights on breaking barriers that are imposed against male dancers.
"I'm breaking that stereotype, diminishing what people assume about dancers, and stuff like that," said Fedorov. "There's this entire thing with ballet about delicacy, and being weak, and dancers are some of the strongest athletes in the world."
Lyons agrees that stigmas often surround male dancers.
"I don't think people realize that how hard dance is, especially when men dance," said Lyons. "People get made fun of. They don't realize that it's as difficult as any sport."
Moving to Chicago in the summer of 2014 changed Fedorov's view on dancing. He began to tell people about ballet, hoping for a fresh start.
"[In elementary and middle school], I wouldn't hang out with people," said Fedorov. "I would see them at school, and they wouldn't know what I did after school or on weekends because I would always be doing dance. I didn't even tell my closest friends until I was here at Jones, where I felt comfortable to tell people because people were more accepting."
Now, Fedorov's peers are accepting of his abilities and even praise him for the
"I don't think differently of him for it," said Fedorov's friend Brendan Scheib-Feeley '18. "It's cool, especially because of his skill. If he wasn't as amazing as he is, it might be a bit weirder."
Fedorov's skill and his ability to break barriers has translated into a successful career in dance, one that Lyons believes will even change perspectives.
"[In Fame] Boris has a dance solo, and it's so beautiful," said Lyons. "It will probably, hopefully, move people to tears. I think they'll go, 'I get why someone would do that for a career.'"
Leave a Comment