Girl Power
Students take stance against patriarchy in and out of school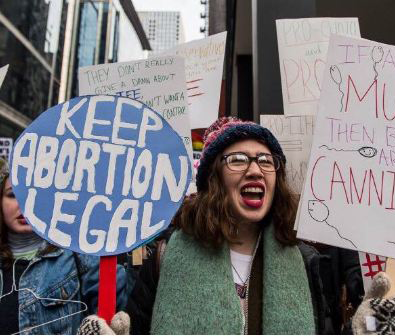 Going up the main stairs to the second floor balcony, students have probably noticed the posters filled with different types of ads aimed at women. Although it has been less than a month since the posters were installed, they are already covered in sticky notes with the words "sexualization", "stereotype" and "unrealistic body expectation" labeling a majority of the photos.
This poster, along with organized protests, magazines, and fundraisers are just some of the ways that Jones students have supported and participated in the growing feminist movement. Since the beginning of the year, multiple student groups have been forming both in and outside of school with the goal of promoting female empowerment.
Gillian Miller '18 started Women's Empowerment Club back in October, with the aim of creating a club where female and male students could form a community of common interests and goals in the name of feminism.
"There was a Feminism Club [every Thursday in 5001] but then it kind of fell apart and people weren't doing anything about it," said Miller. "My goal was to create a place where all those individuals can come together and express their opinion."
The poster installation was the first major project of Women's Empowerment Club, and was made to show how ads tailored towards women are aimed at projecting an unrealistic idea of what the ideal woman should look like and be into.
"We wanted to increase awareness focusing on the media and how women are sexualized right in front of [the student body]," said Miller. "Especially towards boys because they don't want to believe it's an issue."
Along with media awareness, goals of the Women's Empowerment Club include drawing attention towards the unique struggles that homeless women face, such as managing a menstrual cycle, and speaking to young girls about their self worth. The club attended the Women's March on Chicago, spending a prior meeting making signs for the protest.
"We registered as a group to show others that the current administration isn't going to put women down as much and we're gonna stay strong," said Miller.
A large concern of Miller is the club turning into a "white feminist" group, or feminism that focuses solely on the benefit of white women without concerns of the affects it has on women of color, disabled women, and LGBT+ women.
"One of my goals is to reach a global specter and talk about women all over the world," said Miller. "I want to talk about women of all races and how feminism affects them".
With being a white female herself, there is only so much Miller can do to accurately represent and show the types of sexism that women of color face and encourages her club members that do understand to talk about it openly themselves.
"All of us together can do really great things," said Miller.
Although the club started this school year, it has acquired members quickly from all grade years in its 5 meetings so far. One of these members, Eleanor Massengill '20, sees Women's Empowerment club as a way for students like herself to continue or become active in the feminist movement.
"I joined because I think feminism and women's empowerment is something that is so important, especially in this time with the election," said Massengill. "I have always been interested in social activism and it was a big part of my life at my old school, and I was really glad when I got the opportunity to continue that here."
However, the reach of Jones student involvement in the feminist movement extends beyond school walls. In mid-November, Mattie Musgrove '19 started the Fempowerment Collective, an out of school group/initiative for Chicago intersectional teen feminists.
The collective, started out of school to reach a broader range of students, was developed with the goal of empowering both this generation and younger generations of women. Musgrove was prompted to start the group after the presidential election, with the hope of being able to reach out to Chicago teens and young girls.
"I started [this collective] because I felt that there weren't many opportunities for girls to empower each other to feel good about themselves," said Musgrove. "I feel that I've learned a lot about activism and the obstacles that you face from just being a woman at an early age, and I've learned how to deal with it and how to feel strong, and I realized that a lot of girls, especially younger girls, didn't feel that confidence or power that I felt."
Since then, the group has met weekly, accumulating about 40-50 members. While a majority of these members are from Jones, students from schools all over the city have joined to voice their beliefs in what Musgrove describes as "a place where people can feel safe with what they're talking about and expressing their own opinions."
"It's been a very supportive and productive environment," said Maia Cho '19, one of the first members of the Fempowerment Collective. "We put an emphasis on listening to the voices of people who often don't get a voice in political discussions or feminism."
In addition to being a group for feminists to discuss and collaborate, the Fempowerment Collective has also hosted fundraisers for different organizations and nonprofits, as well as participated in marches for abortion rights and the Women's March. Currently, they are working on reaching out to younger girls and boys.
"We really celebrate intersectionality and we work to empower each other and empower younger girls and younger generations of people. We plan to go to elementary schools and lead workshops that are based on positive empowerment, and talk about feminism and activism and obstacles [women] face," said Musgrove.
Women's Empowerment club meets every B-Day morning at 7:15 and Fempowerment meets at Harold Washington Library in the 5th floor south study room. According to both Musgrove and Miller, anyone is welcome to join, "as long as you're a feminist."