The Salty Sox
White Sox fans root for Indians because of their hatred toward the Cubs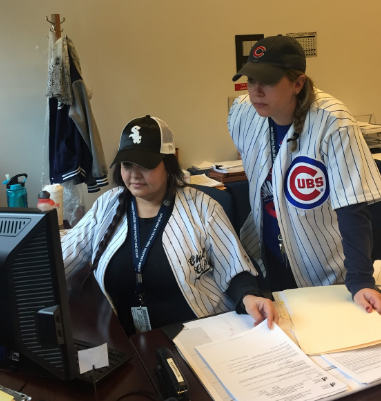 Hey Jones, what do you say? White Sox fans are salty today! It's no secret that the Chicago Cubs are in the 2016 World Series against the Cleveland Indians. Cubs fans all around are excited to see the Cubs make it this far in a World Series since their last appearance in 1945, however, Sox fans are not.
Some students and teachers are rooting for the Indians simply to root against the Cubs. AP English Language teacher Paul Anderson said he was raised in Wrigleyville but his dad was from Bridgeport. Anderson grew up to be a die hard White Sox fan. Living on the North side and being a Sox fan was hard enough for Anderson, and he just doesn't want to hear his friends who are Cubs fans talk about a World Series win.
Apart from being a Sox fan, Anderson believes the Indians will win because "They have great pitching and they're actually hitting the ball."
Some students think that the environment they grew up in can influence who they are rooting for.
Jill Kavalauskas '18 said "I live in Bridgeport where it's mainly about the Sox. I've grown up in an environment where everyone around me hates the Cubs."
Other Sox fans think the Cubs losing the World Series will make the Sox look better.
"If the Indians win, it makes the Sox look like they played bad just because they had a World Series winner in their division. The Cubs have the Brewers, the Pirates, and the Reds in their division, which are all really bad teams," said Asa McNaughton '18. "It's not because I don't like the team, it's more so because of the fans."
This brings frustration upon the Cubs fans at Jones.
"I think they're annoying. Root for your city at least," Will Oppenheim '17. "If I were in the opposite position, I would be rooting for my city, not against them."
Director of Student Services Meredith Kramer agrees.
"We should rally around the home team and celebrate our city's victories together," she said.  
The White Sox's World Series win in 2005 is the most recent World Series win for Chicago and Sox fans at Jones would definitely like to keep it that way.