Where is Everybody?
The Jones community tries to rationalize the frustrating lack of fans at school sporting events.
A strange thing surely to outsiders but nothing new to Jones students and faculty, attendance at school sports events is lacking. Athletes, faculty, and students alike are all disappointed by the size of crowds at games, and this lack of pep is what many athletes deem the reason for the lack of Jones sports team success.
While many freshman show up to varsity level games, they make up the majority of the student fan ban, with nearly no seniors attending games. Only a small percentage of the student body sets time aside to attend sporting events.
School athletic director, Frank Griseto, guessed why there was such a scarcity of Eagles fans. "I just think that it's a matter of convenience for the students here to go to the games."
On the other hand, Jennifer Chappetto '16 said that it is not a geographical issue. "I think that if school spirit is advertised, the underclassmen see that the upperclassmen are being more school spirit-ed, and maybe that'll make them want to be like that when they get to be seniors," Chappetto stated.
What Jones seeks is not only a larger crowd, but a more diverse crowd. There seems to be unintentional trends in who attends the sporting events.
Chappetto said that "there is a big difference between the freshman going to games and the seniors." Chappetto said she "only goes to volleyball sporting events," while freshman are much more likely to go to more.
Jack Bedore '19 said he commonly  attends volleyball and soccer games, but is "planning on attending other Jones athletic games."
Perhaps a reason for why the freshman are the largest group attending games is because "we usually go as a big group to support our friends on the team," said Bedore.
Another demographic that is popular within the crowd is families of the athletes. A former student of Whitney Young's academic center, Bedore said how at his old school, "I would say about 70 percent of the crowd were students or former students, while at Jones about 85% is just parents and family of the players on the team."
Ethan Soderna '17, a varsity soccer and baseball player, said that "usually around ten to fifteen people go to our games. There's like, ten students, and the rest are families."
Also a factor of how big a crowd is is the popularity of the sport.
On the topic of what sports attracts the most fans, Griseto said "we get a pretty decent crowd for the volleyball games, we get pretty good crowds for the boys basketball games, little bit less for the girls. Softball, there's a few people that straggle out there. Soccer, not too many, but kids drift down there from school. Baseball, we had a decent crowd out there at Near North but since we don't have Near North anymore… who knows." The baseball team continues its search for a permanent home field. The instability of the teams and the uncertainty of game times or location is often the cause of the lack of fans. However, special events such as senior nights and the Dig Pink volleyball charity game are usually pretty reliable to draw in crowds. "I mean, for example, for the senior nights, it's pretty good attendance," Griseto said. "I know for basketball last year, for the boys senior night, it was pretty full. Both sides of the stands."
Soderna said that successful teams draw bigger crowds. "Baseball is more popular than soccer because the baseball team is better," he said.
Chappetto, a member of the varsity girls basketball team, believes larger crowds help teams succeed.
"A bigger crowd would help up. Bigger crowds mean more excitement and more excitement means that we'll do better if people are cheering us on," she said.
"I wish more people went to our games," Soderna said, "because I feel like when we have a better fan support, we play better, and it's more fun to watch."
Whatever reason there is for the lack of large fans at Jones sporting events, students and faculty said they would like to see it improved and are working on it. Athletes and coaches are trying to get more information out there about game schedules, administration is trying to build school spirit in the new larger classes, and teams are looking for permanent, more easily accessible home fields.
However, this spirit-building could take a while. "As I say," Griseto said, "Rome wasn't built in a day."
Leave a Comment
About the Contributor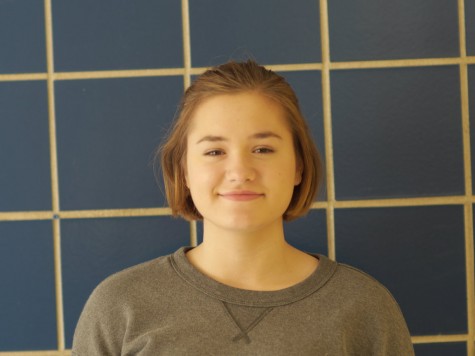 Mikaela Uddfolk '17, Managing Editor, Sports
INTERESTS/HOBBIES: independent films, reading, walks, music

EXTRACURRICULAR ACTIVITIES: piano, national honor society, key club

THREE WORDS TO DESCRIBE...