Recycling Is A Green Light At Jones
Green Team behind a more environmentally-friendly Jones
After an outburst of surprise and complaints from students last school year, the Green Team is taking on the responsibility to ensure that the recyclable materials we purposely place in our blue bins are not being thrown into a trash compactor. Environmental science teacher Katherine Merva heads the small army of members that comprise the after school recycling workforce.
Once classes are dismissed for the day, a group of Green Team members venture around the buildings collecting plastic, glass, and anything else that can be recycled.
"We take the recyclable things that are in the blue bins in classrooms and dump them into a big recycling bin and then take that and put it into the recycling bins in the alley," said Alexis Soto '17.
Without this new system of student volunteers, Jones would continue to discard the valuable recyclable resources into the trash dumpsters.
"People sign up for different days each week," said Jacob Gold '16. "We try to get a substantial amount of kids each day of the week so recycling gets done because CPS does not have enough money to give our school the funds to do recycling themselves."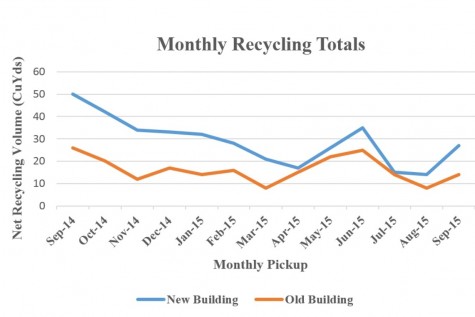 Although Jones has always had the recycling bins in classrooms and recycling dumpsters in the alley, there has been no connection between the two.
"We needed some way to get stuff from Point A to Point B," said Merva. "It was going to be too much to ask our maintenance staff to just add to their list of things to do, so we had students volunteering to actually do this collection."
Despite the Green Team's efforts, there are still many hurdles that the they face at Jones, namely the lack of communication and education. Merva has had to relay information to the head custodian and maintenance staff to not throw away recyclables anymore. A potential backing from administration could create a different culture around Jones on being more environmentally-friendly.
"I feel like there could be more support," said Merva. "One obstacle we have is communicating now with maintenance staff that the blue bins' [contents] should no longer be thrown out."
In light of the current threat to the CPS budget and chance for 22 percent of Jones faculty to be laid-off, recycling is an environmentally and economically-responsible way of waste management. This is one way that CPS can conserve money, but it requires action from all schools, reports the Internal Communication branch of CPS.
"It costs CPS more than twice as much to send garbage to a landfill as it does to recycle, thus it is important that all schools participate in this program," said CPS in an email to schools' administrators.
According to CPS Sustainability Coordinator Meredith McDermott, Jones has only been using around 23% of the capacity that we have available per week. The rest of CPS averages out to a minimal usage of 27%.
The Green Team plans to expand the recycling to include a collection in the lunchroom. The south building cafeteria is already supplied with designated spots for different recyclable materials, but they have never been used.
"Our next step is to get [recycling] into the cafeteria because that is where a lot of it is produced," said Merva.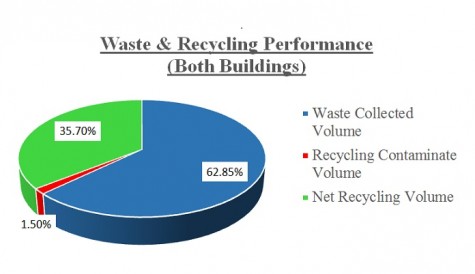 Ultimately, the continued success of the recycling program revolves around the education of the Jones community.
"We have to work on getting people to not put certain things that cannot be recycled in there, but also encouraging the right things to go in," said Merva.