Pepsi? Guess Again
Administration introduces new vending machines for students and staff, but with only one selection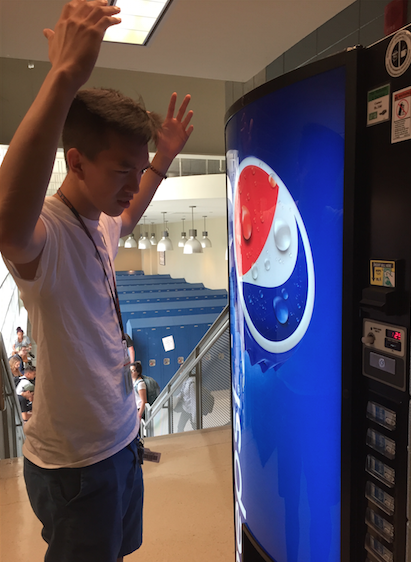 It's hard to miss a bright blue Pepsi machine when transitioning from one building to the next. This fall, Jones administration introduces new vending machines that will sell drinks throughout the day for as much as $1.25. However, most of these machines do not have the typical teenage adored soft drinks.
Most students and even faculty members found the Pepsi logo printed on each of these vending machines misleading.
Principal Joseph Powers said, "I was surprised to see a Pepsi logo and then find out that Aquafina was the only selection."
Students were confused with the purpose of the vending machines and were quite upset with Aquafina being the only option.
Dayana Campoverde '19 said, "I don't know why they only have water. I can just bring my own water bottle from home. But I really was expecting to get the option of buying juice or soda."
Some say that the purpose is to promote a healthy diet for students.
"I don't think soda or sugary drinks are healthy for students. They certainly do not need it during class. Water is always a good choice of drink," said Brayan Rico '16.
Though the vending machines may seem like a waste of space for some students, administration went through a process that Powers described as "time consuming".
During the summer of 2015, Jones administration took the first step of talking to a vendor to get the vending machines. "They prepared the contract, mutually agreeing with both parties in terms of how many machines we'll receive," said Powers. "Then we sent the contract to CPS for their file approval, and as soon as we got their approval, we were able to get the machines installed in a matter of a day or so."
Dylan Turner '17 stated that it makes no sense to sell water when there are water fountains on each floor of the school next each bathroom. "I'm definitely not spending $1.25 on the vending machine for something that I can get for free right around the corner," said Turner.
Not only are the "Pepsi" machines upsetting students, but so is the snacks machine located by the Harrison foyer. This machine contains a variety of selections, ranging from cereal bars to cookies. However this machine is programed to function only after 3:45 as it is against the rules to sell food inside school property.
"I'm not going to wait 30 minutes after the bell to buy a cereal bar when I can walk out the doors at dismissal and get some pizza at Pauly's Pizzeria. The vending machines serve no purpose to me," said Turner.
However, Powers believes that the vending machines can serve some benefit to students.
"This [the vending machines] is more of a courtesy than anything else," said Powers. "We're complying with the CPS guidelines, but if these machines benefit those who are here early or stick around after school, then there's its purpose."
As for now, the vending machines will remain with Aquafina as its only available selection, and if students are desperate for a beverage that is not water, then they'll have to wait until 3:15.
Leave a Comment
About the Contributor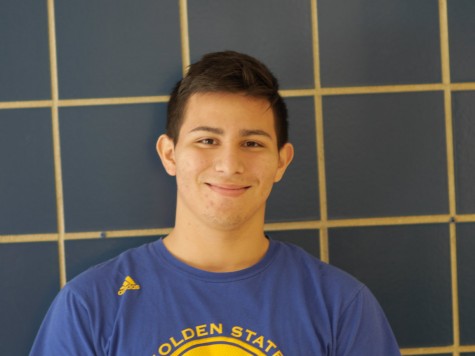 Cristian Espinoza '16, School Staff
Interests/Hobbies: Playing soccer, walking my dog, bike riding, playing piano, playing with computer applications like Photoshop.

Extracurricular Activities:...