Student Businesses Taking Off
The United States is not called the 'Land of Opportunity' for nothing; in the capitalist market, there are endless possibilities in finding ways to make money. One primary way that many people use to consistently gain capital is establishing a business. The act of buying and selling is something that Americans cannot escape, it is an aspect of everyday life that is needed for even the most basic items.
When you think of the average established business, big companies such as Nike, Apple, Samsung, and more come to mind. But, with every successful business comes a story of hard work and dedication behind it. Everyone has to start off small and build from there, and that process can take years to fully develop. This is a fact that many young entrepreneurs have taken into account and used to their advantage.
Today, many businesses are being started by people at an early age. This is not the lemonade stand of old – no, this is a new-age, sophisticated level of business that rivals their older counterparts.
"I started setting up a business in 4th grade," said Noelani Pierce '17. "I sold hair products just like I do now. Initially, it was just for a school project, but after that experience I would always make more products and sell to anyone who'd buy."
Pierce's school played a large role in not only capturing her attention and focusing it in business, but maintaining her focus and giving her useful skills as well.
Pierce recalls that, "In 8th grade we were given the task to come up with an idea for a business, package a product, have a sample for it, then mass-produce it to later sell for a profit."
This experience gave Pierce all of the tools she needed to continue her efforts outside of school.
"Those assignments guided me in the right direction, and after that [8th grade project] I gained the passion to officially establish myself in the business world."
This natural instinct to want to continue to produce and sell is what led Pierce to the point she is at today, getting her business off the ground.
"Noe's Naturals," she proudly exclaimed. "That's the name that I'm going to get copyrighted for my company."
So far she has entered the professional hair product world through her presence in conventions and expos. Most recently, she has sold her hair creams and gels at the Black Women's Expo.
"I'd say I've been pretty successful so far," said Pierce. "I made a $700 profit at the expo in only 3 days."
She plans on building upon this early success and one day owning a thriving company.
"At first it seems like you're putting in more than you get out, but slowly you'll see your own progress. I'm thinking long-term, and the only way I can accomplish my goals is through hard work and perseverance."
Another student, Wan Ruan '16, is all about hard work. He is working to get his independent clothing company, Free Apparel Chicago, off the ground.
"I saw other local companies being started up, companies like Maybe Not, Just, Leaders, and OBG, and I was inspired to start making and selling my own clothes." said Ruan.
Ruan sketches all of the designs for his clothing and then digitally recreates them to get them scanned onto t-shirts.
"At first to start off, I had to get investments from friends. I convinced them that at the very least, they'd get their money back. So far, we've made a decent profit and all of the money we make goes right back into the company," said Ruan.
At this point, Ruan has been pretty successful selling his shirts locally – while walking through the halls of Jones you can notice people wearing shirts sporting the Free Apparel logo.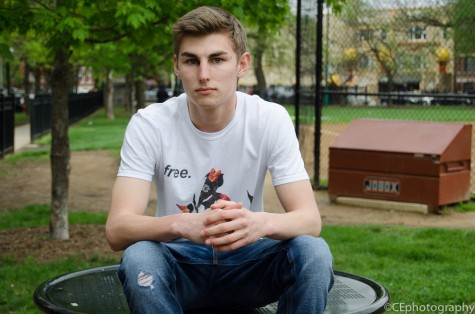 Youth such as Ruan and Pierce gaining experience in business practices sets them far ahead in the game for their future. These companies being started up inspires others to follow in their footsteps to do something positive for themselves and the rest of the world. Already, people like Ruan and Pierce are taking steps to mold their own future, effecting the world around them, and hopefully finding success in their efforts.