Facebook threat launches Jones into lockdown
A post from Argentina on the sophomore class Facebook page sends school into soft lockdown in the midst of AP testing
A routine spring Friday ended at 8:30 a.m. on May 8 when Principal P. Joseph Powers received a call from a concerned parent about a threat posted to a class Facebook page. Minutes later multiple students came into the main office with similar concerns. Initial thoughts filled administrators' minds. 'Is this a credible threat?' 'Is the person a Jones student?' 'Are they in the building?'
Powers immediately called the Chicago Police Department and CPS Safety and Security. As word began to spread via text, parents began calling and coming in to pick up their students. Mass automated messages were sent from the school via email and phone that the school and students were safe.
The administration quickly determined that the student who posted the threat did not attend the school, but still took precautionary steps. Just before second period, Powers decided to initiate a soft lockdown, which would make all students and staff stay in their classrooms while still continuing normal activities.
"Under normal circumstances there would have been an announcement," Powers said. Due to A.P. testing in the building, the administration did not want to disrupt the process. Instead, they created an extended break in order to make a PA announcement about the soft lockdown.
Within minutes, CPS security officers, and detectives from CPD, were in the building. There was also a sergeant with social media experience at the scene.
Throughout the soft lockdown, students continued to text one another and their parents with updates while also checking Facebook for more information. Powers said that this phone chain made the situation worse than it needed to be, "Kids texting and calling their parents, caught us up," Powers said. They had to use security guards to escort students down to the office, which wasn't necessary.
By the time the day had ended, more than 200 students had left the building early, compared to 10-15 on a normal day.
Upon hearing about the soft lockdown, Counselor Tamara Driver set up a crisis center in the main office for students that may have been in emotional distress. "What helped was that there was no recognizable name as a Jones student," Driver said. No students needed counseling.
The A.P. European History test was scheduled for this day at noon, but there was confusion about whether students should still come in or not. Most of the students, however, did show up, and Assistant Principal Eric Fay explained the situation. The students were given the choice of taking it or postponing it to the makeup day.
"We all knew the threat was going on, but things were going on in the back of our head. It wouldn't have been fair to have to take it," Samantha English '15 said. The students and administration ultimately decided to reschedule the test day to May 21.
The post was on the class of 2017 Facebook page. The administration is looking into how people are added to these private groups, "It needs to be done a lot more carefully," Powers said.
At 11 a.m., after 90 minutes on soft lockdown, Powers announced that the threat was not credible, and all students were safe. He said that the threat was not specific to Jones and that it originated in Argentina.
It was determined that the 85 word threat was taken word for word from a yet to be released first person shooter video game, Hatred.
CPD has reached out to the US Department of Homeland Security to investigate.
Leave a Comment
About the Writer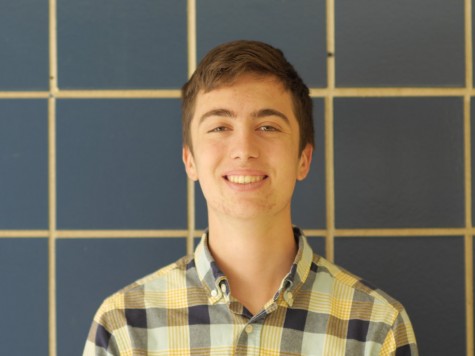 Alex Behle '16, Editor In Chief
INTERESTS/HOBBIES: Presidential Debate watching, window seats on the Red Line

EXTRACURRICULAR ACTIVITIES: Cross Country/Track Team Captain, running...