Rocky Path to Sucess
Seniors struggle to get back on track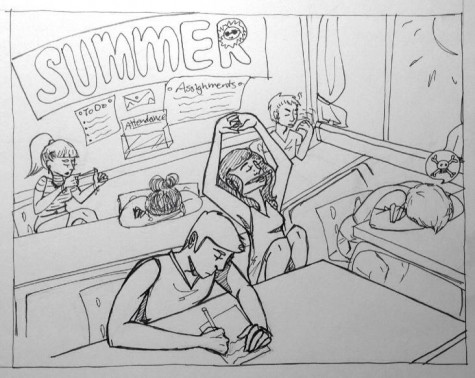 Rocky Path to Sucess
A "C" for some is a sin, while for others getting a "C" is success. Jones has a reputation of creating straight "A" students; however that is not always the case.
Juan Ascencio '15 was involved in tragic accident the summer before Junior year. As he was riding his bike an automobile impacted him, leaving him on the side of the road. The car drove away leaving Ascencio in the scene harshly injured, with an ACL MCL torn and a broken bone.
Ascencio began his school year with crutches and a load of work.
"My time in and out of school based on my knee injuries, and recovering made hard for me to handle school," said Ascencio.
His Latino literature grade was the first one to plummet, quickly followed by his marks in AP Spanish Language.
"It was hard for me too handle Latino Literature and just any other class," said Ascencio
Ascencio passed his summer in Jones recovering his literature credit via Aventa, an online course.
Lourdes Bustos '15 transferred as a Junior to Jones from Carver Military Academy. Bustos first challenge was adjusting to the IMP ( Integrated Math program) utilized by the Jones math department. The program focuses on learning math based on real life scenarios solely based on word problems rather than the traditional math where word problems are addressed only briefly.
"In no means was I less intelligent than others in my class,but I was just not accustomed to that type of math" said Bustos.
In addition to that, her Math 3A class at Jones was being taught by a student teacher.
"I feel that if I had an actual teacher guiding me through the class, the outcome of my grade would of been different," said Bustos .
Bustos had to recover her credit during the summer as well.
In CPS, summer school is only a requirement if the class failed is a graduation requirement. It also does not mean that the opportunity to attend college has ended. However, the college application process can be delayed.
"If it is a core class they must go to summer school and complete it before we send any transcript." said LaToya Hudson
Not having an transcript on time can eliminate early action opportunities.
Summer school can be what you make of it. To Bustos it was an opportunity to make for missed time, and states that summer school is what you make of it.
"You are in a hot classroom with 15 kids for about three hours, what do you do?.. you can either sit down and do your work or hope time passes by," said Bustos.
Despite the blur in their transcript both of Bustos and Ascencio were accepted into college.
Ascencio plans to take a year off  before  pursuing a career as a police officer.
Bustos will enroll in a (four year university ) this upcoming fall.
The students agree that although grades are relevant they should not define your character.
"Failing taught me I am more than a letter grade," said Bustos.