It's All In The Name: Jones, A History
A compilation of interviews and newspaper clippings brings together the history of Jones.
"Ellen Check '46, a pretty immaculately groomed 16-year-old, steps off a bus each weekday morning at State and Harrison, just south of the Loop. She wears a hat, heels and spotless white gloves, quite an unusual sight in a neighborhood rife with peep shows, hock shops and missions catering to casuals."
"She walks a block west on Harrison to a gray, four-story ramshackle building, built two years after the 1871 Chicago Fire."
"There, scores of teen-age girls-neatly dressed like herself-are pouring into the building from all parts of the city. Now and then a boy streaks by, dressed in a dark suit with a tie."
This is how Chicago Daily News reporter Judy Klemesrud described Jones Commercial in 1963. The history of the "ramshackle building," however, goes back far before then.
The first "Jones" was an elementary school at 12th Street and Wabash Avenue, which opened in 1846, 14 years before Abraham Lincoln became the 16th President of the United States. The school was then moved to Harrison and Clark, where it later fell victim to the Chicago Fire in 1871. Determined to come back, William Jones Elementary School was rebuilt and reopened at 607 Plymouth Court in 1875, where the current counseling department's offices rest.
Plymouth Court is where the history of Jones, as a high school, truly begins. The building remained Jones Elementary until 1913. Its four stories housed the headquarters for a Vocational Guidance Office, Jones Continuation School, and the Illinois Emergency Relief program until 1938. "In 1938, the old Jones building [Plymouth Court] was remodeled and equipped with the latest business machines and opened as Jones Commercial High School."

For the next 44 years, Jones Commercial would educate all kinds of juniors and seniors from across the city. With majors ranging from stenography to machines transcription to data processing; commercial students had a strict schedule with "intensified training in the skill areas."
Businesses would hire two of the senior students. The students would do work studies at the businesses around the Chicago area. One student would do work study in the morning and take their senior classes at Jones in the afternoon. The other student started their day off with morning classes at school and  work studies in the afternoon. After graduation, most students had the opportunity to work full time at the businesses they made connections with in that previous year. Most students took up the opportunities and started working right after high school.
Jones Commercial was established to meet the growing demand for properly trained workers. In the 1940's "businessmen seemed to want something more in [an] employee, an "X" quality that amounted to a composite of individual characteristics, that can be best described as an adaptable personality, consisting primarily of desirable character traits and the ability to work with other people," according to the 1947 edition of The Journal of Business Education.
All Jones Commercial students were required to interview for jobs before their graduation. The most common type of work that was applied for was secretarial work. Some students, such as Rhonda Abrams '80 were fortunate in their search, and still remain with the job she interviewed for 35 years ago. Abrams feels that the skills she learned while at Jones Commercial helped her land, and keep her job at the Railroad Retirement Board.
Jones Commercial was not a good fit for every student however. For some, the strict dresscode was a major turnoff. The 1977 Jones Commercial Student Guide states that "girls must wear business suits or dresses, or blouses and skirts." Whatever they chose to wear must be deemed as "businesslike." Boys were required to wear suits, dress shirts, and ties and their shoes had to be polished. "Extreme hair styles and excessive eye make [were] in exceedingly poor taste and never allowed."
A Commercial student's typical day was not all business. Students participated in a variety of afterschool activities very different from what Jones students are doing today. In 1979, some of the most popular extracurricular activities that the students joined were mainly business related. From clubs like Future Business Leaders of America, Future Secretaries of America, and Publicity Club, the students at Jones actively participated in school activities.
The Jones Athletic Association sponsored a yearly Posture Contest. Students would compete in multiple events like sitting down properly while balancing a book on their head and judging how girls would stand and kneel while wearing heels.
By 1965, Jones Commercial was outgrowing the Plymouth Court building and soon a plan was put in place to erect a new future for the high school. "Our dream is finally being fulfilled because at last a new building for Jones Commercial High School is being constructed. The old one has served us well of twenty-seven years, but now its capacity has been reached and we must encourage continuous growth. The future is before us and we are beginning it confidently," quoted for Jonesite 1965 Building for the Future, a pamphlet highlighting the construction of our current north building.
"At the time this [north building] was a brand new building," said former teacher and Assistant Principal of Jones Commercial, William Miceli. "It was built in '67. Everything around us was sort of dying. There was a grill across the street. That was Tom's grill. There was a sign with the two Coca-Cola medallions on the either side of the sign that said Tom's grill. When I came, that was an active grill. You could get a greasy hamburger." Miceli recalls one of his favorite hamburger joints. The outer frame of the once hustling restaurant is now a pergola on the corner of Harrison and Plymouth.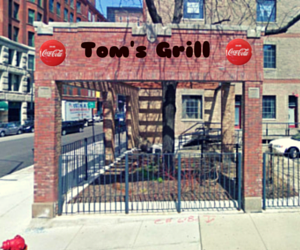 The north building was home to Jones Commercial until 1982, when it was renamed to Jones Metropolitan High School of Business and Commerce. Despite the name change, the basic values and principles held by the school remained the same.
By 1998 the need for a school like Jones was beginning to decrease. Workers, like those trained through Jones Commercial and Jones Metro, were becoming less desirable as the landscape of Chicago business began to change. In 1998 the business programs offered at Jones were removed and Jones made yet another name change: Jones Magnet School. The goal of Jones Magnet was to educate students on a wide variety of topics by utilizing special instruction and programs.
Required to wear a basic uniform with a white colored shirt and pants, these students participated in core classes similar to what current Jones students experience. Students also had a special focus on language immersion, the environment in and around Jones, and even technology.
During the transition year of 1999, new Jones Magnet High School freshmen  added new clubs and activities such as Dance club, Tien-Fa Kung-Fa Club and the Jamin' Jones Newspaper.
The freshmen also added new events to the Jones' calendar. From Science and History Fairs to the Jones River Project, the freshmen brought a different atmosphere to Jones. What once consisted of large stenography machines and beautician sinks was now beginning to diversify in the activities being offered.
The seniors kept some of the old traditions of Jones Commercial, however. They promoted their annual Masquerade, where Jones students wore masks to add a tone to the performance, and various art clubs joined together to promote success. The Model Elite Club led the activity while the Jones' band, drama, and the choir followed.
Jones made its final name change in 2002, when the school made the switch from a magnet to a college prep high school. The building that originally held large, bulky stenography and transcription machines is now only half of what Jones has to offer. It is a building filled with rich Chicago history and only continues to grow and expand with the addition of a new building which the school opened in 2013.
Information not procured from interviews were sourced from: 1963 Chicago Daily Newspaper; 1947 edition of The Journal of Business Education; 1977 Jones  Student Guide; Jonesite 1965 "Building for The Future"; 1947 Jonesite Yearbook; 1986 Jonesite Yearbook; 1999 Jonesite Yearbook; 2003 Jonesite Yearbook.