Underdog Underclassmen
Athletics on an upswing, but underclassmen may be stealing upperclassmen thunder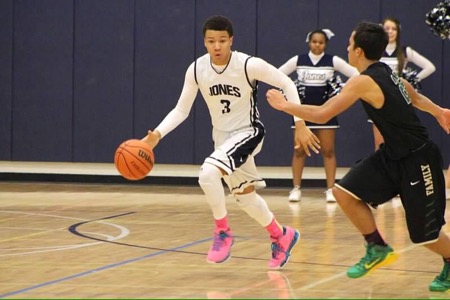 Cramped hallways, larger class sizes, and better sports teams?  Over the past two years, Jones has experienced a great deal of changes including the influx of more students.  Because of this, athletics have also been improving through an increase in the number of people trying out and the number of underclassmen making the varsity teams.
"The days of just showing up and being on the team are long gone," Athletic Director and Jones basketball coach Frank Griseto said.  Griseto has noted the increase in players trying out, and this has led to an increase in team size.  He said that this is due not only to the increase in admissions but also due to the fact that more students are coming into Jones having already played competitively in grade school and/or club sports.
"You're getting a more polished product freshman year than you did years ago," Griseto said.  Along with more experienced players, Griseto also said that students and their parents are overall more invested in the sports programs compared to athletes in previous years and that the new gym has attracted many prospective athletes.  Nonetheless, with more competitiveness comes more responsibility.
"There is always a sense of competition that you really want to play, and sometimes people think they're entitled to playing time because they're a certain age, but it really comes down to ability level and if you want to win," Griseto said.  Winning is the ultimate goal and invested, skillful players are a key aspect of a successful team.
Some players, on the other hand, do believe that their age earns them playing time.  "It's a combination of humiliation and embarrassment and feelings of injustice," Jian Liu '15 said describing his feelings towards not being played often for the varsity basketball team.
"Underclassmen [on varsity] think they're better and think 'Oh I was pulled up, and you weren't' towards other underclassmen, which makes them think they are more deserving than everyone else," Liu said.  Liu partially blames his shortened playing time on underclassmen who were not "mentally prepared" to be on varsity.
"[Underclassmen] lack maturity and the mindset," Liu said.  Liu said that coaches do not always know if a player is meant to be on varsity and that this decision can affect the entire basketball program.
"There should be more thought put into moving players up and down teams," Liu said.  Instead of just the head coach's call, Liu said that all of the coaches and upperclassmen players should have a say in determining whether to move a player up to varsity or not.  He said that this decision can cause upperclassmen players to lose their rightful positions and the team to become.
Although Liu said that he loves his team, he said that he deserved more opportunities than underclassmen players.  He also worries for other upperclassmen that may be in his position in the coming years that have to compete with younger, less deserving athletes.
"When I was a freshman and sophomore, I had to learn from [the seniors]," Bryson Phillips said.  Phillips played as a starter on the varsity basketball team both freshman and sophomore year.  There were other underclassmen on the varsity team, but Bryson was the only starter.
"It was pretty hard at first.  I had to play up to the competition," Phillips said.  Phillips said that he worked hard and put in a great deal of practice during the off-season.  This included playing both basketball for his grade school and club basketball prior to coming to Jones.
Rather than creating tension on the basketball team, Phillips believed he brought more enthusiasm and effort to the court.  He believed the team, as a unit, strives to be the best they could be even if this meant an underclassman was playing over an upperclassmen.  To Phillips, every decision was made with the best intentions for the team not just individual players.
"If they can handle failure, they can play," Jones baseball coach Dave Rosene said.  Like Griseto, Rosene chooses ability and commitment over age.
With three freshmen and four sophomores on the Jones varsity baseball team, Rosene said that he had to determine whether  the underclassmen were at the right skill and maturity level before placing them on varsity.  Rosene said that their is a major mental aspect of every sport of which underclassmen must be able to handle in order to become varsity players.
"Having the freshman squads like we have for boys' [and] girls' volleyball [and] boys' and girls' soccer is really helpful because then you can get kids to peak their interest if they really want to continue to do it and it's not on a high stakes level," Griseto said.
A way to test and prepare underclassmen players for the demands of playing on varsity is playing them on freshman and junior varsity teams.  Along with this, Griseto, like many other Jones coaches, sometimes plays athletes on more than one team.  By "honing your skills", Griseto and other coaches are able to determine which team is a better fit for them both mentally and physically.  Coaches also encourage players to participate in summer leagues to obtain an opportunity to gain more playing time and improve their skills.
"In every team that I've coached, the most successful teams have been the ones in which everyone knows their roles," Griseto said.  With a larger range in the ages of athletes on the same team, having students bond and cooperate properly is sometimes an issue.  Griseto said that is the coaches' job to make sure teammates are helpful and nurturing to one another.  It is also important for upperclassmen to step up and be willing to be as helpful as possible.
Along with the competitiveness and bonding issues coming up as the teams are increasing in size, scheduling gym practice times and making cuts have also become relevant issues.  In the past, there was often only one team that needed the gym at a time.  Now, teams must share gym practice time which includes utilizing morning practices and some practices running until 7 PM.
In the past, many teams have also had no-cut policies, but this is changing on almost all teams.  The girls' tennis team, for example, which started about 10 years ago, ran a no-cut team up until the fall 2013 season.
"We accepted everybody just because we wanted more people to play tennis," volunteer coach for girls' tennis Christopher Lin said.  Two years ago, the girls tennis team began making cuts as more girls had tried out, and they created a junior varsity team in addition to the already existing varsity team.  Lin said that the girls team started with about 15 players, 2 decades ago, and increased to around 40 athletes two years ago.
Along with this, however, Lin said that due to the increase in students interested in playing tennis, there have also been limited resources.  The girls tennis team hired a new head coach in order to meet these demands.
Unlike most other sports teams, the boys' tennis team has continued to be a no-cut team and have held steady over the years with about ten to fifteen players.  Nonetheless, the athletes that are participating are much more experienced.  "About 10 years ago, almost everyone on the team were first time playing or maybe played summer camps, but they were not year-round players.  Now, we have a lot of year-round players who take private lessons and play indoor.  As the school has grown, that has been one of the major changes," Lin said.  On the boys' tennis team, Lin said that the top players are now freshmen and sophomores.
In addition to greater prior experience, Lin said that the higher affluence of students has also played a role in the athletes' skill levels.  "As Jones gets more affluent, you are seeing more students who are being involved in playing sports year-round, especially with something like tennis that's more costly," Lin said.  Along with this, as the freshmen that have made varsity will most likely not lose their position, there are less positions for future students to obtain.  These positions will also require much higher skill levels than past years.
These higher expectations will drive every sports program to thrive and become an overall stronger team within the coming years.   "We're on an upswing in athletics and it's only going to get better," Griseto said.