Seeing green
Students-led recycling program to start next year
Although the south building is bright and sheen, after further investigation Jones still isn't green.
At the doorstep to most academic classrooms you will see one tall gray garbage bin, and one smaller blue recycling bin (plastered with the traditional arrow logo). What you might not know is that the materials in both of these bins end up in the same place — the trash.
When environmental science and biology teacher Katie Merva saw students cleaning out their lockers last year, she liked to see that the majority of the paper was being recycled. However, she was suspicious where it was going when she saw everything being dumped into the same container to be thrown out.
"I don't feel comfortable saying [the papers] were recycled" Merva said. She believes that it is not the fault of one person or department.
She says that she does not want to put an extra burden on the the custodial staff because they already have a substantial amount of cleaning work on a daily basis.
GREEN FROM THE START
Many new features of the new building were designed to be sustainable. Motion sensored lights, a green-roof, and air dryers in bathrooms are all signs of a green building aspects.
But in the cafeteria some students ponder the unused recycling station adjacent to the lines for food. The stainless-steel setup is able to separate different types of recyclables like forks, trays, napkins, and milk cartons. And it's all due to the overall design of the building.

The architecture firm that designed the building, Perkins+Will, tries to receive LEED certification for many of their projects. And out of four categories ranging from certified, silver, gold, and platinum, Jones was awarded gold, the second highest rating.
According to their website, LEED certification can be described by "transforming the way we think about how buildings and communities are designed, constructed, maintained and operated across the globe."
Along with the other numerous architectural awards given to Jones, the question should be raised, is it fair to call the building green if we don't take advantage of recycling entirely?
CONFLICTING REPORTS
Last modified in October 2012, CPS' recycling website gives details about their recycling program.
Under the 'did you know' sections it states that, "every Chicago Public School can recycle paper, cardboard, newspaper, steel cans, plastic bottles, aluminum cans, and now milk cartons."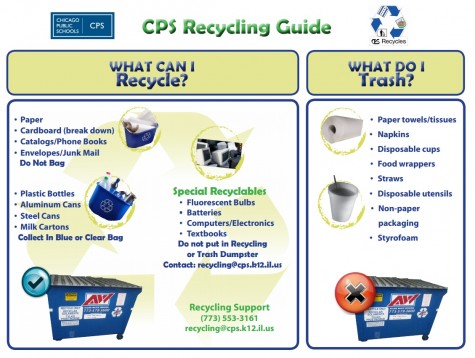 The recycling home page continues to say that "once recyclables are separated by staff and students, make sure they are carted out the correct dumpsters."
Merva says that we are only using approximately 23% of the garbage space allotted in the alley. She says that the blue recycling dumpsters are routinely empty. Looking to next year, Merva hopes to change a couple things.
PERIOD ONE PICK UP
As students in environmental science learn about the effects of global warming and climate change, it is only fitting that their teacher wants real world experience. A plan is in the works for students in the class next year to be recycling liaisons for classrooms and be responsible for once-a-week or more pick ups to the recycling bins.
Although students who signed up for the class next year didn't know about the new program, they seem to welcome it with open arms. "I already recycle at home." Zach Benes '17 said. The program will happen during school hours and encompass both buildings, "It sounds fun."
Merva said, "everyone involved in this process needs clear communication." She says that planning meetings are needed to show student interest in the program. "Just a few of us saying 'we want recycling, it should be a priority, having our voices heard' that way would make a difference.
After further consultation with the administration and custodial departments, students will be given the green light next year.
Leave a Comment
About the Contributor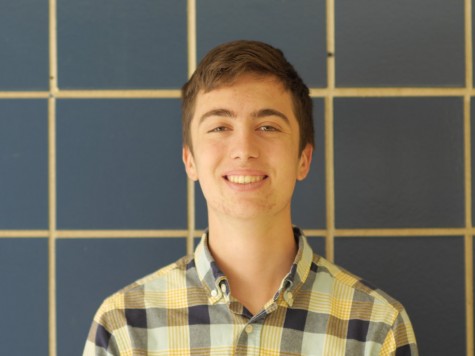 Alex Behle '16, Editor In Chief
INTERESTS/HOBBIES: Presidential Debate watching, window seats on the Red Line

EXTRACURRICULAR ACTIVITIES: Cross Country/Track Team Captain, running...