Making art in the Makerspace
New AcLab destination encourages students to get creative.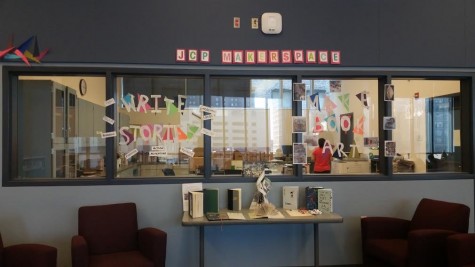 Libraries are no longer only for reading and studying; they can be used for library goers to expand their creative horizons. There is a new creative outlet for students to do so: the Makerspace.
Makerspaces is not native to Jones, it has been appearing in libraries all over the world in the past five years. A Makerspace is a space for people to go and make: technology, crafts, arts, and anything that is considered creative.
Librarian Katie Terry is in charge of the Jones Makerspace. "The idea of a Makerspace is that a library is more than just a place that holds books. You can make stuff and you can bounce ideas off of one another," said Terry. She says that libraries are changing to cater to the needs of the 21st century.
A Makerspace does not have to have special equipment says Terry. "Makerspace in elementary schools may be a small area where they build with Legos or do arts and crafts," said Terry.
Terry says that Jones is fortunate to have the space available, some schools don't have any space for more classes let alone a new place that normally comes at a high cost. Makerspaces are very popular but not that common because of this reason, the technological equipment often found in Makerspaces come at a very expensive price. Terry thought it would be better to work with what she had available and maybe get a couple of extra materials like x-acto knives and cutting boards.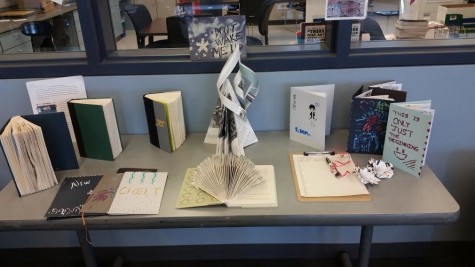 At Jones, Terry takes old text that are no longer in use and the students who participate in workshop make different types of book art. "We have all these old books and I'm like why don't we see what we can do maybe we can use those books for students to make stuff," said Terry.
The YOUmedia at Harold Washington Library could be considered an example of a space like this. They offer an innovative space designed to inspire creativity and collaboration within the youth of the 21st century. The YOUmedia offers a space where you can hang out with friends and just mess around with different ideas.
Terry's idea was based off of a less technological space due to the fact that she says she isn't very tech-savvy. "The students who came to the first couple of sessions seemed to really enjoy it" Terry said. However with having to manage the whole library by herself it got harder to encourage students to go during AcLab.
Terry also says that the Makerspace is not limited to art. Writing is also an option for students. "I know that some students just like to write or read other people's stories that haven't been published or have been published online," said Terry, "there are online communities where the students could start writing and have others read their stories."
A main purpose that Terry wanted to start a Makerspace for the Jones community is for the students.  Students mainly use academic lab for homework, studying, or hanging out with friends. Terry wanted to give students another option for what they did during AcLab.
Terry says that students have free will in what they want to create. "I suggest that the students look up online what they want," said Terry. She says that one student captures the essence of the Makerspace: she was going to invent something instead.