After absence, shortened social justice event returns
The week-long event heralding diversity comes back in 90-minute forum
Social Justice week used to be week long event where students were presented with a variety of  issues impacting the globe as well as the community, thus reinforcing the Grad-on Grad values; socially just and responsible. However, this year it was reduced to an Ac Lab presentation.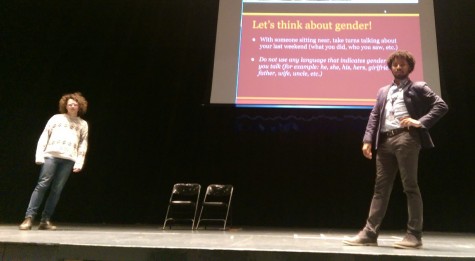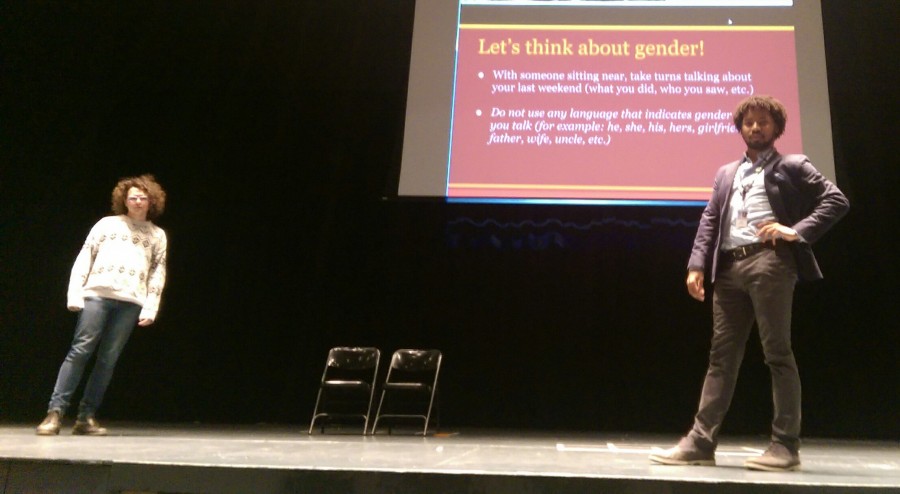 March 25 social justice presented during Ac Lab in the auditorium. The attendees were offered service learning hours for participating in the event.
Model UN opened up the stage with their presentation about the balance between progression and tradition. They sparked a discussion about whether or not the United Nations should have more power or weather a power increase may inflict with the nations sovereignty. Bailey Street'16 and Adam Kanyock'16 lead the discussion.
The second presentation called the "mystery" was given by Q/ASU. Q/ASU is an organization that works to create a safe environment for people to speak about gender and sexuality as well as creating an impact in the school as whole.
"It really starts with being aware of terminology," said Brian Coleman.
The presentation focused on the definition of gender, and an individual interaction with gender on daily basis. In order for the audience to experience gender Coleman and Colin Brown'15  lead an exercise where the participants had to tell a story to a partner without using gender pronouns such as she and he.
"Gender influences our language all of the time," said Coleman.
Last but not least presentation was led by SGA, where they spoke about the lack of school spirit and in what ways can a single individual have an impact in the school as a whole.
Only a few students attended the meeting, but those who did enjoyed it.
"I liked the presentation I thought they actually had some interesting parts to talk about, I think the presenters knew the subject matter very well," said Simon Knuth'15.
Although he mentioned that the number of participants affected the depth of the discussion.
"I think it would have been better if there had been more people there," said Knuth.
More advertisement can be a way to increase participation as suggested by Chloe Kane-Willis'15.
"I didn't even know about it," said Kane-Willis.
Incentives that are clear and advertised were also suggested as way to attract more participants.
"Advertising the fact that you get service learning hours for it would make more people participate," said Kane-Willis.
Weather they attend to obtain a benefit or for fun Kane Willis agrees that going will be in great benefit for all the students.
"I don't think that their motive for going matter because it's still going to make them think critically," said Kane-Willis.
However with the plethora of activities to do during Ac Lab, other activities prioritize over a social justice presentation as it happened to Knuth that stayed for only half of the presentation.
"I had something to do I wish I could if stayed," said Knuth.
Coleman agrees that the time structure of the social justice event did conflict with the participation. However he recognized that aside from the logistical element, the perception of students towards social justice week also creates an impact the participation.
"In order for social justice week to really regain its influence in the school environment it requires a lot of by in and not just from student interest group but the school community," said Coleman.
Although the turnout was low Joanne Huang'15 member of the SGA was pleased with the turnout.
"I was pleased with a the turn out because I wasn't expecting as many people as there was, to be honest I thought there was going to be a fewer people since Jones doesn't seem very social justice oriented," said Huang.
Although initially it was going to be week-long event, but due to various groups dropping out of the presentation the time had to be reduced to a 90 minutes long event. Last year there wasn't a social justice event, so these years event was advancement.
"Last year there wasn't even a day so this was just to bring it back and remind the people of what social justice is," said Huang.