The "App" Factor
Music apps "go unique" to appeal to all kinds of listeners.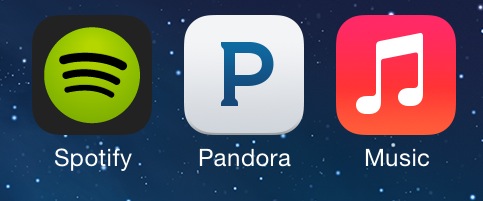 What is the soundtrack of your life? Is it one song or a whole playlist? Perhaps a genre? Does it change? How did you find it? How do you listen to it?
In a day and age when music fuels a majority of people's lives, it seems as if we are surrounded by phone applications and music platforms vying for our attention; and our money. The apps a listener chooses to use reflects greatly on the kind of music that appeals to them. Ranging from a "mystery song box" to discovery matrix, the options for listeners are practically endless.
The style and size of a listener's compilation of music depends on the platform through which they access their music. Programs such as Spotify and Pandora encourage music discovery through suggestions centered around one's current music taste. Social science teacher Jennifer Harned streams music from Pandora during passing periods and class downtime – never during class. "I think it [playing music] lightens the mood and provides a break," said Harned.
As opposed to paying $1.69 for one song or flipping through a collection of songs spanning all genres, Harned utilizes Pandora's effortless playlist creating to her advantage. "I like it because I don't have to think about [choosing the music]," said Harned. Named after the Greek goddess Pandora, the music website plays off of the goddess' mysterious box, of which the contents are unknown. Thus, the music site's major selling point is that listeners do not know which songs come next; much like Pandora did not know what was inside the box given to her from the Gods.
For listeners who prefer more control of their music there is Spotify. Created in 2008, Spotify had approximately 10 million users in 2010 and obtained more than five times that number by January of this year – reaching about 60 million users, 15 million of which were paid subscribers.
Spotify offers listeners two music experiences: free and premium. For those looking to get away from the pricey music industry, Spotify free is fueled by short advertisements. However, the program constantly offers 30 minutes of ad-free music in return for watching a 15-30 second video. This free platform also allows users to listen via phone, tablet or computer application. On the down side, music usage this way forces listeners to shuffle their music, limiting their access to songs on demand.
The company charges its customers $10.00 for one month of premium; this version includes no ads, no limits on music "skippage", and the ability to listen to what you want when you want.
English teacher Ted Grossman also enjoys playing music in his classroom. "It just seems like people respond to music. It takes them to a different place for a few minutes. It helps to break up the monotony of school," Grossman said.
Both Grossman and Harned enjoy discovering new music and giving their students a different flavor of sound with each song they play. Interestingly enough, however, Grossman chooses Spotify where Harned showcases Pandora.
"Spotify provides access to musical libraries that are far beyond my personal library," said Grossman. Although Grossman boasts a general love for Spotify, this listener has one complaint: "I don't like the ads."
For music fanatics looking for a more intimate, commercial-free, experience with their music, there is Spotify Premium. "Spotify is great because it's worth the money and its easy to find great new artists that you wouldn't normally be able to find," said Dani Schulgasser '17. Schulgasser has been a Spotify premium member for about two and a half years and finds that no other music application or website fits her musical need.
"iTunes charges too much for one song. With Spotify, you pay a monthly rate and you can download as much music as you want. It lets you choose what you want to listen to, not a radio based on your favorite artist like Pandora does," Schulgasser says.
Some listeners do not mind the pricey iTunes music. "I only download things when I have giftcards," said Phil VanZale '15. Jones student Sarah Gillespie '15 also uses iTunes. "I think the prices can be a bit expensive sometimes but relatives that don't know what presents to give for holidays and birthdays give iTunes money pretty easily," Gillespie said.
Whether you are an explorer of music or a die hard fan of whatever band you choose, it is safe to say most high schoolers have specific preferences about the kind of music they listen to. What most people do not realize is that the way in which a listener goes about obtaining their own library of music reflects greatly on the kind of music they enjoy.
What are you looking for?
| | |
| --- | --- |
| Carefree listening focused around music you already enjoy with a few, minor commercial interruptions. Apple and Android compatible. | Pandora |
| Complete control over the kind of music you listen to and a vast library of sounds. Some commercial interruptions. Apple and Android compatible | Spotify |
| Home of music, this application allows you to keep track of music, videos, photos, and apps. Music cost varies from $0.69 to $1.29. | iTunes |