Jones College No-Pep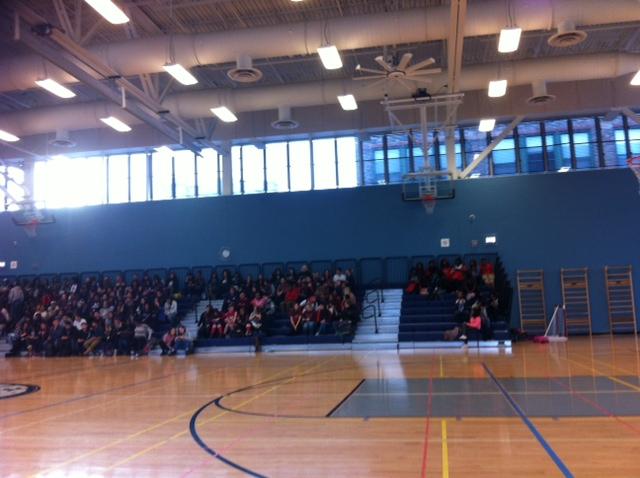 The building was pulsating. Chants could be heard from the courtyard; scenes that resembled a paintball fight were seen through the windows of the link; the rumbling red-line vibrations thundered through the cafeteria: the spirit train is here.
Two years ago, every Chicagoan within a block radius knew when it was spirit week at Jones College Prep. Students walked along State st. wearing ridiculous costumes, the courtyard was covered head to toe in chalk, and screaming promptly ensued over the corner of State and Harrison  every 45 minutes. This was spirit week.
Today, the spirit train is merely an urban legend among the classes of 2017 and 2018. Class colors are mostly extinct. So where is the spirit? Where is the pride most high school students like show for their school, for their class, for their classmates?

Wednesday, February 4 was planned to be the climax of the Jones' second spirit week this school year. Students were encouraged to deck out in Jones gear, to wear the navy and the grey with much pride, and to attend the anticipated second pep rally of the school year before going pack the gym night that same day. What actually took place was not the intention.
A majority of the class of 2015 arrived at school wearing the color red. Some underclassmen followed suit, trying to represent their class by wearing their supposed color. Few students actually wore Jones gear.
Expecting to fill the gym to its capacity, both east and west bleachers were opened for students to sit during the duration of the pep rally. The west bleachers would end up seating most of the student body that decided to attend the event. Throughout the pep rally's entirety, the gym reached a decibel level similar to that of the Jones' lobby at the end of the day.
"It [was] lacking. I wish there [were] more people," said Kelsey Peterson '16. Peterson was required to attend the event given her position on the Varsity Girl's Basketball Team.
The pep rally required that students who wished to attend the event buy a $1.00 ticket to be admitted. It featured spirit week veterans – dance team, step team, marching band, and cheerleading – whose performances took up approximately 30 minutes.
"That could have been done differently," said Gabe Schwartz '15 "I think everyone who performed did a great job. But Jones doesn't have school spirit for a dollar."
Most of the class of 2015 had hopes that the second pep rally would bring back feelings and memories similar to the spirit weeks of the past. Determining whether the pep rally held that Wednesday actually accomplished that goal is a rather difficult task, and one that requires tracking down the few seniors that actually were in attendance.