Put me in, Coach!
Jones senior athletes make last push to collegiate recruits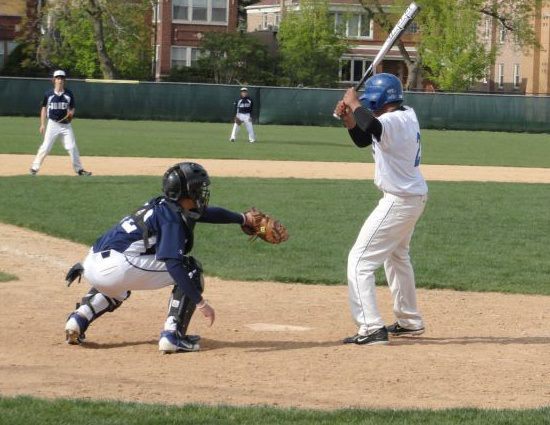 Jones students are using their athletic skills to help the diminish the high price of  college tuition.

Armando Cornejo'15  is one of the students that finds his passion is also a way to afford a higher level education.
"I want to maintain baseball to be part of my life,and if  I do excel in a sport I mean why not use it to my advantage," said Cornejo.
Cornejo has seven offers from different colleges in Illinois, Michigan, Minnesota, Maryland and Iowa. Although Cornejo does not wish to pursue Baseball at a professional level, baseball has driven Cornejo to choose a career path as an athletic trainer or a nutritionist." In Baseball we condition, so I always like to persuade the team to work hard and eat right, so I feel, that is the path I  should follow," said Cornejo.
Luis Gomez'15 is an undocumented student; to him baseball is the ticket to an education. He aspires to be recruited by a Junior college around the Chicago area. Luis has considered looking at division three school, but the amount of money that he can obtain dissuades him.
"I am realistic with my talent and I know I would probably not get a full ride with baseball, if I  applied out of state," said Gomez.
Taylor Brooks' 15 has been playing basketball since first grade,and has made a choice to continue playing in college. Division three schools are also her priority.

"I think that I can handle that type of pressure academically and athletically," said Brooks.
So far Lawrence University In Appleton, Wisc. has offered her the highest athletic scholarship. However her first choice is Loras College in Iowa, because it has a basketball program and education and sport management programs which are of interest to her.
Like other athletes, Taylor's sister Sophie Brooks'16 is also considering playing basketball in college.
"Colleges are interested in getting sister duos because the chemistry is strong, we are definitely using that to our advantage," said Taylor Brooks.
The Brookses parents are content with Taylor's choice to  continue playing basketball. "My dad has been my coach for a very long time, and he is very happy that I decided to play basketball in college." said Taylor
Although playing sport in college has great benefits ranging from full tuition to getting accepted into a college ,the process can be long and costly.
The recruitment process ranges, according to the level a player wishes to play.
"Division one schools come after you , if you are good enough ; you can't sell them on" said Dave Rosene baseball coach and assistant basketball coach.
Rosene also leads DNA sports online, a website that informs and aids  athletes in the recruiting process, for a set price.Jones athlete can get these services for free.
"I do it for free because I love these kids" said Rosene
Rosene adds that accurate information can help parents save money, and time.
"Before I knew Rosene ran DNA sports online I contacted NCSA and paid them 300 dollars for them to post a video on YouTube." said Cornejo
With NCSA, Cornejo had not received responses from colleges, so his coach Rosene took over his case. "One of my partners worked for NCSA, so we know what a rip off they are," said Rosene.
The recruitment company is a communicator between the athlete and the college coaches,by sending videos of the athlete to schools or inviting coaches to games.

"Getting recruited is basically like auditioning for a play," said Cornejo.