Jones Artists Seeking Scholarships In Upcoming Exhibition
The Art Department in Jones is preparing for one of the biggest student art exhibitions of the year.
The Illinois High School Art Exhibition, taking place at the Zhou B Art Center, will give students an opportunity that could change their future entirely. Judges will choose the best pieces from 5 categories (Drawing, Painting, Graphic Design, Sculpture, & Photography) and give out awards accordingly. Students can win an array of full scholarships as well free rides to summer art programs at different Illinois Colleges.
At the 2014 exhibition Zoe Prekop '15 submitted a necklace and won a full scholarship to the U of I for an art intensive summer program.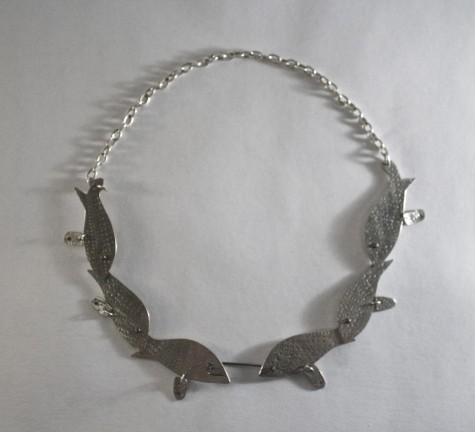 "It was really exciting," said Prekop. "Being able to gain notoriety in the art community and experience a great class was an amazing opportunity."
As for this year, Prekop has submitted photography pieces she has been working on. She has made wire sculptures and manipulated their frame to fit on the human body. With her having executed such a unique and complex idea, she has hopes of winning yet another scholarship.
"The first goal is to get in. Then I can worry about winning scholarships to schools and for different programs." said Prekop.
Prekop, however, is not the only Jones student attempting to get into the art show. Jackson Schultz '15 is submitting a necklace with many connecting pieces in the shape of triangles.
"It'd just be an honor to be in the show in the first place," said Schultz. "But I'm confident that I'll win a scholarship."