Dog Sees God: the independent project
With only two shows this Friday, the play follows the Peanuts characters [of Charlie Brown] as high schoolers experimenting with drugs, and sex, and new experiences.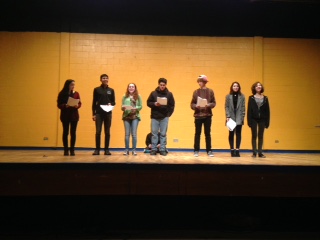 By the time you get to your senior year of high school, sometimes you run out of class options.  For Jack Cleland '15, this instance provided a great opportunity.  In conjunction with theater teacher Brad Lyons, Cleland has been able to take an independent directed study his senior year.  While he is still in the production class, he has branched off into directing a play for his first semester project: Dog Sees God.
"Mr. Lyons told me to 'find a play you are passionate about, small, and within reason,'"said Cleland, "So I chose Dog Sees God."
Cleland went on to explain the premise of the play.  "It takes the Peanuts characters [of Charlie Brown] and puts them as high schoolers experimenting with drugs, and sex, and new experiences."
Cleland chose this play due to its relevance and connection to high school students' experiences.
"One of the reasons why I fell in love with it," Cleland noted, "is because it deals with a lot of topics that are really relevant, especially to Jones students today.  It highlights current high school situations and how your actions can affect others.  It's very powerful."
Rehearsals take place after school, just as the other plays do, but Cleland will be graded on the play for his first semester project.  Auditions were held the week before winter break, parts were assigned and rehearsals have been ongoing ever since.
"The cast consists of eight people," explained Cleland, "four boys and four girls. And they all are parallels to the original Peanuts cartoons: Charlie Brown, Schroeder, Pigpen, Linus, Marcie, Peppermint Patty, Lucy, and Sally."
"Auditioning was daunting, but [the play] was a great experience and I'm glad I pushed myself to try it," noted Tony Solis '15.
The stage manager for the production is Samantha English '15, who has been assisting Cleland with auditions and rehearsals.  All activity with the play has been supervised by Lyons.
"He has been providing feedback when I'm stumped or have any issues."
The play takes place on Jan. 23 and they had three weeks to put it all together.
"[The week leading up to the play] is total crunch time," said Cleland. "But it's cool for me because I want to into the business of theater.  It was a great experience to put together a show in such a little amount of time and understanding how to use your time wisely."
Cleland added that that this experience has helped him in theater and creating characters.
"I directed a one act musical last year," says Cleland.  "What I learned from that and Dog Sees God was what the difference is between viewing it as a director and as a performer.  I understand, more so now, what a director is telling me because I have actually experienced it.  The biggest things I am figuring out with this show is how to tell a story and make it relatable to the audience, how do I get people to come and see it, and how to I make the characters live and breathe.  I have gotten more of a sense of creating a character.  It has helped me to analyze texts and develop characters and make them come to life."
While this is a unique opportunity to participate in at Jones, Cleland noted its importance.
"It is interesting to understand a different perspective," says Cleland.
He noted his gratitude in being able to direct this play and take part in this independent directed study.
"I hope that other people get the opportunity to do this because I have learned so much it and I think other people can learn a lot from it too.  I hope other people are able to have the same experience because I feel so fortunate.  It's been a really awesome experience, especially as a senior looking at the future."