The School of One Champion
Chicago Public Schools is not known to be an association of powerhouse athletic programs. There are the well known; your Whitney's, Lane Tech's and Curie's. It is easy to obtain multiple state championships across the sports spectrum with an enrollment of 1,000 students per class or a recruitment suspicion label slapped across your school's athletic program. As Jones begins to acquire new facilities and a greater student body – which increases the probability of talented athletes – questions arise as to whether Jones athletics as a whole can begin climbing the CPS ladder towards more state championships like their aforementioned counterparts.
In 2012, Jones boys cross country won the Illinois High School Association Division 2A state championship; the only state championship ever won by Jones, period. Ironically, the only state trophy Jones possesses (right) broke at this year's open house when an unsturdy table collapsed. Boys cross country is no doubt the most successful athletic program currently at Jones. Sweeping City for the second time in three years, Jones cross country continued its dominance this year and looks to do the same in the future.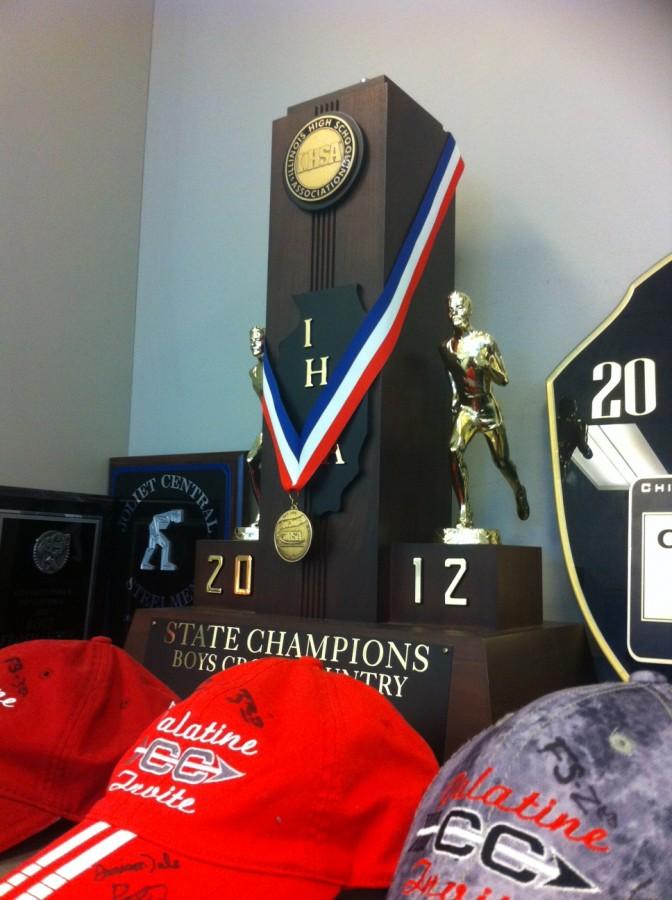 Never knowing what his team is going to look like, Cross Country Head Coach Andrew Adelmann adapts to his new team each year.
"With cross country, there are some teams that run everyone individually and they try to go as fast as they can or there are some teams that take it as a pack mentality. Which [was] our strength this year. It depends on what your team is," Adelmann said.
Adelmann sees similarities and differences between his current team and the team that won state back in 2012. "This [was] by far the second best team I've ever coached. It's probably close to that 2012 squad," said Adelmann.
Most of cross country's varsity success can be attributed to upperclassmen. According to Adelmann, their top five varsity runners consist of four current seniors, Will Sarchet, Markian Protsiv, Tony Solis, and Kyle Maloney, all '15,  and Nikolas Merten '16 helped cross country win their second city title in two years. A full sweep of city across the board, including freshman, sophomore, junior varsity, and varsity levels, shows the program's strength in all grade levels.
This forces fans of Jones athletics to wonder if the influx of Jones students and the increase in athletic facilities could lead to more state championships for the small school on State and Harrison. People are hopeful. , Phillip VanZale '15, President of the Sports and Fitness Education Club, believes that Jones will see further athletic success in the future. "With the growing amount of student athletes in the new Jones setup, it shows a bright future for Jones in competition for a state title," said VanZale. Bottom line, the greater the number of students enrolled in the school, the greater the probability of talent athletes among them.
There is no disputing the increase in students. "We are going to have 1,700 students two years down the road. the first year we moved in here – wow – we move into the second year – uh oh- we're a little tight again. We went from nothing, to great facilities, to being tight." said Jones Principal P. Joseph Powers. The lack of adequate facilities has forced certain programs to adapt a rather scattered practice schedule. "It's [lack of gym space] going to mean that there are practices that run later. I know last year, they were running some morning practices before school. That's going to have to continue because we only have the one gym," Powers said.
It is evident that Jones athletics has been impacted by major changes overtaking the school. Both boys and girls basketball programs moved up a division this season; they each started off their respective seasons strong by winning one Thanksgiving tournament a piece. Girls soccer and girls softball are coming first ever regional championship titles. The dance team went to two state championships last year, IHSA and TDI (Team Dance Illinois), all after placing third at city playoffs. Boys tennis had an undefeated season last spring. The success is there. Whether the success continues and becomes more dominant is up to the athletes, coaches, and athletic program as a whole.