Senior year, and not a second to waste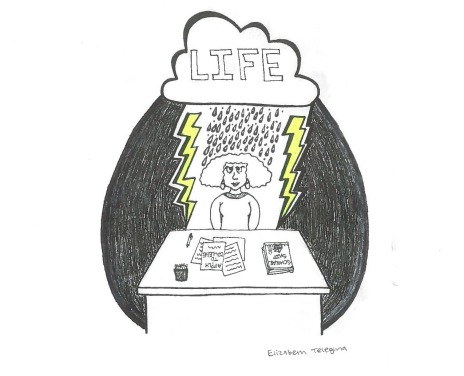 When I hear some of my underclassmen friends complain about their year, I think, "just wait until your senior year", because during the third month of my senior year, my schedule is completely full compared to the past three years at Jones.
When I say I have no time, I really mean it. My schedule is jam-packed and tiring. I am never at home and I barely have time to hang out with friends and family. I'm working five 12-hour days a week. On weekdays, I leave the house before 7 in the morning to go to school.
After school, I have dance for four hours and I get home after 9 at night. When I get home, I have to stay to do homework and I do not even finish that.
On top of dance and schoolwork. I am apart of Student Government Association. Right now it does not take a lot of time out of my schedule, but a month ago balancing SGA, schoolwork, dance and other stuff was very difficult. I did not do homework, college applications and missed days of dance, to make sure that the Senior day and Eagle Games actually happened and ran smoothly.
When the second spirit week and prom happens , SGA is going to take a lot of time away from dance, friends, family, school, college applications and myself.
Balancing homework, applying for college and scholarships and seasonal activities; it can become stressful and hard to manage your time appropriately.
I wish I could go back and tell myself, not to join so many activities because it limits my free time and the first couple of months of your senior are critical to the next 4 years of your life.
September through January, for seniors, is all about applying for college and there is so much to do with actual college applications process, it is time consuming.
I know that everyone has different schedules and have constructed different ways of managing their time over their high school careers. The senior class was emailed a questionnaire regarding how they spend their time. Out of the quarter of seniors who responded,I saw a trend among my classmates on how they manage their time.
As a senior class, we are more involved in Jones' clubs and sports than extracurricular activities outside of school. About 86.5 percent of the class participates in Jones's sports and clubs, while about 50 percent of seniors have extracurricular activities outside of school or work.
"It's hard knowing that some people are done with applications for college and I'm just getting started. I wish I had more time to apply for scholarships because ultimately cost is the biggest factor that I will base my final decision on where to go to college" said Girls Varsity Basketball player and SGA Senior Treasurer Yesenia Alarcon '15.
But after the survey says that, 51.9 percent of the class said they wished they had more time to apply for college and scholarships.
I do not know what the rest of my senior year will be like once college and scholarships applications are done, but right now how I handle my time practically determines my future. That sounds scary, but it is a good wake-up call for not just myself, but seniors who are stressed out about college and scholarship application, homework, work, sports, clubs and more.