From Kiev to Chicago: new culture, new life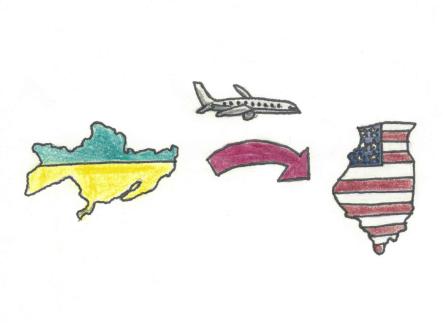 Moving to a new place can be difficult for anyone.  You have a new environment to adjust to and you have to create new friendships.  But those were not the only struggles of Danylo Sovgut '17.  His transition was not just moving to a new place, it was moving 5,047 miles to a different country.  Sovgut and his family moved from Kiev, Ukraine to Chicago during the summer of 2014.  His mother's marriage to his Ukrainian-American stepfather resulted in their move to the U.S.  Sovgut chose to go to Jones based on its critically acclaimed education.
"I was in a really good school in Ukraine," said Sovgut,  "we didn't want to lose the great level of education I had there.  So to get an idea I googled 'top ten high schools in Chicago.' And Jones was in the top ten.  We had a couple choices but Jones was my first choice based on the building and the teachers I met when I toured."
While Ukrainian is his first language, he is largely proficient in English.  He took English classes at his school in Ukraine, but moving to Chicago really elevated his ability to communicate with English-speakers.
"I had a pretty good program at my school.  We studied British English.  I took a course where I talked with native speakers, this really helped," Sovgut said, "the language transition hasn't been difficult because I started in first grade.  English is easier than Ukrainian in terms of structure."
While Ukraine has been undergoing a conflict with Russia, in the Crimean Peninsula, Kiev is far away from the areas of friction.  Nonetheless, his family has been aiding the Ukrainian army.  They have been providing money in order to give the soldiers materials such as helmets and sleeping bags.  Sovgut did his part in aiding the army by participating in peaceful protests before the conflict became violent.
"Behind the calmness in Kiev, there are people helping the army," explained Sovgut '17,  "people started striking in Kiev six months ago due to the corruption in the Ukrainian government.  My family and I participated in the peaceful protests.  But then police beatings started to occur, so we had to stop. People were being killed."
The Crimean crisis is a frozen conflict involving Ukraine and Russia over the authority of the Crimean Peninsula.  This climaxed during the occupation of Russia in the territory. The Crimean crisis is part of another crisis involving the Russian military intervention in Ukraine.
On the topic of living in Ukraine, Sovgut explains how the conflict affected him and his family.  The protests Sovgut participated in display his passion towards the subject.
"This is very real thing.  We hear about it on the news, but it's different to actually experience it."