Can't Stop Cedeno
Multi-sport sophomore balances travel schedule of nationally-ranked soccer program plus Jones softball and dance
Janai Cedeno '17 carries an 8.5" by 11" agenda planner along with her Jones assignment notebook. Colors jump across the pages as she begins to unfold her agenda. It resembles a Jackson Pollock with splashes of color coded activities flowing across the page. This very planner (right) is the "Guide to being Janai". Without it, it would be nearly impossible for her to keep track of her schedule.
"We are going to San Diego during spring break. Memorial Day weekend I'm going to New Jersey. We went to Wisconsin this past weekend. Sectionals are in Seattle. Nationals are in Virginia. We go to Michigan, we go to St. Louis, we go to Kansas City," said Cedeno as she broke down her soccer schedule for the rest of the 2014-2015 season.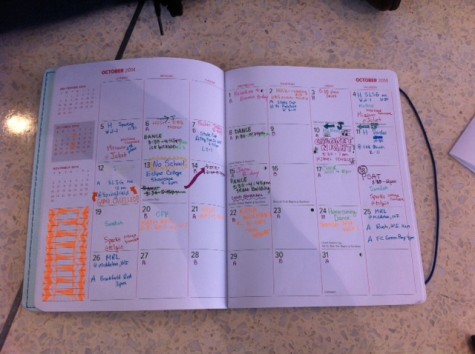 Standing at about 5' 2", Cedeno is just one of many multi-sport athletes at Jones. Her story differs from that of other students thanks in part to her success on multiple fields, her ability to balance an outgoing lifestyle, and her love for one sport much unlike the others.
Competing year round for nationally ranked soccer and softball teams along with the Jones Varsity Softball team, Janai is known across the sports spectrum as being a talented athlete. Jones Varsity Softball first baseman Grace Minogue '16 agrees, saying "Janai is amazing. She can hit a home run, make a diving catch, and steal all four bases without even thinking about it."
Cedeno is only one example of a Jones multi-sport athlete. What makes her unique is what lies far beyond her talents on two different fields. Her love for dance gives her the ability to excel both athletically and academically.
When Cedeno "heard there was a dance team here [at Jones]. I tried out and I knew I had to go full out to make the competition team and I really wanted to."
This is the second year Cedeno will be competing on the Jones Dance Competition team.
Being competitive and excelling at more than one sport takes twice as much effort, hard work, and dedication. "I think its a good thing to have diversity as an athlete," said Physical Education teacher Lauren Zilmer. However, "it can lead to an overlap of seasons which can hurt athletes looking to play [their sport] in college." Cedeno is looking to play in college.
"Right now, it looks like soccer will be the sport I play in college," Cedeno said.
Living this active lifestyle, Cedeno has doubts about whether she chose the right path. " I wish I could have told them [my parents] that I wanted to be nationally good at dancing," said Cedeno. "Dancing is my favorite but I'm so good at these other sports that I don't feel like giving them up yet," said Cedeno.
Only a sophomore, Cedeno has lots of time to decide what to pursue in the future. Until then, she will continue to be an "outstanding athlete and person who works very hard everyday to be a strong athlete, dedicated teammate, and overall great person." Jones Varsity Softball Coach Amy Heveran.