Bittersweet Ending to a Great Season
Soccer loses to Foreman in Regional Finals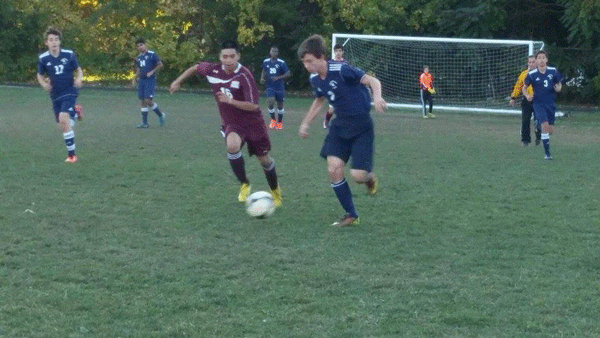 After attaining a record of 13-5 in the regular season and taking a win over Kevelyn Park in their first playoff game, Jones' Boys Soccer Team took a loss against Foreman in the Regional Finals.
Going into the game, all players were "extremely hyped," said Jonathan Nunez '16, "We were so confident that we'd come out with the W."
But unfortunately for Jones, Foreman was an unrelenting competitor who never let up. Regardless of Jones' will to succeed, Foreman won 5-1.
The loss set a depressing tone at what season MVP Ellington Bramwell '15 says was "a near perfect season."
Although the entire team was disappointed by the loss, the Seniors especially have a hard time dealing with it. Seeing as how this is their last year as a Jones Eagle, this game was the most important of all.
"[Since I am] Captain, [the game] left me feeling as if I let my team down," said Bramwell.
Fellow senior Ahmani Davis '15 felt the same way.
"I was really mad, especially because I got injured and couldn't play as long as I wanted to," Davis said.
Even with the harsh downfall of their final season, the Seniors are keeping a positive outlook on the team's future.
"The team next year will have more than five seniors who I know will lead the team to endless victories," Bramwell said.
They will be led by co-captain Brayan Rico '16, who Bramwell assures is a "phenomenal player, leader, and friend."
Davis shares the same sentiment when it comes to his fellow teammates.
"I feel like the Juniors have a passion to win. The team can only get better and I can't wait to see it happen."