Seeds planted for new Homecoming spirit week will grow, thrive with time
Editorial Board feels students should embrace homecoming changes, come together, volunteer for a better experience
Celebrating homecoming in a new way will create more fun and exciting school year.
Instead of having a week of awkwardness with weak participation in themed-days, the Student Government Association changed the game this year. Led by John Lund and Kelsey DeWitte, spirit-week festivities will consist of a variety of activities that enable students of all interests to participate in the Jones homecoming culture.
On Friday, October 24th, the Eagle Games will make their debut. Because the south building gymnasium is too small to hold all students this year, Lund and DeWitte were forced to use the whole building. In order to get everyone involved the Friday event will be a race that goes through every floor, which includes a math and science portion not typically thought of in spirit week.
When changes were first announced, seniors resented the idea. They were used to the tradition of class colors and were told that it would be taken away from them.
Instead having a specific color for each class, competing for hallway space on the same day, each class now has their own day of the week to shine in a bigger space. Each day of the week is unique to that class. A theme is picked by the student government officers and is only for that day. By decorating the atrium, it enhances creativity and provides a chance for artists to shine by making things to go along with the theme. This lessens the past rivalry and visible bitterness between classes and makes for a united school celebration.
A move to the fall further makes Jones have more of a traditional homecoming experience. Homecoming, after all, is about "coming home," either back to school as a student starting a new school year, or coming back to visit as an alum. Although Jones does not have a football team, an October homecoming triggers school spirit earlier in the year so more sports and other talents can be celebrated; instead of just basketball.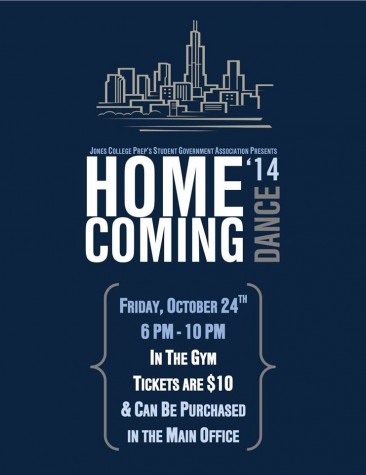 Lund says a "pack the gym night" will happen in February so the school can rally around the basketball team, with a halftime full of performances reminiscent of past pep rallies, if the interest is there.
Unfortunately, the new Jones population cannot all fit into the gym at the same time. Having a crowded gym will provide a similar experience to pep rally but it will be more manageable because it will take place after school, so not all students will attend.
Homecoming and spirit week cannot happen without the Student Government. The four officers of each class are charged with the duty of pumping up their classmates. They also have a ton of responsibility to make this week run smoothly. Instead of complaining about the process, students should get involved. Whether volunteering or running for a position, students should not be complaining about how things are run if they do not help themselves.