New year, new teachers
Along with a second year of expanding growth at Jones, come a crop of new instructors
Anna Barnett
Math 3A, and Math 3B
College: A B.A. in Mathematics with Teachers Certification from the University of Michigan
Interests: Playing soccer, walking her dog at the beach, watching movies.
Jones students have "most of the time, an enthusiasm for learning".
Howard Hu
Honors Chemistry
College: A B.A. in Chemistry from Case Western Reserve University, and a M.Ed. in Teaching from DePaul University.
Interests: Volleyball, Church, and Volunteer work.
Jones students are "polite, respectful, and ambitious".
Emlyn Ricketts
CTE Law 1, 2
College: A J.D. from Loyola University Chicago, M.A. in Comparative Education Policy from Loyola University Chicago, and B.A. in English Language and Literature from the University of Chicago
Interests: Travel, Reading, Spending time with family, Exploring Chicago neighborhoods
Jones Students are "incredibly impressive on so many levels, they are so eager to learn."
Michael Borge
Economics, and World History
College: A B.A. in Secondary Education, and an

M.A. in Instructional leadership

  from University of Illinois in Chicago
Interest: spending time with his wife and kids, exercise, staying healthy and playing guitar and drums.
Jones Students have "varied interests".
Justin Huang
Math 1 and Math 2
College: An M.A. in Teaching and a B.A. in Sociology from the University of Chicago.
Interests: Ultimate Frisbee, board games (Settlers of Cattan)
Jones Students "Turn of their cell phones, are responsible and self regulating"
Mary Ann Siegel
English 1 and English 2
College: Michigan State University, undergraduate, Northwestern for masters, North Eastern Illinois, teaching degree.
Interests: Listen to music, swing dancing, writing creatively, loving her kids.
Jones Students have a "friendliness in hall and classrooms, take charge of situation, took it upon them selves to get their make up work from her(Ms. Siegel).
Ryan Maggid
AP U.S. History, and Honors U.S. History
College: B.A. in Political Science from Oakland University, M.Ed. in Secondary Education from DePaul University, post-bachelors classes in New Media Art from the School of the Art Institute of Chicago
Interests: Traveling, biking, eating, and the city
Jones students are "very smart, very driven, and curious"
Mia Gutsell
AP European History, and World Studies
College: B.A. in History and B.S. in Secondary Education from Loyola University Chicago
Interests: Knitting, videogames
Jones students are "determined to do well… have great energy, lots of ideas"
Jordan Pasquelin
Physics
College: B.S. in Electrical Engineering and an M.S. in Mechanical Engineering from the University of Michigan.
Interests: Softball, Listening to music.
Jones students are "hard-working, cautious, and focused"
 Marisella Gradilla
Spanish I, Spanish II, and Spanish for Heritage Speakers III
College:  B.A. in Spanish from Northern Illinois University
Prospective M.A. in Spanish Literature from Loyola University
Interests: Violin, Playing in the mariachi band
Jones students are "willing to speak and not shy"
Ted Grossman
World Literature and American Literature
College:  B.A. in American Literature from Brown University, Honors in Creative Writing University of Colorado: M.A. in English Literature and Creative Writing
Interests: Traveling with wife and two sons.
Jones students are "regular kids" who sometimes prefer to talk about music rather than literature
Paul Zubb
PE I Health
College: B.A. in Education from Northern Illinois University.
Interests: Working out, watching Soccer, spending time with family.
Jones students are "friendly and easy and out-going"
 Joan Callan
French II
College: B.A. in French and American Studies from Wayne State University and an M.A. in French Literature from University of Illinois at Chicago.
Interests: French movies and music
Jones students "have diverse amounts of talent"
About the Contributor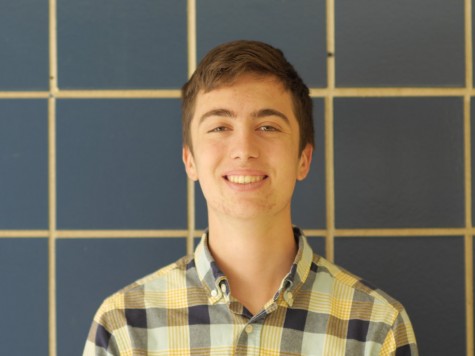 Alex Behle '16, Editor In Chief
INTERESTS/HOBBIES: Presidential Debate watching, window seats on the Red Line

EXTRACURRICULAR ACTIVITIES: Cross Country/Track Team Captain, running...